Home for the holidays? Try these to-go Thanksgiving dinners in Orange County
There's no place like home for the holidays, but staying home means being in charge of cooking your own Thanksgiving dinner, unless, of course, you order from one of the many Orange County restaurants offering them to go.
Leaving the cooking to the experts means more time spent with family, friends or football instead of wrestling the bird. If you're just looking to source a portion of your Thanksgiving table, Rye Goods in Tustin has sweets like caramel apple oat crumble pie and pumpkin basque cheesecake (order by noon on Nov. 19.) If you call Mastro's Restaurants during regular business hours on Nov. 22 or 23, you can order specialty sides like garlic mashed potatoes and creamed spinach to enhance your dinner. But if you are looking for turkey complete with trimmings, here's a list of nine places you can order from this Thanksgiving.
Bosscat Kitchen & Libations
118 W Chapman Ave., Orange
(714) 716-1599
bosscatkitchen.com
Bosscat Kitchen & Libations is known for its impressive whiskey stash, and you'll see it reflected on its Thanksgiving feast menu, which offers the choice of a maple-bourbon brined turkey or brown-sugar baked ham. The $199 dinner is designed to feed a family of four generously and includes mashed potatoes or sweet potatoes, green bean casserole, cornbread stuffing, macaroni and cheese, winter-spiced cranberry sauce, skillet gravy, dinner rolls and choice of apple or pumpkin pie. Add wine or champagne bottles for an additional $25. Orders can be placed online for pickup on Nov. 23 between the hours of 9 a.m. and 1 p.m.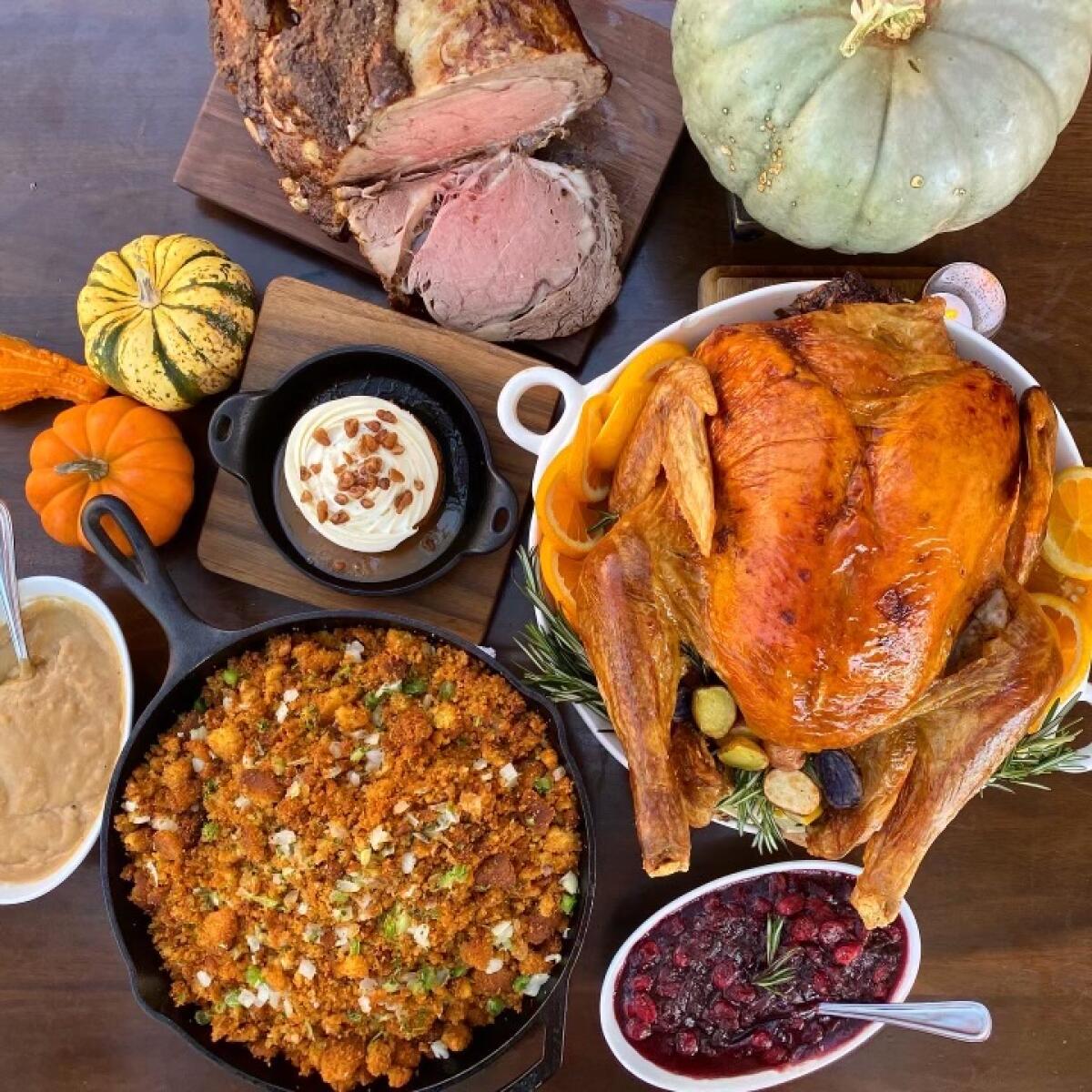 Zov's Bistro and Bakery
17440 17th St., Tustin
(714) 838-8855
zovs.com
Zov's in Tustin has served Mediterranean staples since 1987, and Chef Zov Karamardian's holiday catering has become a tradition for many Orange County families. Zov's Thanksgiving takeout dinner feeds 12 to 15 guests, and all orders include wild mushroom and jasmine rice stuffing, maple-glazed roasted yams, mashed potatoes, classic creamed corn, baby mixed-green salad, cranberry citrus relish, sage gravy, dinner rolls and a choice of pumpkin, apple or pecan pie. Choose from sliced boneless turkey breast for $595 or a whole free-range turkey, if your are looking for that Norman Rockwell moment, for $695. Preorders must be placed by 2 p.m. on Nov. 18. To place your order, call (714) 838-8855, ext. 22 or email taleene@zovs.com. Thanksgiving takeout dinners are only available for pickup at the Tustin location.
Solstice Seasonal Kitchen & Bar
18555 Jamboree Road, Irvine
(949) 241-7088
dineatsolstice.com
Solstice is offering a complete heat-and-serve meal designed to feed four to five people with 3.5 pounds of herb-roasted boneless turkey breast and 1-quart sides of pomme puree, sage and walnut stuffing and brussels sprouts. The $195 meal also includes cranberry-orange relish, turkey gravy and six Parker House rolls. Order online or by phone, while supplies last. Orders must be placed no later than 12 p.m. on Nov. 22 and can only be picked up the day before Thanksgiving on Nov. 22 between 3 and 7 p.m. You can also add items from the kitchen's regular dinner menu, like beet hummus, a cheese and charcuterie board or the signature deviled egg jar, to round out your Thanksgiving table.
Greenleaf Kitchen & Cocktails
3321 Hyland Ave., Costa Mesa
(714) 862-2480
eatdrinkgreenleaf.com
Greenleaf at SOCO + the OC Mix in Costa Mesa is a favorite for a healthy lunch or casual dinner, but it is also the secret hero this holiday season, offering a Thanksgiving feast for pickup or delivery. The $250 dinner feeds six to eight guests and includes roasted sliced turkey breast, old-fashioned herb stuffing, mashed potatoes, green beans almondine, dinner rolls, traditional gravy and a choice of salad. Add wine for $25 to $36 a bottle or batched seasonal cocktails like a pomegranate margarita or blackberry mule for $75 that will make approximately 12 drinks. To make hosting even easier, add a hot kit for $25 that includes a wire rack, pan and sternos with matches. To order, email catering@eatdrinkgreenleaf.com at least 48 hours in advance of delivery or pickup. For Thanksgiving, orders must be placed by Nov. 20.
Seasons 52
3333 Bristol St., Suite #2802, Costa Mesa
(714) 437-5252
seasons52.com
Seasons 52 at South Coast Plaza is known for its fresh, seasonal menu and 52 wines by the glass. The concept's warm-and-serve family Thanksgiving Green Box lets you raise a glass at home this year. Priced at $225 to serve four to six guests, the dinner is designed to be refrigerated at home until you're ready to serve and can all be reheated in less than an hour (instructions online). Each Thanksgiving dinner box includes field greens salad, roasted turkey, savory pan gravy, Yukon mashed potatoes, brioche and sage stuffing, green beans, mashed butternut squash, cranberry relish and six pumpkin pie mini-indulgences. The last day to preorder is Nov. 20 for pickup Nov. 22 from 11 a.m. to 4 p.m.
Mario's Butcher Shop
1000 Bristol St. N., Newport Beach
(949) 316-4318
mariosbutchershopdeli.com
Mario's Butcher Shop in Newport Beach specializes in high-end cuts, house-made charcuterie and wood-grilled and smoked meats. On any given day you can find a crowd at lunch ordering its famous smash burger or corned beef Reuben. On Thanksgiving, however, the delicatessen gives the sandwiches a rest and offers a special Thanksgiving menu. Uncooked proteins sold by the pound include leg of lamb, spiced, seasoned and dressed, or rib roast dressed and seasoned. Whole duck, smoked or natural, whole smoked brisket and whole goose are other options. Specialty sides serve about four people and are priced at $20 to $25. Choose from sausage stuffing, macaroni and cheese, cranberry-orange sauce, creamed corn, creamy mashed potatoes, barbecue baked beans and brown turkey gravy. Pinwheel lasagna for two is priced at $40 and can be assembled by the shop for an additional charge, and Diestal smoked turkey legs (cooked) are priced at $10 each. Preorder proteins by Nov. 20. Call the shop to order.
Lemonade
21016 Pacific Coast Hwy., Huntington Beach
(714) 604-1072
lemonadela.com
California-focused and seasonally driven fast casual concept Lemonade is offering holiday packages this year that include 5 pounds of turkey breast, turkey gravy, apple-cranberry sauce and a whole pumpkin pie. Designed to feed eight to 10 guests and priced at $260, the packages also give you a choice of four of the eatery's large marketplace sides (two hot and two cold). Choose from selections like white truffle macaroni and cheese, rosemary sweet potato hash and curried cauliflower. You also have the option of picking up your holiday package hot and ready to serve or cold with reheating instructions upon request. Holiday packages are available to order online while supplies last.
Hendrix Restaurant & Bar
32431 Golden Lantern, Laguna Niguel
(949) 248-1912
hendrixoc.com
Hendrix in Laguna Niguel works with poultry on its in-house rotisserie all year round, which makes the restaurant a natural choice for a Thanksgiving feast to go. For turkey day though, Chef Rainer Schwarz gives the bird the roasted treatment. Thanksgiving meals to take home are priced at $350 and meant to feed eight to 10. The dinner includes a whole roasted turkey, little gem salad with goat cheese and beets, Yukon gold mashed potatoes, apple-fennel stuffing, green beans and heirloom carrots, cranberry sauce, turkey gravy, choice of apple or pumpkin pie and even Parker House rolls. Call the restaurant to place your order and coordinate your preferred pickup time between 11 a.m. and 2 p.m. on Nov. 23. Orders must be placed by Nov. 20.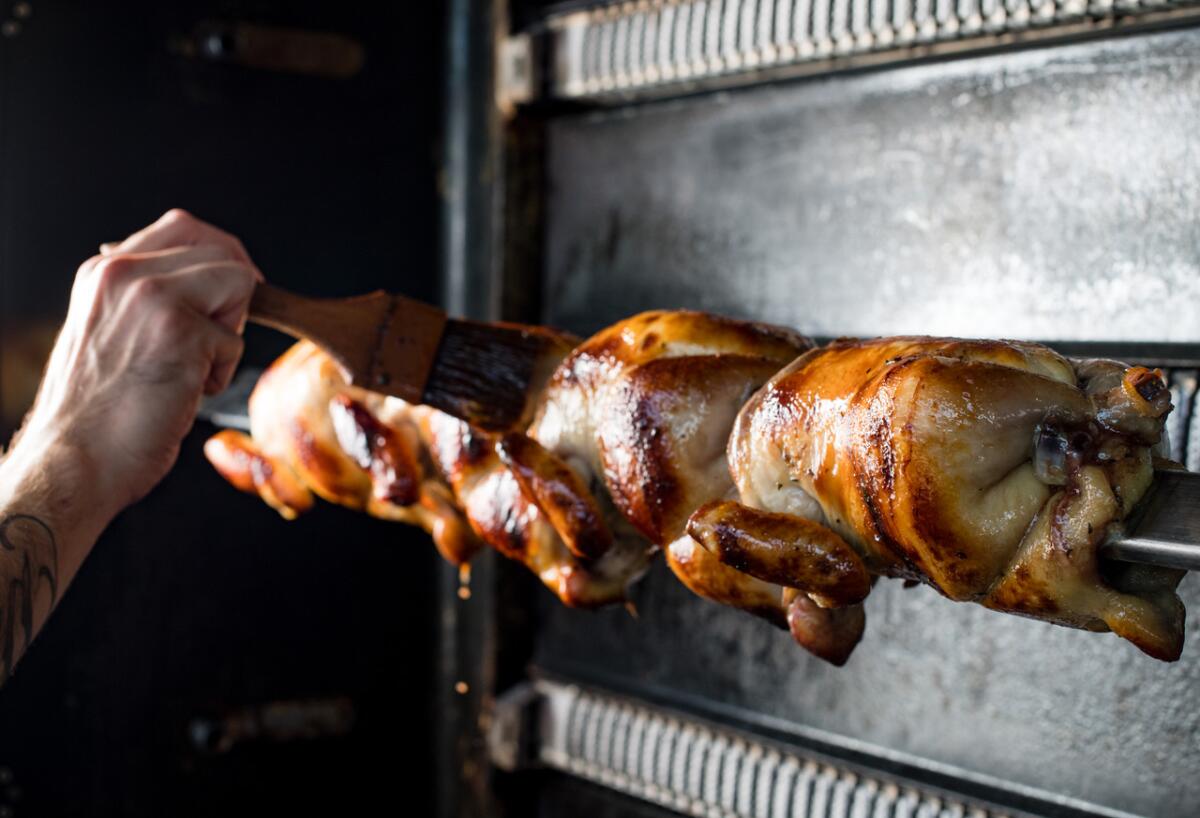 Bad to the Bone BBQ
31738 Rancho Viejo Road, San Juan Capistrano
(949) 218-0227
badtothebone-bbq.com
Bad to the Bone BBQ's Holiday Gathering Feast makes smoked meat the star of the Thanksgiving table. Choose from about 4 pounds of smoked turkey breast ($250), a 14- to 16- pound whole smoked turkey ($275), 4- to 5-pound pit ham ($225) or a pit ham and turkey breast combo ($295). Designed to serve six to eight people, the feast includes cornbread stuffing, garlic mashed potatoes, macaroni and cheese, candied yams, turkey gravy, cranberry sauce, Southern cornbread and choice of apple or pumpkin pie. Upgrade to a Kurobota pit ham for $50 or level up the feast to a Mary's Farm whole-smoked turkey with all the sides and trimmings for $375. Sides and pies are also available a la carte. Orders must be placed online or by phone by Nov. 19 (or until sold out.) Pickups are Nov. 21 and 22.
All the latest on Orange County from Orange County.
Get our free TimesOC newsletter.
You may occasionally receive promotional content from the Daily Pilot.