Orange County Fire Authority's new K-9 can sniff out signs of arson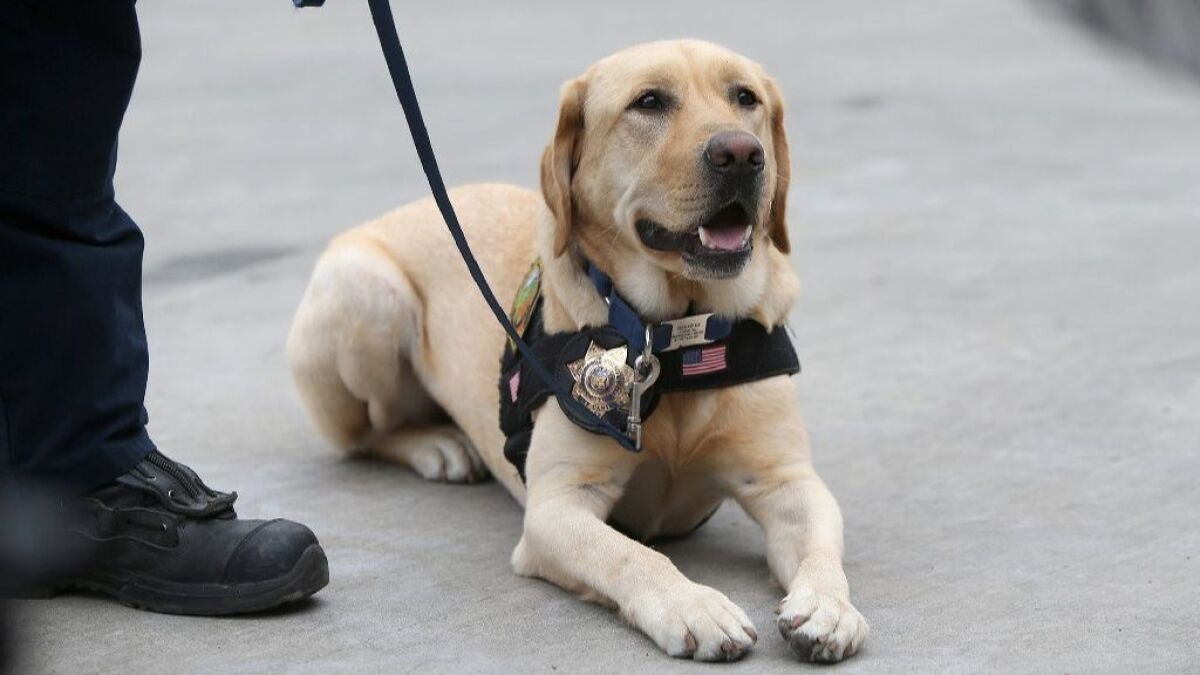 Orange County Fire Authority Capt. Shaun Miller has a unique partnership. His fellow investigator is trained by the Bureau of Alcohol, Tobacco, Firearms and Explosives and can detect ignitable liquids in just minutes.
He is 2-year-old Freedom, a 70-pound yellow Labrador retriever who joined the OCFA's investigations team in December 2018. The dog is the only K-9 certified to detect accelerants by the ATF in the county, one of three in the state and 59 in the country.
Freedom can be used to assist in investigations anywhere in the United States, though his primary focus is in Orange County.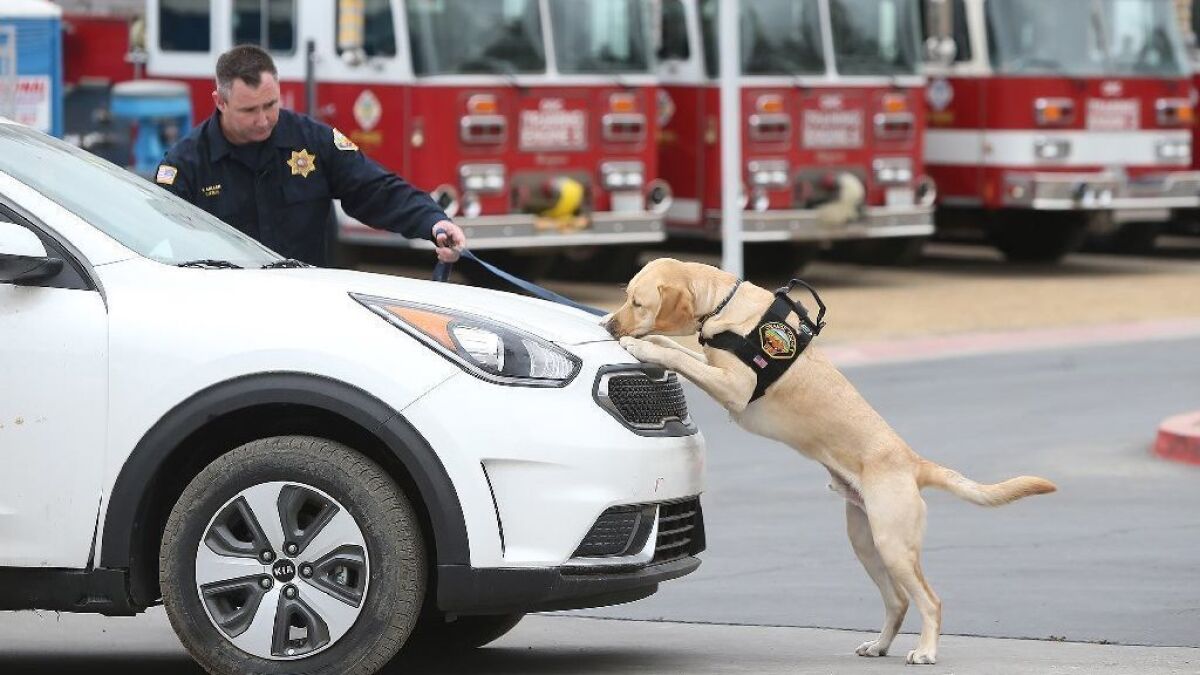 Though not all calls require Freedom's skill set of sniffing out ignitable liquids like paint thinners, kerosene and gasoline, he is available whenever needed.
"He's with me 24/7," said Miller, a fire investigator. "Any time I go to a call, he goes with me."
According to Miller, the OCFA responded to 2,338 fires in 2018. Of the 429 fires examined by the Investigation Services Section, 158 were deemed arson and 58 arrests were made, giving the unit a 37% arrest rate.
"In comparison, the approximate national average for arrests in arson cases is 15% to 20%," Miller said.
Miller said that in the six months Freedom has been on the team, he's assisted in more than 20 fire investigations, both in and out of Orange County.
"His work with fire investigators has contributed to multiple successes that resulted in the identification of the fire cause, as well as the persons responsible for the fires," Miller said. "Some of these investigations involved other crimes in addition to arson, including murder."
For Miller, Freedom isn't only an important resource for the community, but he's a big part of his life now. He goes to work with Miller — OCFA bases K-9 units in Irvine and Foothill Ranch — on calls and, of course, home with him at night (Freedom particularly enjoys the family pool).
"I spend every day with him," Miller said. "If we take vacations, he goes with me … he's truly a family member at home or at work."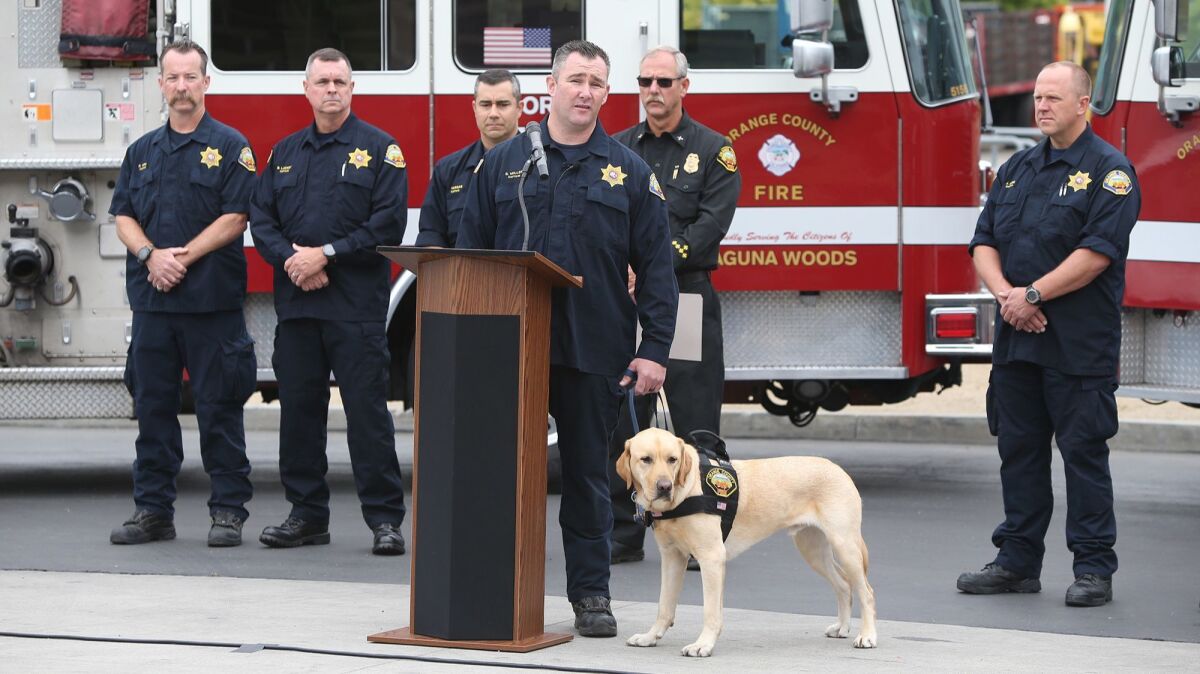 When Freedom isn't investigating — or napping in the office — he's training. Miller turns meals into reward-based exercises that give Freedom the chance to detect odors and then eat when he accomplishes his tasks.
"He doesn't eat outside of training or work," Miller said.
Freedom isn't the only K-9 unit working for the OCFA. The agency's K-9 program began in 2006 as part of the Urban Search and Rescue team (USAR).
OCFA Capt. Doug Van Iwaarden, a USAR team member and canine search specialist, was part of the original K-9 handler group 13 years ago. There are four USAR K-9s working for the OCFA (with two more on the way in June).
Though USAR K-9s are searching for living people trapped in natural or man-made disaster areas, as opposed to ignitable fluids, the detection tool — the snout — is the same.
"The dog is doing the same thing that the arson dog is … our dog is just looking for a different scent," Van Iwaarden said. "All the dogs are working for a reward, and they've got that reward tied to a certain scent."
Like Freedom, Van Iwaarden's 8-year-old black Lab, Sadie, and other members of the K-9 USAR team are certified by the Federal Emergency Management Agency (FEMA) for search and rescue missions anywhere in the country.
Van Iwaarden and Sadie assisted in the aftermath of Hurricane Harvey in Texas, the Montecito mudslides and the wildfire in Paradise. And they've done plenty of local searches as well.
"We've searched for lost hikers in the hills surrounding Laguna … lost medical patients in the city of Irvine," he said.
Van Iwaarden said the ability of the K9s to detect specific odors is vastly superior — about 200 times — to human capabilities.
"To see them work is truly phenomenal," he said.
Support our coverage by becoming a digital subscriber.
For more news and features about Orange County, visit TimesOC.com or follow us on Twitter @timesocofficial.
All the latest on Orange County from Orange County.
Get our free TimesOC newsletter.
You may occasionally receive promotional content from the Daily Pilot.