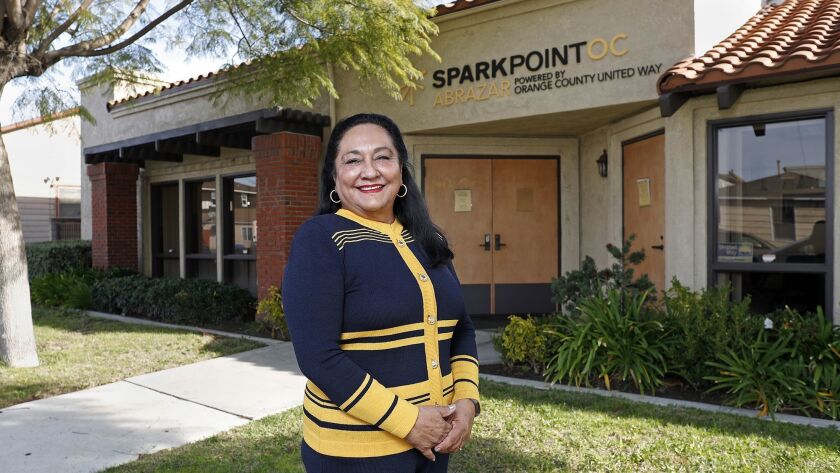 When Gloria Reyes started working at Abrazar more than four decades ago, it was one of the first organizations formed to address the needs of Orange County's Latino community.
During its infancy, the nonprofit focused specifically on seniors who couldn't speak English. The small and dedicated staff worked out of a modest, city-leased home in a largely Latino neighborhood in Westminster.
Employees served lunch to about 40 seniors a day, helped them apply for Social Security benefits and housing services and used their personal vehicles to give clients rides to doctors' offices.
For a population in need of guidance, the services were crucial.
"We knew that these people needed help and what services they needed addressed," said Reyes. "The needs have not gone away and we have stayed true to that original mission."
Reyes, 65, of Westminster, who has been the executive director of the nonprofit for about 42 years, plans to retire at the end of January. She will be recognized Jan. 16 for her years of community service by the Westminster City Council.
Mario Ortega, who has been the chief operating officer for 15 years, will take the reins.
"Everything this organization is comes from Reyes' leadership," said Ortega, 48, of Anaheim. "She built that trust with the community."
Guided by Reyes, Abrazar eventually expanded its services to include people of all ages who fall in the low-to-medium income range.
"We serve from the cradle to the grave now," Reyes said.
In addition to aiding the Latino population, the organization helps Orange County's expansive Vietnamese community. With offices in Westminster and Midway City, the nonprofit is couched among the Vietnamese populace.
About 85% of Abrazar's staff is bilingual, with Spanish or Vietnamese as second languages.
Though formed to serve Latinos, about 20% of Abrazar's clients are now Caucasian.
Ortega said the staff's diversity is unique among nonprofits in Orange County and goes a long way in cultivating trust with the community.
With a staff of about 80 full-timers and 40 part-timers, Abrazar serves approximately 10,000 people a year with a variety of services, including transportation, after-school programs, a dental clinic, financial guidance and tax preparation.
The transportation program remains vital. Employees ferry clients to medical appointments, job interviews and job skills training sessions.
Ortega said as many as 5,000 people rely on those services.
Another key program, SparkPoint, provides financial planning to low-income households. Case managers work individually with families, imparting budgeting strategies and information on how to check credit scores. They meet monthly.
Abrazar has partnered with the Westminster School District since 2004 to provide after-school programs on 11 campuses.
As Reyes departs a position held for half a lifetime, she remembers the lives changed.
"There was a man who used to live about two or three streets down from our community center," Reyes said. "He lived in this country his whole life and had worked in the fields, worked for the railroad. He had no idea that he could apply for Medicare. We helped with that application process, and I will never forget what it was like taking him to the doctor that first time.
"There are so many stories like that."
Twitter:@benbrazilpilot
---