Former Broadway performer directs UCI's 'American Idiot' production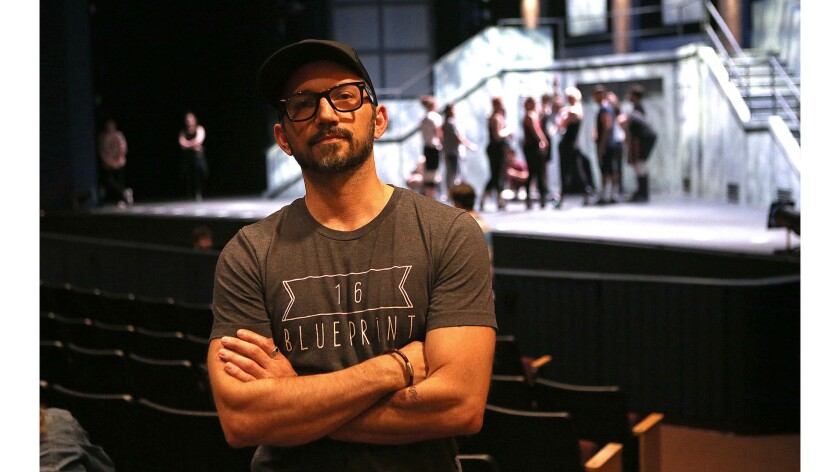 Most students in the Claire Trevor School of the Arts at UC Irvine aspire to careers on Broadway.
Andrew Palermo is bringing Broadway to the students.
Palermo, who spent a decade performing in Broadway productions, is an assistant professor specializing in musical theater choreography and dance.
He was a member of the original cast of "Wicked," performed alongside Bernadette Peters in "Annie Get Your Gun" and was in the revival of "How to Succeed in Business Without Really Trying," which starred Matthew Broderick.
Palermo also toured internationally in a production of "West Side Story."
In 2004, he transitioned from performing to choreographing and teaching.
After some stints as an adjunct instructor at different schools, Palermo joined UCI as a full-time assistant professor in 2012, working with students in the classroom and the theater.
"The cool thing about university life is that the cast are your students," Palermo said. "So, I'm training them all year round. So hopefully, when we get into production, you see your labors into fruition. We can take our real world experience and immediately give it to our students here."
At UCI, Palermo has been involved in putting on about a half-dozen performances. He is currently directing "American Idiot," which runs through June 9 at UC Irvine's Claire Trevor Theatre.
"American Idiot," which debuted in 2004, brings to life rock band Green Day's album of the same name, and follows three young men trying to break free from their mundane suburban existence.
Max DeLoach, a third-year fine arts major, is Palermo's student and is performing in "American Idiot."
"Obviously all the instructors here have a lot to offer us, but some of the cool part of what Andrew has to offer us is very recent real-world, top-level professional experience," DeLoach said. "It doesn't get any bigger than Broadway for our industry and what we want to do and that is where he has worked as a performer multiple times and as a choreographer. So as young pre-professionals and professionals, he really helps us bridge the gap of what it is really going to be like in the professional world."
Because he's worked as a choreographer on Broadway, Palermo is able to prepare students for what to expect at the highest levels of the craft, said Don Hill, head of stage management and senior lecturer.
"He pushes them, and yes they are students, but the standards he has are at those levels," Hill said. "Andrew is remarkable — he is indicative of a lot of our faculty here."
Working in a university also provides opportunities to interact with other departments on campus, said Palermo, who developed a program called Creatively Able, which focuses on movement for children on the autism spectrum. Through the UC Irvine Pediatric Exercise and Genomics Research Center, Palermo teaches Creatively Able at United Cerebral Palsy of OC in Irvine and was part of a pilot study to learn the results of the program.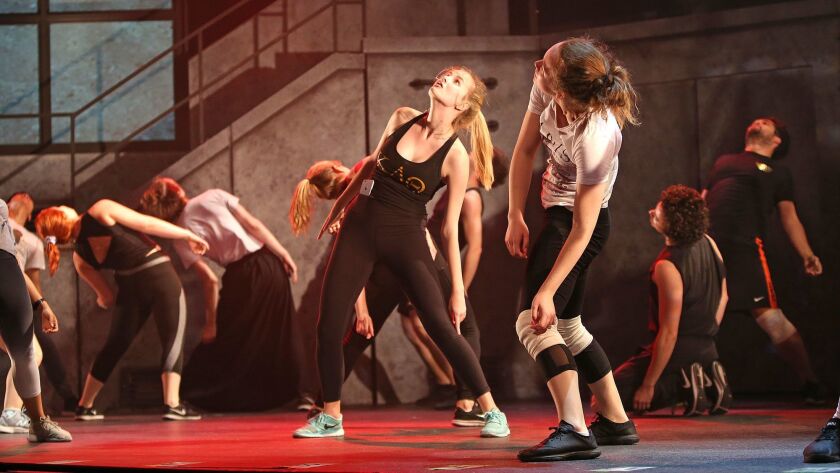 In directing "American Idiot," Palermo said his role is to infuse his own elements to the performance while still paying homage to the musical's original intention.
"I was living in New York City when the musical had its Broadway run," Palermo said. "I've worked with many of the original cast members, designers, and team."
The audience that sees Palermo's "American Idiot" will see video, fresh choreography, original set design and dynamic lighting.
The show will close UCI Drama's 2017-18 season, themed "The business of politics/the politics of business."
If You Go
What: "American Idiot"
When: Through June 9
Where: UC Irvine, Claire Trevor Theatre; parking at 4000 Mesa Road, Irvine
Cost: $11 to $18
Information: (949) 824-2787 or arts.uci.edu/tickets
Lou Ponsi is a contributor to Times Community News.
---
All the latest on Orange County from Orange County.
Get our free TimesOC newsletter.
You may occasionally receive promotional content from the Daily Pilot.