What it takes to be an eight-time winner at the Newport Beach Boat Parade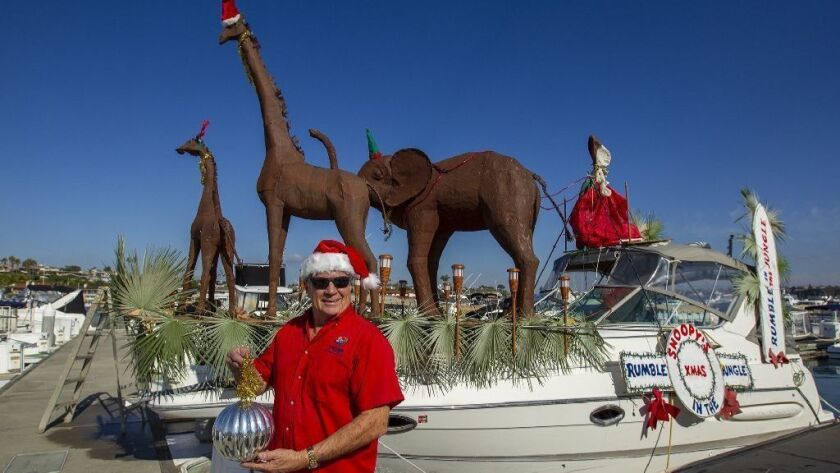 Greg Killingsworth spent most of his career staging over-the-top sales meetings for big-time companies like Toyota and Honda.
He has brought executives on stage on the backs of elephants. And had them parachute in from the rafters.
"One time we brought out on stage the president of Suzuki in a volcano that was shooting pyro out of the top, and then the volcano opened and he walked out," he says. "Where do you go after that?"
The Newport Beach Boat Parade. That's where.
Killingsworth retired nine years ago, but his brain didn't. When he wakes up in the morning, he's cooking up something or other.
"Greg's out there goin', 'Hmmm, what am I going to do today?' " he said, speaking of himself in the third person. "I have all this creative energy."
He blames his parents. Dad Ed Killingsworth was a famous architect who spent 40 years on the master plan for Cal State Long Beach while building iconic mid-century modern Southern California houses (the Opdahl House in the Naples section of Long Beach is his) and swanky hotels in Hawaii, Indonesia and Japan. Mom Laura Killingsworth was a Long Beach Civic Light Opera stage star who, now 94, just donned a gown to open up her home, a mid-century gem that her late husband designed, for an architectural tour fundraiser.
"I grew up in this family of achievers," Killingsworth says. "So I started putting on plays in the backyard when I was 13."
He called his "company" the Virginia Country Theater and staged one production each summer for seven summers, not only rewriting the lyrics to plays like "Oklahoma," but casting the plays, directing them and building the sets.
"I starred in them too," he says. "I was possessed."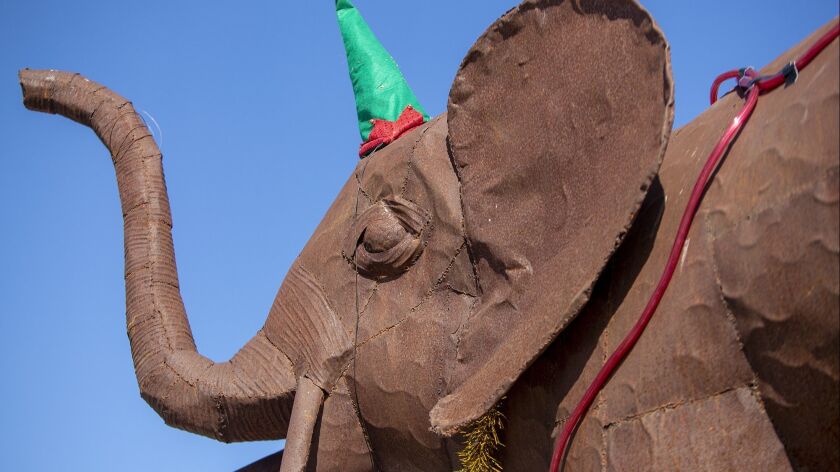 After high school and USC, he began putting on another type of show: beauty pageants up and down the West Coast. He called his company Killingsworth Productions.
Still in his early 20s, Killingsworth got an offer in '76 to work for Disney in show development, but he left after a couple years.
"I just was not the Disney guy," he says.
He and his then-wife Cam started another company: Killingsworth Presentations. One of their first gigs was staging the victory dinner for the Toyota Grand Prix of Long Beach.
"I made it a spectacle," he says. "Confetti cannons, big sound."
After dinner, a Toyota executive asked the couple to stage their pro celebrity driver events. That led to staging annual sales meetings for top companies across the nation.
"How do you make the dealers come out of their seats with the 'Oooo, Wow!' factor?"
Killingsworth once paid Jay Leno to walk out on stage. Another time he found a Jetpack guy to fly down the aisle onto the stage, and then (with the help of a magician) vanish, replaced by the company president.
Ooo. Wow!
"Dealers would go, 'My God, you guys are untouchable. Whatever you're selling, I'm buying,' " he recalls. "That's why we were paid the big bucks."
His Everest came in 2001 when he and Cam were summoned to Japan to pitch to the president of Toyota, who wanted to hold a first-ever Toyota World Convention for 1,500 dealers around the world.
"They wanted it to be grand American-style, John Wayned out," he says. "Not one ending, not two endings, but three endings."
The $5 million production involved laser beams and an originally-composed soundtrack.
"I loved the pressure," he says. "That moment when you press the button and … Oh my God, is it gonna work?"
It's a high that's hard to kick. He has tried though; hence the boat. He bought his 30-foot express cruiser Paradise Found after retirement in an attempt to "relax, chill."
It lasted about a minute.
"Gee, now that I have a boat, I can be in the boat parade," he almost immediately deduced. "And here comes showbiz Greg."
It started at a hardware store when he saw a giant inflatable Snoopy doghouse.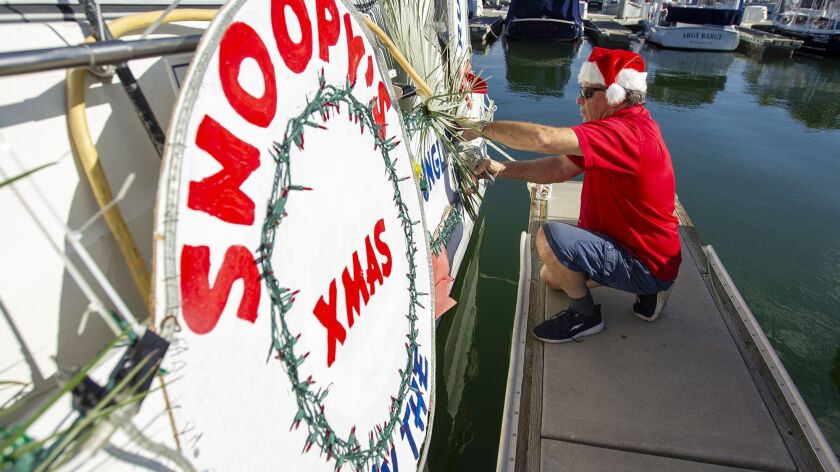 "I grabbed that guy, put him on top of my cabin, added some speakers — and Pavarotti. Next thing I know I won best music. Right out of the bag. Well, hell, this works."
That was 2009.
"So the next year, I put Kenny G jazz on the water with Snoopy. Guess what? I win best music again."
The next year was a bust. The generator died just as the parade started. Lights out, literally.
In 2012, he was back though, baby. This time he won the humor and originality award for Circle of Life Christmas. He drove a metal lion sculpture from his yard in Trabuco Canyon down to his Newport Dunes slip, put him on the boat and blasted Lion King music.
His next win was actually a historic one. The city decided that it wasn't fair for the smaller, mom-and-pop boats to be competing with mega-yacht owners who pay $50,000 to have their boats dripping in lights, so they created a new category called non-commercial sweepstakes.
Killingsworth took the coveted prize for Jurassic Christmas. He put a 20-foot-tall, 500-pound metal T Rex sculpture (also from his yard) on the boat and shot CO2 white gas through a red light so it looked like the dinosaur was spitting fire. While out on the water, though, he saw a boat using real fire.
"You want fire, I'll show you fire," he thought. "Wait until you see my fire."
The next year he called his entry "The Heat is On." By painting some of those tall glass-encased patio heaters black, it gave the illusion that loose flames were leaping off the boat. It won him another humor and originality award.
In 2015, he got best animation for saluting John Wayne with video screens playing the Duke's old movie clips. The following year he won another humor and originality award for Fireside Christmas. More fire.
Last year he took the noncommercial sweepstakes again, this time for a family of dinosaurs (also from his yard — you gotta see his yard). His son Todd, who does spots for TV networks and is also a "Burner," flew in from Seattle, bringing with him a propane puffer. The contraption, which Burners use at the annual Burning Man festival out in the Black Rock desert for nighttime drama, compresses gas and then shoots fireballs that explode 100 feet into the sky. Killingsworth put it in the middle of a Christmas tree on his boat and then synced it with Michael Jackson's "Thriller."
This year, when the parade kicks off Dec. 19, Killingsworth's boat will be blasting Guns N' Roses' "Welcome to the Jungle." Look for the elephant shooting flames from his trunk and the giraffes eating from a palm tree that shoots fireballs.
"It's gonna rock and roll this year," Killingsworth says. "Let's just keep having fun."
Lori Basheda is a contributor to Times Community News.
---
All the latest on Orange County from Orange County.
Get our free TimesOC newsletter.
You may occasionally receive promotional content from the Daily Pilot.