Knights in Armor exhibition is shining at the Bowers Museum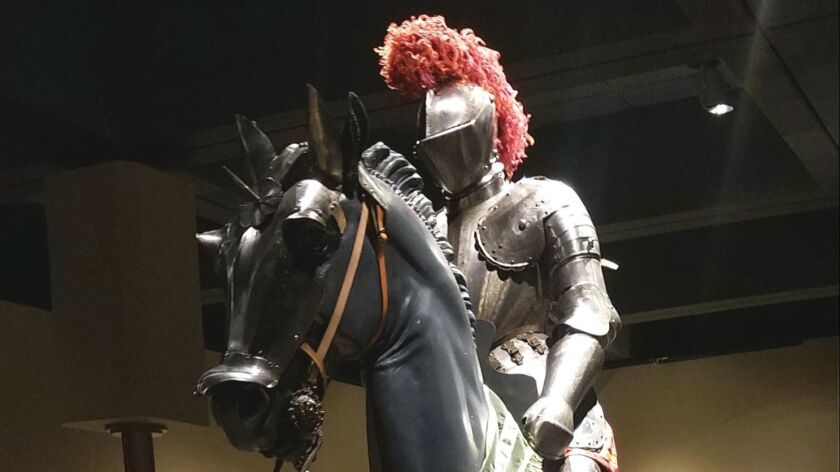 One historical theme to be gleaned from the Bowers Museum's new exhibit, "Knights in Armor," is the 17th century invention that led to the downfall of armor and its accompanying weaponry as effective fighting tools: firearms.
Providing visual proof is a metal breastplate pockmarked by bullets, one of the 100-plus pieces in the Knights in Armor exhibit, which features a collection of centuries old armor, swords and daggers, known around the world.
"No matter how hard they tried, they could not develop a set of armor that could effectively protect a person from a bullet," said Bowers researcher Mark Bustamante, who is well versed in the exhibit, running through Jan. 13.
While no longer practical in battle, the shaping of armor as intricately designed art has continued.
Pieces in the exhibit represent a collaboration with the Museo Stibbert museum in Florence, Italy, which houses close to 50,000 items, most of which focus on European, Japanese and Islamic armor from the 15th to 19th centuries.
The collection belonged to Florentine Frederick Stibbert, an avid collector of armor, who lived from 1838 to 1906.
When Stibbert died, he willed his collection to the city.
"[The Italian people] love the fact that these kinds of art objects are displayed abroad to widen the knowledge," said Ricardo Franci, curator of the exhibition from the Stibbert.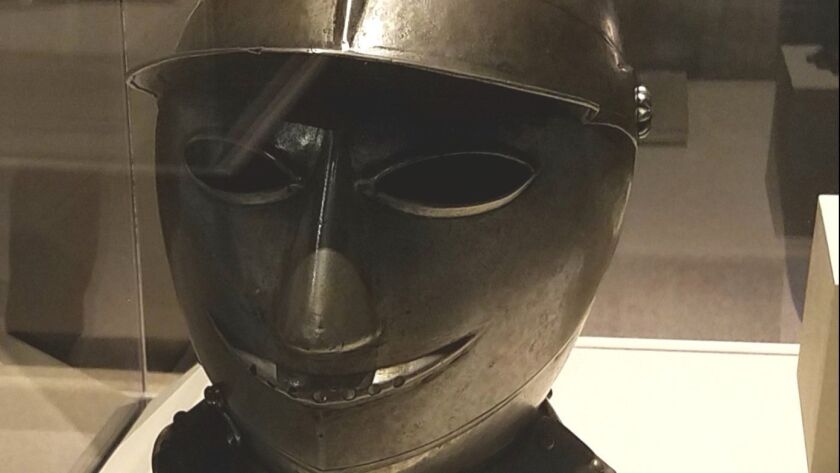 The exhibit features battle armor designed for various parts of the body, including helmets, gloves, boots, breast plates and shields.
Full suits of armor are displayed along with two horses, also armored.
On display in the main exhibit hall are full suits of battle armor, helmets, shields, swords, daggers, a crossbow and paintings depicting military battles, jousting and notables from the period.
"In this exhibition we wanted to give a wide idea of the world of the knights at their highest point and at the last moments of their history," Franci said. "We have arms and armor from the late 15th century up to two firearms of the 18th century."
In conjunction with Knights in Armor, the Bowers' Kidseum is hosting "Kings, Queens, and Castles," an exhibition that includes an interactive, life-sized chess board.
Events related to Knights in Armor are also scheduled throughout the exhibition's run. An Italian Renaissance Faire with sword demonstrations and live music, along with a three-course Medieval banquet, is set to take place Oct. 7.
Screenings of "Monty Python and of the Holy Grail," "A Knight's Tale" and Camelot" are scheduled for Nov. 24 and 25 and Dec. 15.
Lou Ponsi is a contributor to Times Community News.
If You Go
What: Knights in Armor
When: Through Jan. 13
Where: Bowers Museum, 2002 North Main Street, Santa Ana.
Cost: Adult tickets are $23 on weekdays and $25 on weekends; seniors are $20 on weekdays and $22 on weekends; children are $5.
Information: bowers.org and (714) 567-3600
---
All the latest on Orange County from Orange County.
Get our free TimesOC newsletter.
You may occasionally receive promotional content from the Daily Pilot.