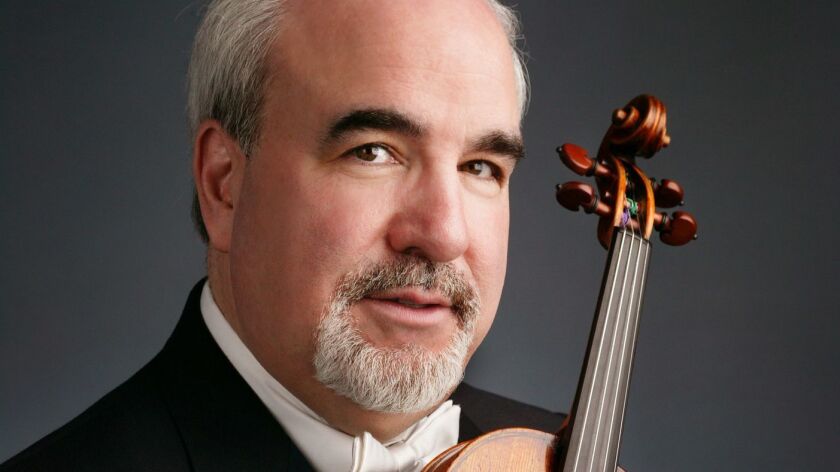 He was concertmaster in two of the nation's top six orchestras for a combined 42 years. But then, leading the violins of a major orchestra ran in the family.
Glenn Dicterow was the associate concertmaster, and then concertmaster, of the Los Angeles Philharmonic Orchestra from 1971 to 1979.
Harold Dicterow, his father, was principal of the second violins of the Philharmonic for 52 years.
"I led the first violins, while my father led the seconds," said Dicterow.
The younger Dicterow, who turns 70 Dec. 23, made his debut as soloist of the Los Angeles Philharmonic in Tchaikovsky's Violin Concerto in 1960, when 11.
After stepping down as concertmaster of the L.A. orchestra in 1979, he became the concertmaster of the New York Philharmonic Orchestra the following year, making his New York Philharmonic debut the same way he did in Los Angeles in 1967 when he was 18 — soloing the Tchaikovsky.
He stayed as concertmaster for 34 years, considered a New York Philharmonic record.
"The irony is, concertmasters typically don't last too long," said Dicterow, who stepped away from that job in 2014 to accept a full-time position as a tenured professor at the USC Thornton School of Music, where he holds the first Robert Mann-endowed chair in violin and chamber music.
Making that move back to the West Coast proved a "definite homecoming."
"I have two daughters and three grandchildren all living in the same town, so it's very convenient for us," he said. (His wife, Karen Dreyfus, teaches viola at USC.) "And not being concertmaster means I have more time now to do concerts, such as the one in Irvine."
It also means his Amerigo String Trio, which he and Dreyfus co-founded in 2009 and named after Italian explorer Amerigo Vespucci (the source of the word "America"), can be more active than giving only a few concerts a year. And he can be more involved as faculty artist of the Music Academy of the West in Montecito.
His Dec. 8 concert at Winifred Smith Hall in the Claire Trevor School of the Arts complex at UC Irvine is sponsored by Chamber Music OC, which was co-founded by Kevin Kwan Loucks.
Loucks and Lyris Quartet will be joining Dicterow onstage, and they'll be performing the Concerto in D Major for Violin, Piano and String Quartet, Op. 21 (1889-1891), by Ernest Chausson.
The 10-year-old, Los Angeles-based Lyris Quartet will also perform the Second String Quartet in A Major, Op. 26 (1853-1861), of Johannes Brahms.
It'll be a first time collaboration for Dicterow, Loucks and Lyris Quartet, but Dicterow previously performed with Loucks' wife, violinist Iryna Krechkovsky, in an all-strings concert, also presented by Chamber Music OC, at Soka University in Aliso Viejo last March.
"That concert was an extremely positive experience for me and I look forward to this concert," Dicterow said.
Michael Rydzynski is a contributor to Times Community News.
IF YOU GO
What: Chamber Music OC presents An Evening with Violin Virtuoso Glenn Dicterow, who joins the Lyris Quartet and Kevin Kwan Loucks
When: 8 p.m. Dec. 8
Where: Winifred Smith Hall, UC Irvine, W. Peltason Drive
Cost: Tickets start at $15 (students: $5)
Information: (949) 824-2787; chambermusicoc.org
---