Segerstrom ballet students to join professional dancers in ABT's 'Harlequinade'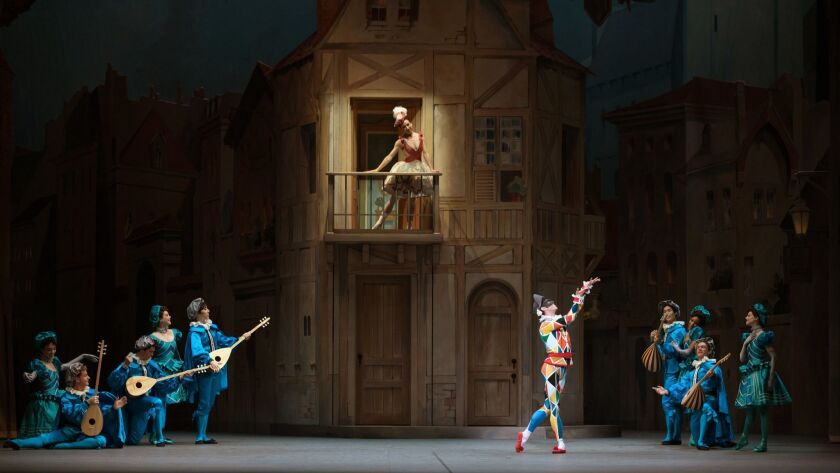 Kenny Easter thought he was done with ballet.
After years on the stages of New York, retiring from dance at 40 sounded perfectly reasonable — until a call came from his colleagues at the American Ballet Theatre for a plum assignment teaching at the new William J. Gillespie School at the Segerstrom Center for the Arts in Costa Mesa.
"I knew that I would probably go into teaching, I just didn't know where," Easter said. "And the [ABT] director said we have this new school in California, and we really need a male teacher [in] the men's program. It sounded like a great opportunity, and Southern California is not a bad place to retire."
Easter, who danced in the Academy Award-nominated "Black Swan," is in the middle of his second year teaching at the Gillespie. He's also in the middle of a busy double-header as children's ballet master for Segerstrom's recent "Nutcracker" run, followed by the ABT's performance of the Marius Petipa ballet "Harlequinade," which premieres Jan. 17 at Segerstrom after a New York run.
"Harlequinade" is a prime example of commedia dell'arte, a centuries-old Italian theatrical style based less on fully fleshed out characters and more on pantomime and actors dressed in clownish, outlandish costumes who act out rather simple melodramas.
"It follows the same [plot] as a normal ballet," Easter said, adding that "Harlequinade" offers the typical tropes of comedy and tragedy and love triangles. "You learn that these different styles of commedia dell'arte have their own signature attire, and you learn their personalities through their styles … The kids learn the importance of how mime tells a story. This ballet has a lot of mime."
Many of the young dancers in "Harlequinade" also performed in "The Nutcracker." Easter said both shows auditioned simultaneously, allowing he and the other creative forces to cast roles in each.
Easter estimated there were 45 child dancers in "The Nutcracker" and nearly as many in "Harlequinade."
However, as opposed to the Christmas ballet staple, the children in "Harlequinade" are required to act beyond their years.
One of the young performers is 11-year-old Alexandra Orradre, who has been dancing since she was 5 and hopes to study in New York or London. She described "Harlequinade" as a fun cross of the ballets "Giselle" and "Cinderella," saying it's more challenging than "The Nutcracker."
"You have to pick up your knees in parallel and then land turned out," Alexandra said.
In keeping with the commedia dell'arte tradition, her costume is "black and purple [with] blue checkers, and looks kind of like a joker," Alexandra said.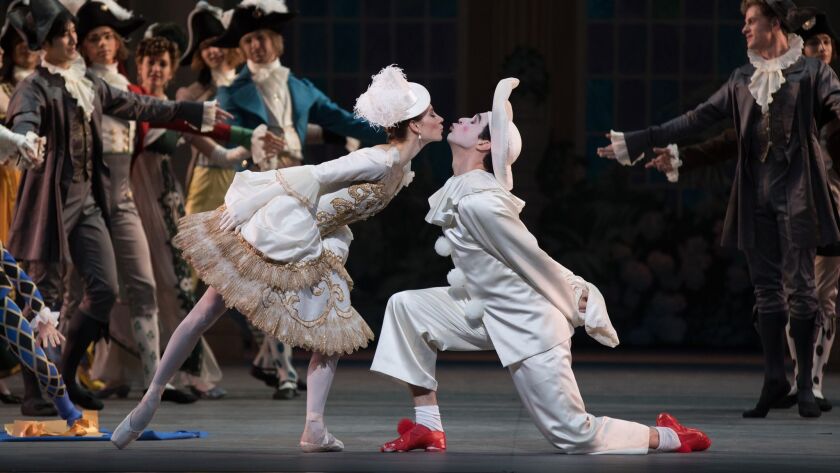 Easter said that while his students understand he was part of the ABT company during his New York tenure, they still react with shock when he tells them of working with key figures.
"They'll say, 'Mr. Easter, did you see Misty Copeland? Misty is one of my best friends, so yes, I saw her,' " he said of ABT's first African American female principal dancer. "The way they light up when the actual company is here, it's different from kids just taking ballet classes. They understand at a young age that the work and the training they're putting in now could possibly get them to where the professionals are on the stage. It sparks their little brains and lights their fires."
Easter describes teaching at the Gillespie School as a dream job.
"It's really fun because you're coaching them on the style of the choreography, but at the same time, I love to be silly with the kids," he said. "Some days I play good cop and some days I play bad cop."
Eric Althoff is a contributor to Times Community News.
IF YOU GO
What: American Ballet Theatre's "Harlequinade"
When: 7:30 p.m. Jan. 17 to 18; 2 and 7:30 p.m. Jan 19; 1 p.m. Jan 20
Where: Segerstrom Hall, Segerstrom Center for the Arts, 600 Town Center Drive, Costa Mesa
Cost: Tickets start at $39. On Jan. 17, a child's ticket is free with the purchase of a full-price ticket.
Information: (714) 556-2787, scfta.org
---