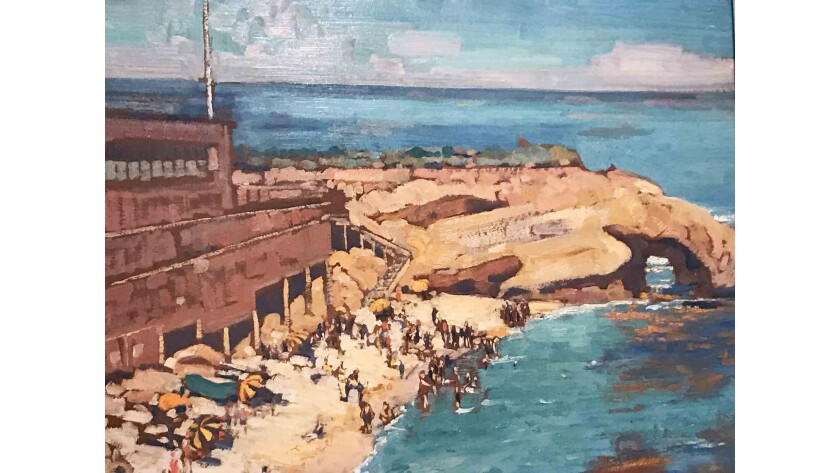 A modest museum in Old Towne Orange is celebrating its two-year anniversary by presenting five new exhibitions and gearing up for some ambitious plans in its future.
The Hilbert Museum of California Art at Chapman University has just opened "Scenic View Ahead: The Westways Cover Art Collection"; "Magical Visions: The Enchanted Worlds of Eyvind Earle"; "A New Hope: The 'Star Wars' Art of Robert Bailey"; "Sunlight and Shadow: A Gift of California Art from the Collection of Jim and Lynne Doti" and "Character References: The Art of the Animation Drawing."
"Scenic View Ahead" highlights original artworks commissioned by the Automobile Club of Southern California for its member magazine cover between 1928 and 1981. Originally titled Touring Topics, the auto club changed the magazine's name to Westways in 1934.
For decades, the magazine was one of the few publications showcasing fine arts on the West Coast, and put a spotlight on the artistic movements of the time — plein air painting, California Impressionism and California scene painting.
Artists in this exhibit include Alson Clark, John Frost, Donna Schuster, Maynard Dixon, Rex Brandt of Corona del Mar, Phil Dike, William Pajaud, Neil Boyle and Jake Lee.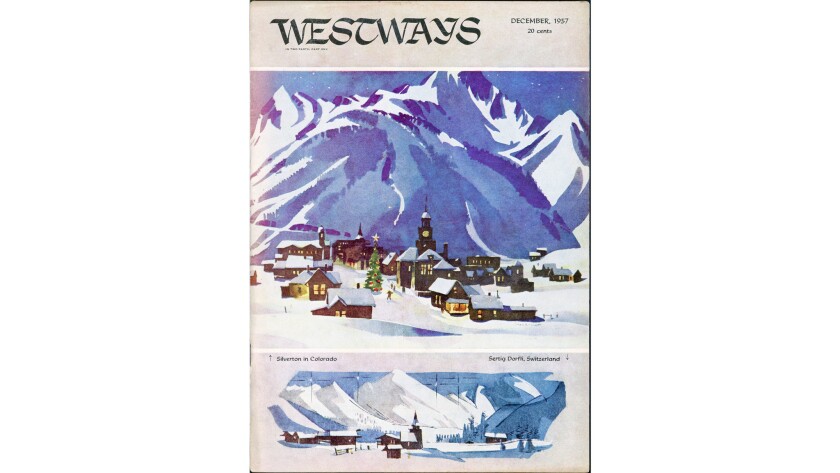 A version of the Westways cover art collection exhibited at the Irvine Museum between October 2014 and January 2015. But the paintings currently on view at the Hilbert were selected and curated by Hilbert Museum director Mary Platt and registrar Emily Valdez.
A master possibly overlooked
"Magical Visions" offers a rare look at the paintings, drawings, prints, poems and scratchboard etchings of Eyvind Earle. He was an accomplished landscape painter and respected Disney artist, whose best known work appears throughout "Sleeping Beauty" (1959). Earle gave the animated movie a magical, medieval look.
He also did backgrounds and illustrations for "Peter Pan" (1953), "Lady and the Tramp (1955) and "Toot, Whistle, Plunk and Bloom," which won the 1954 Academy Award for best short subject (cartoons). Earle died in 2000, but his work can still be seen in the Sleeping Beauty Castle dioramas at Disneyland.
On view at the Hilbert are more than two dozen of his original oil paintings and serigraphs, which celebrate natural landscapes, yet are also mystical, primitive, serene and nostalgic. The Earle Family Trust recently donated eight of Earle's paintings to the Hilbert Museum, and five of them are on view.
"It was his dream to work at Disney," said Ioan Szasz, curator of the Earle exhibit and CEO of Eyvind Earle Publishing, based in Monterey. Szasz knew and worked with the artist for 13 years, and is the caretaker of his artistic estate.
"When he was creating a serigraph (silkscreen print), he was controlling the process," said Szasz, who also runs Gallery 21 in Carmel, featuring Earle's work. "But when he was painting, there was someone or something else controlling him to create. He said there was a driving force making him do that."
One of the highlights of the exhibit is "Three Noble Horses," an oil painting from 1993 that features a red, white and blue horse, each in a majestic pose, against a blue and green speckled background. A gift from the Earle Family Trust, it's now part of the Hilbert Museum's permanent collection.
Other shows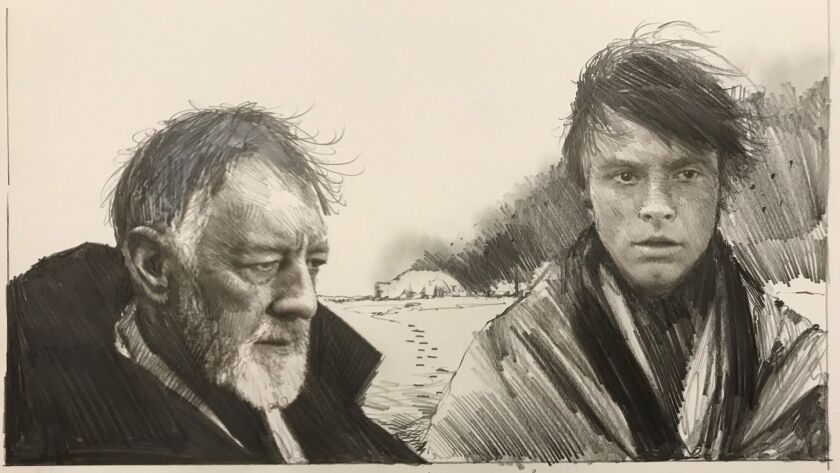 Also on view at the Hilbert is "A New Hope," featuring graphite pencil drawings by Robert Bailey, an English illustrator who's an official Lucasfilm artist. He has drawn 12 scenes from the original "Star Wars" trilogy.
"Sunlight and Shadow" spotlights a dozen paintings that are part of a gift of 17 donated by Jim Doti, former president at Chapman, and his wife, Lynne Doti, a retired economics professor at the university. The collection includes works by Brandt, Franz Bischoff, Millard Sheets, Emil Kosa Jr., Jack Laycox and Irv Wyner.
"Character References" is a mini-exhibit focusing on the lively and often impromptu drawings of animation artists from Disney Studios and Warner Bros. Artists include Chuck Jones, Tim Burton and Jeff DeGrandis.
The location of the Hilbert Museum on 167 N. Atchison St. was meant to be temporary, with an eventual move to the Packing House on Palm Avenue and Cypress Street but administrators decided to stay put.
Hilbert Director Platt says the staff and benefactors, Mark and Jan Hilbert, like the current space, and plan to expand into the Partridge Dance Center next door over the next five years, effectively tripling its space.
"It's been a great ride," said Platt, who previously directed communications and media relations at Chapman for 13 years. She's served as director of the Hilbert for a year. " I've really enjoyed it. It's an adventure every day."
If You Go
What: Five new exhibitions of California art
When: Through Oct. 13; hours are 11 a.m. to 5 p.m. Tuesdays through Saturdays
Where: Hilbert Museum of California Art, 167 N. Atchison St., Orange
Cost: Free
Information: (714) 516-5880 or hilbertmuseum.com.
RICHARD CHANG is a contributor to Times Community News.
---