It's been a few eons since the musical silliness of Gilbert and Sullivan emanated from a local stage, but Vanguard University is filling that gap with a delightfully daffy rendition of "The Pirates of Penzance."
Pandemonium reigns from the opening sequence when the title characters hit the stage like a tumbling troupe, executing tricky gymnastic moves and dizzying flips. You'll imagine that the circus just hit town.
Director Vanda Eggington has gone all out on this production, aided immeasurably by the superb choreography of Bretlyn Schmitt-Lazaris, who should be putting Broadway dancers through their paces. The ensemble scenes involving pirates, comely maidens and tap-dancing police officers are the highlights of the show.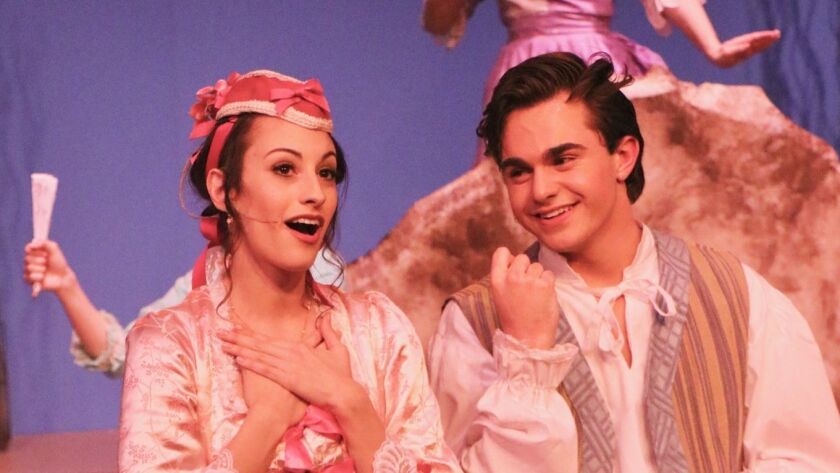 The dilemma of young Frederick (DJ Fields) over whether to follow his heart or his "duty" is the centerpiece of the production and Fields is properly callow with a stiff upper British lip as he ponders just where his loyalty lies. More brash and swashbuckling is the pirate king, delivered with splendid facial and physical buffoonery by Andreas Schmidt.
The dulcet tones of Gabrielle Incremona as the general's daughter who captures Frederick's heart top the musical portion of the festivities. Her captivating solo, "Poor Wandering One," is particularly enjoyable. She shares the role with Caitlin Theobald.
The satirical element is kicked up a notch with the arrival of comic genius Robert Ball as the "very model of a modern major general" who handles his character's tongue-twisting song with aplomb. Once Ball renders the piece admirably; he then ups the tempo for a rousing encore.
Hanna Jepsen is a sprightly Ruth, the pirates' "maid of all work," though she's much too attractive for her plain-Jane character. The general's other daughters combine to form a well-conditioned chorus line.
The light-footed constabulary — which may have given Mack Sennett the idea for the Keystone Cops — is represented by a handful of bobbies well drilled for their exhaustive and well-choreographed dance routines. You may be reminded of an old Busby Berkeley movie.
A three-piece combo headed by keyboardist Scott Cokely keeps the tempo humming. Paul Eggington's brightly attractive settings seemingly enlarge the dimensions of the small Lyceum Theater.
Gilbert and Sullivan may be considered "old hat" these days, but the creative imagination at Vanguard University has breathed new life into a 19th century musical. Arrive early as parking is a problem.
Tom Titus reviews local theater.
IF YOU GO
What: "The Pirates of Penzance"
Where: Vanguard University, 55 Fair Drive, Costa Mesa (enter via Newport Boulevard)
When: Thursdays and Fridays at 7:30 p.m., Saturdays and Sundays at 2 and 7:30 through March 10
Cost: $15 to $19
Information: (714) 668-6145; vanguardtickets.com
---