County, Placentia explore innovative financing to improve Old Town infrastructure and spur development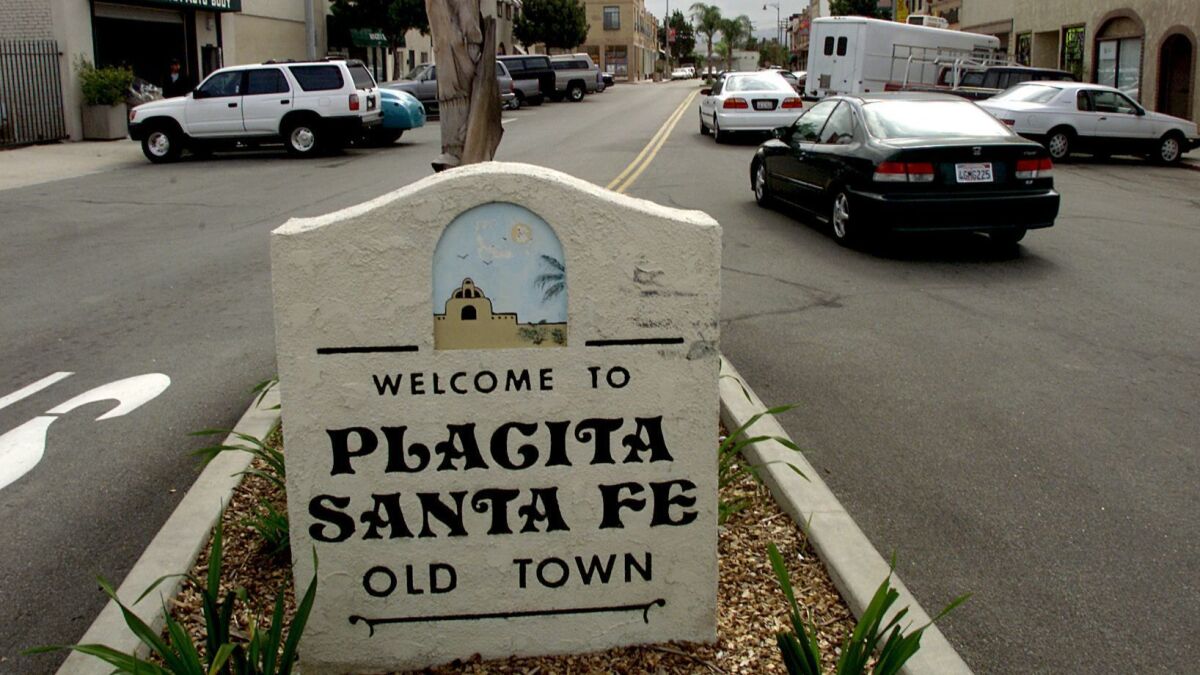 The Orange County Board of Supervisors and the city of Placentia on Tuesday took the first step needed to establish the state's first county-city financing authority to fund public infrastructure improvements around Placentia's future Metrolink station.
Enhanced Infrastructure Financing Districts like the one Placentia is exploring are touted as a potential solution to the state's 2012 dissolution of redevelopment agencies. Placentia city leaders have adopted measures they hope will encourage developers to pitch transit-oriented developments on industrial properties near the planned train station.
Primarily a bedroom community, Placentia doesn't have reserves to repair roads, widen sidewalks, add bike lanes, and improve water and sewer lines to accommodate dense mixed-used projects. Instead, the city will capture redeveloped properties' incremental tax revenue, the portion of taxes raised after a property is improved and reassessed. The EIFD is expected to raise about $11.7 million over the next 20 years, according to a county staff report.
Placentia's public financing authority could pursue issuing a bond backed by this property tax revenue but it would need to be approved by 55% of voters living within the financing district's boundaries.
"We've been working on this for a long time and I'm really excited to see what happens," Placentia Councilman Chad Wanke said. "These are such big projects that it's difficult to do it on our own."
The Southern California Assn. of Governments awarded Placentia a grant to study how it could implement an EIFD, partially because the financing would support transit-oriented development.
Placentia anticipates the construction of a Metrolink station about half a mile from Cal State Fullerton will encourage students and employees to take the train to campus rather than drive on the congested 91 Freeway. According to a county staff report, Placentia expects the access to public transit and improved infrastructure could bring 1,600 housing units; 125,000 square feet of commercial, retail and office space; and a hotel.
County Supervisor Doug Chaffee, whose district includes Placentia, recommended the county partner with the city to form the EIFD so residents can enjoy improved roads that would otherwise be outside of the city's budget.
"The revenue sharing is going to help finance the infrastructure, which is what I think redevelopment should do, and it is creating the infrastructure so private business can proposer and people can have better roads," Chaffee said.
Michelle Steel was the only supervisor who opposed the county's collaboration with Placentia on the EIFD, arguing the Board of Supervisors should first discuss if and how the county should get involved in this type of financing.
"We have limited property tax dollars and Orange County gets less property tax than any other county in the state, Steel said.
To help Placentia stay on schedule, Supervisor Lisa Bartlett, the board's chairwoman, proposed county staffers craft a policy on EIFDs to be considered simultaneously with Placentia's proposal.
Placentia's finances have taken a beating in recent years. In 2017, a former Placentia financial services manager was sentenced to 25 years in prison for embezzling more than $5 million from the city. The city recovered about $3.16 million of the embezzled funds and received an additional $1 million from an insurance policy, according to the city's website.
The city has also struggled since 2004 to recover after spending $52.7 million on a scandal-plagued railroad project to separate vehicle and train traffic that was never completed, according to a grand jury report.
Under the leadership of City Administrator Damien Arrula, Placentia has laid the groundwork for revitalizing its Old Town and increase its sales and property tax base. However, protracted negotiations between Metrolink and railroad operator BNSF have delayed a groundbreaking on the train station considered vital to the city's economic development efforts.
Brian Nick, an Old Town Placentia resident and owner of the Placentia Hub, said he appreciates the city's creative efforts to improve his neighborhood's infrastructure without raising residents' taxes.
"I've spent a lot of money upgrading my business and making it look beautiful but the roads are cracked and the sidewalks are narrow," Nick said. "This place was built in 1910 and it wasn't built for what we have down there today. It's in desperate need of redevelopment."
Daniel Langhorne is a contributor to TimesOC. Follow him on Twitter at @DanielLanghorne.
Support our coverage of Orange County by becoming a digital subscriber.
For more news and features about Orange County, visit TimesOC.com or follow us on Twitter @timesocofficial.
---
All the latest on Orange County from Orange County.
Get our free TimesOC newsletter.
You may occasionally receive promotional content from the Daily Pilot.