'Project Runway' winner backs Working Wardrobes' drive for plus-size clothing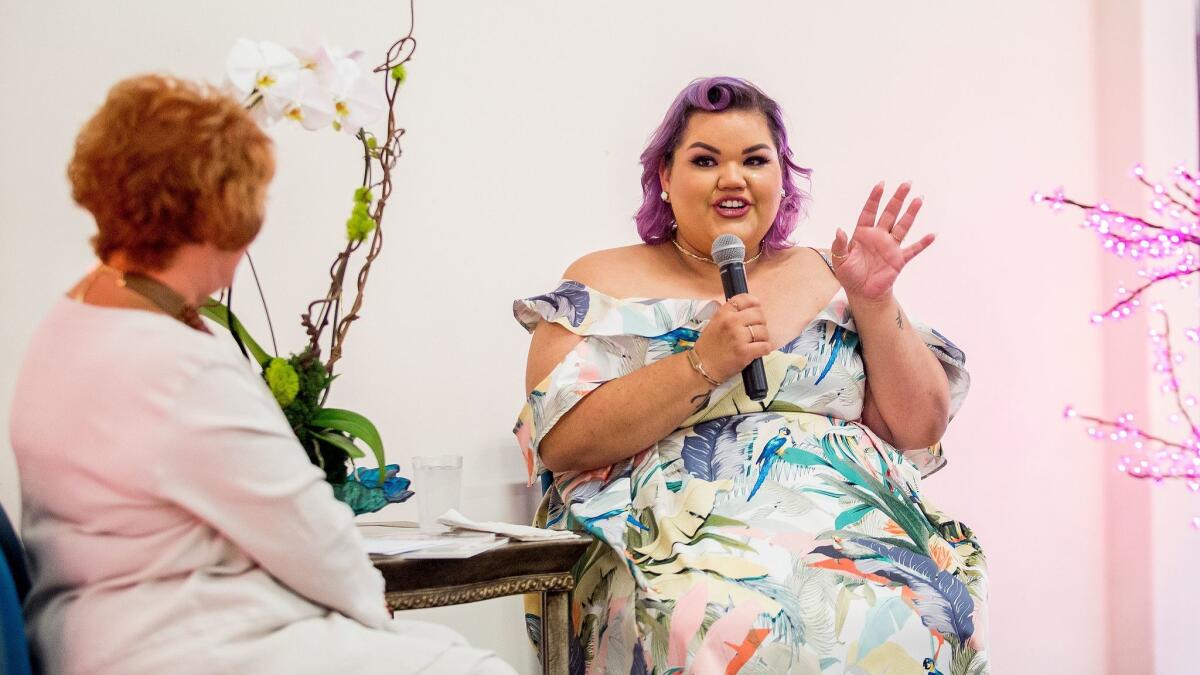 Two years ago, fashion designer Ashley Nell Tipton made television history when she became the first contestant on Lifetime's "Project Runway" to show a plus-sized collection.
The San Diego native, who won Season 14, went on to launch a jewelry line, partner with J.C. Penney as a brand ambassador for its Boutique+ line and is now collaborating with a nonprofit organization that helps job seekers of limited means dress appropriately for interviews.
Tipton is lending her celebrity — and support — to "Curves Work!" a plus-size clothing drive benefitting Working Wardrobes, an Irvine-based nonprofit that provides career training, job-placement services and professional wardrobe assistance to military veterans and young adults trying to overcome difficult challenges.
The campaign started in June, when the nonprofit wanted to raise awareness about its need for professional clothing donations in larger sizes.
About 60% of the men, women, young adults and veterans Working Wardrobes serves are plus-size, the organization said, and the donations aren't meeting the need.
"Clothing gives you that confidence," Tipton said to a group of fashion bloggers before appearing onstage July 19 at the Working Wardrobes Smart Women event at the organization's Irvine headquarters.
"The dressing part is the hardest and most stressful in the transformation, and I hate to see people struggle because they end up feeling defeated and unprepared," Tipton said. "It's our mission to take that stress away from people and focus on the main thing."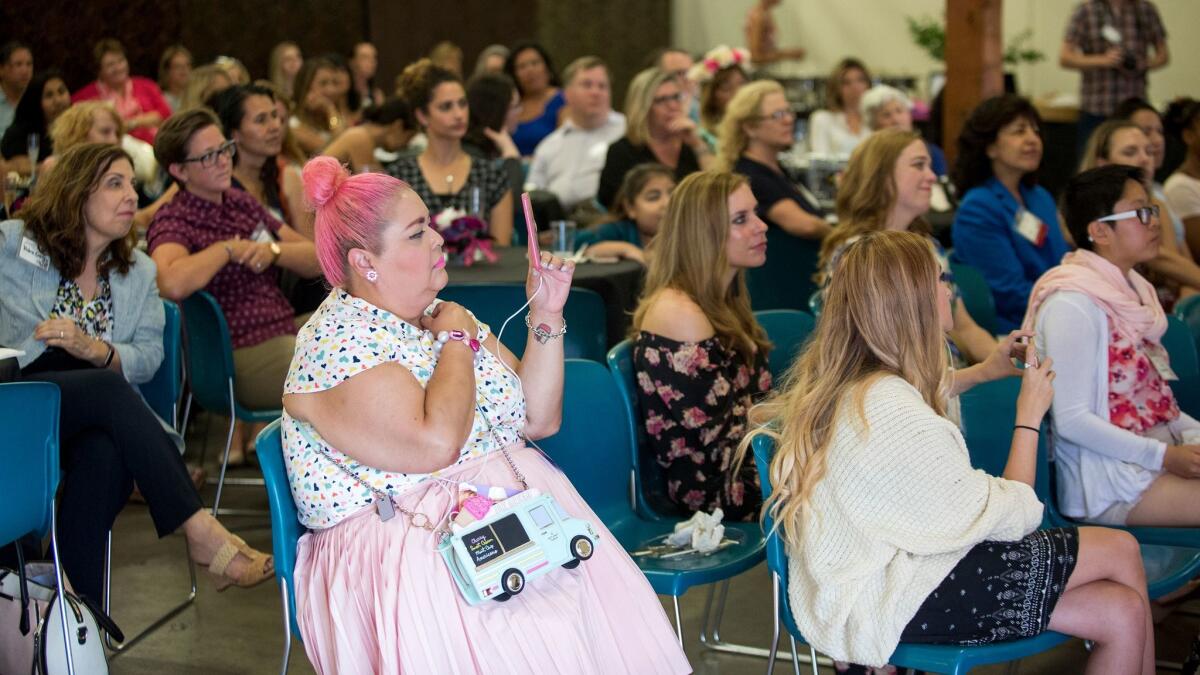 Tipton — known for her love of fun, frisky and fashion-forward clothing — started sewing at age 7 on her grandmother's machine.
As a then-plus-size junior, she longed to wear stylish clothing, but such pieces were not available to her, and she'd either have to shop in the men's department or the older women's dress section.
At 16, Tipton started working at Torrid, a women's retail chain offering larger sizes. On the side, she started her clothing business, creating patterns, sewing apparel and selling pieces out of her sister's garage.
While working on an order, her sister advised her to apply to "Project Runway," the competitive reality show hosted by Heidi Klum.
Tipton faced a difficult time on the show. In a group challenge — despite having won multiple previous challenges — she was picked last to collaborate with fellow designers.
"I have to constantly remind myself that no one is perfect, and that this is my journey, and I have to be kind to myself," Tipton said. "You can't continue to reflect on the past."
Jerri Rosen, founder and CEO of Working Wardrobes, called Tipton an inspiration to clients on the road to self-improvement and a positive image.
"Your connection with us is so heartfelt, and we appreciate you so much," Rosen told her before guests at the event.
Many retailers are rethinking their approach to sizing, as the average American woman wears a size 16 to 18, according to a 2016 Washington State University study, and 67% of U.S. women are plus-size.
And according to market researcher NPD Group, sales of women's plus-size clothing increased to $20.4 billion in the 12 months ending February 2016, up from $19.8 billion in the same time frame a year earlier.
Though clothing options for plus-size women remain limited, demand continues to grow, Tipton said, noting her goal to create a line for plus-size men as well.
"I cried when you won because I felt like I could identify with you," a fashion blogger told Tipton.
"We all won," Tipton said.
Working Wardobes is at 1851 Kettering St., Irvine. For more information, call (714) 210-2460 or visit workingwardrobes.org.
Twitter: @KathleenLuppi
All the latest on Orange County from Orange County.
Get our free TimesOC newsletter.
You may occasionally receive promotional content from the Daily Pilot.