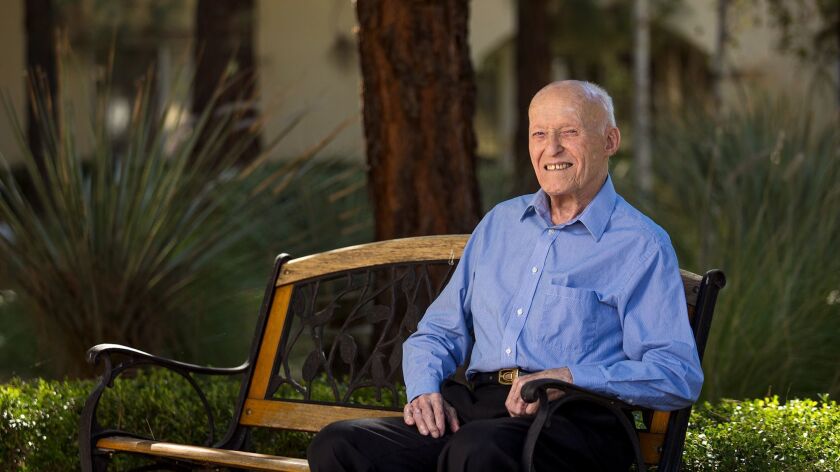 Ralph Freeman is right where he wants to be.
He's sitting in a chair in the family room of his apartment within an assisted living community in Rancho Santa Margarita, looking at a set of five-pound dumbbells on a coffee table.
At 100 years old, Freeman practices a daily routine of lifting weights, working his core balance with leg and arm exercises and adding movement to his usual activities around the home.
The World War II and Korean War veteran is smiling, joking and reflecting on his good health.
"I attribute that to selecting the perfect mother," he says with a laugh.
Freeman, who became a centenarian June 14 — fittingly on Flag Day — has no plans to slow down.
He starts his mornings as early as 7 a.m., pouring himself a bowl of grain cereal and heading to his favorite reading chair near the window to read a copy of the Los Angeles Times.
After breakfast, he hits the community center's exercise room where he practices drops and rolls so if he falls, he knows how to pick himself up.
He returns to his apartment to read for an hour, thumbing through pages of W.E.B. Griffin books of military fiction or selecting works on the space program, universe and physics-related subjects.
Twice a week, he'll play a game of blackjack in the community center's gathering hall.
Freeman was married to wife Marjorie for 70 years before she died in 2016 at age 93.
The couple met at an officer's club dance when Freeman was a 28-year-old U.S. Army major in England. A 23-year-old English beauty, Marjorie wore glasses and was "very photogenic," he says as he holds a black-and-white photograph of their wedding day, Nov. 11, 1945.
After completing his duty in Europe, Freeman returned to the U.S. on the Queen Mary ocean liner with troops. She came to America a year later on a ship filled with war brides. The two settled in his hometown of Chicago.
Freeman worked at the Pentagon during the Korean War and later became an engineering professor at Iowa State University for a decade.
In 1961, Freeman was recruited by the booming aerospace industry and moved his young family, now with three children, to Southern California, where he worked as a metallurgical engineer at TRW Inc., a pioneer in aerospace and automotive engineering that was recruited to lead the development of the United States' first ICBM.
Freeman would work on special mission projects including the company's contract with the Apollo program where he had to ensure the spacecraft was throttleable, meaning its thrust could be varied.
The Freemans raised their children in Palos Verdes and Newport Beach and retired in Mission Viejo.
For 15 years, Freeman regularly walked three miles around Lake Mission Viejo, a routine he credits for his longevity.
Though he stopped driving in 2012, he began learning to use a computer in his 90s.
Freeman sends daily group emails of jokes and photos to his friends, three children and three grandsons who often visit him from Laguna Niguel, San Clemente and Carlsbad.
"Dad has always had a positive attitude and he doesn't fear anything," said daughter Janet Bollman. "You roll with the punches," she said, smiling at her father.
Freeman acknowledges that he always has eaten healthy foods for breakfast, lunch and dinner.
Though he says he doesn't have much of a sweet tooth, he won't miss dessert.
"I don't like cookies," Freeman says, eyeing the community center menu's options. "I'd much rather have ice cream with chocolate syrup."
---