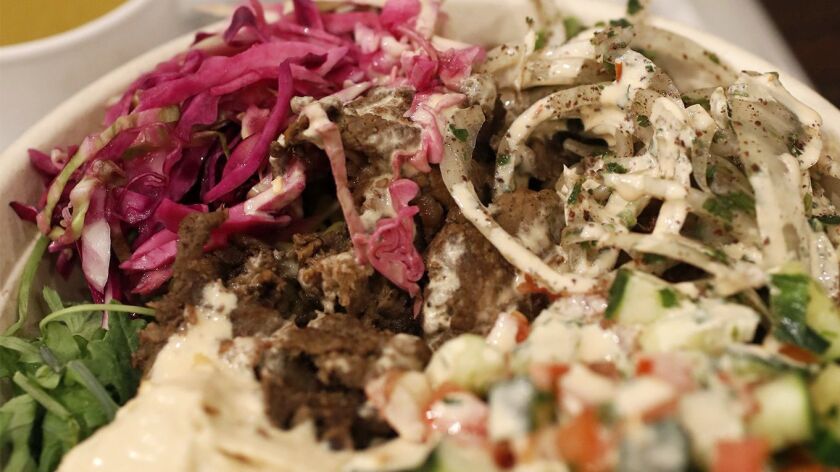 A new fast-casual Middle Eastern eatery has opened in Irvine and guests are sure to enjoy its affordable options and custom menu.
SAJJ Mediterranean, located in the Sand Canyon Plaza center at 6636 Irvine Center Drive, is the newest location for the Bay Area-based "street eats" chain that started as a food truck business and since 2012 has expanded statewide with several brick-and-mortar restaurants. SAJJ's Irvine location is its second in Orange County; the first opened earlier this year in Rancho Santa Margarita.
The SAJJ dining experience is sure to be compared to Chipotle. Guests enter a minimalist industrial space and immediately join the assembly-line format to discover a wide range of custom options. It starts with a protein choice: falafel; chicken or steak shawarma; pomegranate chicken; or "shawafel" (a mix of falafel and shawarma). Those are then placed within a wrap, pita bread, rice bowl or salad bowl.
Then come the spreads: hummus, tahini (spicy or regular), garlic or tzatziki. There's also a cilantro mint chutney sauce that I found particularly addicting. It's unavailable at the counter, though, and has to be found by the drinks stand and applied (generously!) on your own.
There are also hot or cold topping options, including eggplant, cauliflower, mixed greens, arugula, cabbage, pickles, beets and cherry peppers.
Available sides (at an extra charge) include fries, pita chips with a spread and additional falafel.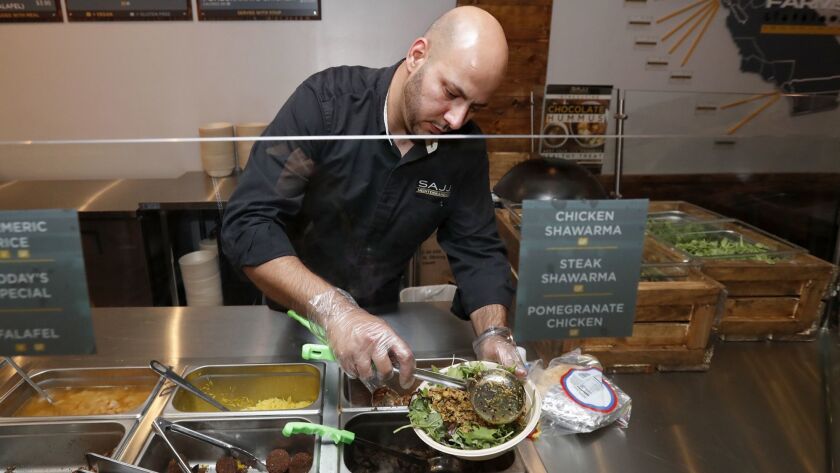 Entrees come with a small cup of lentil soup. The ingredients are from California produce farmers — "We love our local farms," wall text proclaims — and the proteins are made without antibiotics or hormones.
Drinks include traditional Middle Eastern beverages, such as tamarind. Among the things I've tried at SAJJ are the falafel (dubbed on Zagat to be the best in the Bay Area) and steak shawarma in a wrap, with tomato and cucumber salsa, hot eggplant, feta cheese, hummus and spicy tahini. I found the result a great combo begging for even more exploration on future visits.
What I particularly like about SAJJ is that it fits a food niche that isn't oversaturated and is delivered at an affordable price point. The falafel is only $9, with the shawafel topping at $12. For Irvine, it's a reasonably priced lunch under $15.
SAJJ Irvine is open daily from 10:30 a.m. to 8:30 p.m. For more information, visit sajjstreeteats.com.
---