Todd Spitzer, Orange County's first new D.A. in two decades, takes the oath of office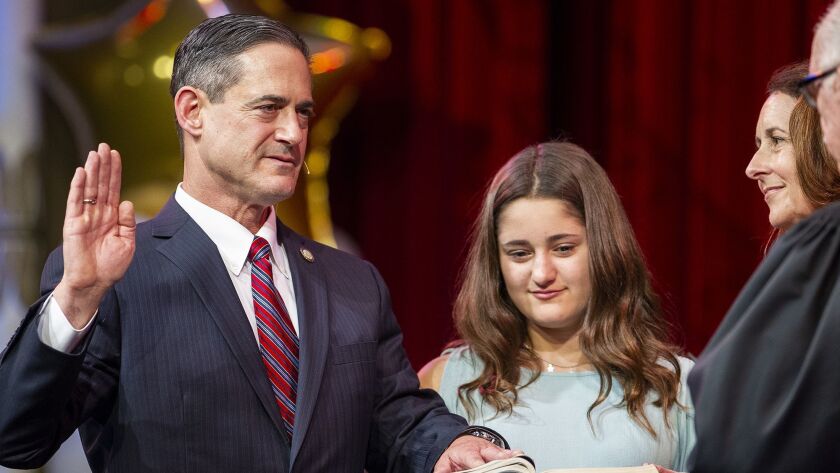 Hundreds packed into a Chapman University auditorium Monday to see Todd Spitzer sworn in as Orange County's first new district attorney in two decades.
Retired Justice John Arguelles administered the oath of office. The public, various elected officials and legal professionals watched as Spitzer pledged expansive changes to the prosecutor's office.
During his speech, Spitzer, a 58-year-old Republican, took aim at former Dist. Atty. Tony Rackauckas' devotion to conviction rates, pointing out that the new administration will take a more holistic direction.
"This office got into trouble because it was conviction at any cost," Spitzer, a former county supervisor, said. "What about the recidivism rates? What about mental health services for defendants? … There are a lot of other factors to the success of prosecutors than a conviction rate."
Spitzer defeated Rackauckas, who served as district attorney for two decades, in the November election.
The new D.A. plans to make juveniles an important focus. Children 12 and under will no longer face criminal prosecution and some of the "best" prosecutors will be assigned to the juvenile division.
"We are going to work with our kids," Spitzer said.
Spitzer also spoke about the spiraling homeless problem in the county and what his office can do to help, including appointing a homeless deputy to focus on the issue.
"We buried 200 homeless people last year," Spitzer said. "That's criminal. We can do better."
Many times during his speech, Spitzer seemed to be addressing the prosecutors he'll now oversee.
Spitzer referenced the alleged murder of Blaze Bernstein, a Lake Forest college student, as a reminder of the profession's mission.
"We have three guiding principles — public safety, public safety, public safety," Spitzer said.
Rabbi Peter Levi, regional director of the Orange County/Long Beach chapter of the Anti-Defamation League, spoke about hate crimes, referencing the Bernstein case. Bernstein was both Jewish and gay.
"I am delighted that you have pledged to be a solution to hate crimes," Levi said to Spitzer. "The ADL will hold you to that and work with you."
Despite a deeply personal race against Rackauckas, Spitzer pledged to make his office apolitical.
"We are ministers of justice," Spitzer said.
Shawn Nelson, a former county supervisor who now serves as chief assistant district attorney, emceed the event. Spitzer served with Nelson on the county Board of Supervisors.
Spitzer's swearing-in capped off a day marking a changing of the guard in Orange County law enforcement. New Sheriff Don Barnes took his oath earlier Monday, replacing retiring Sheriff Sandra Hutchens, who held the post since 2008.
Twitter:@benbrazilpilot
---
All the latest on Orange County from Orange County.
Get our free TimesOC newsletter.
You may occasionally receive promotional content from the Daily Pilot.