Longtime O.C. artist Tony DeLap offers insight into his retrospective at Laguna Art Museum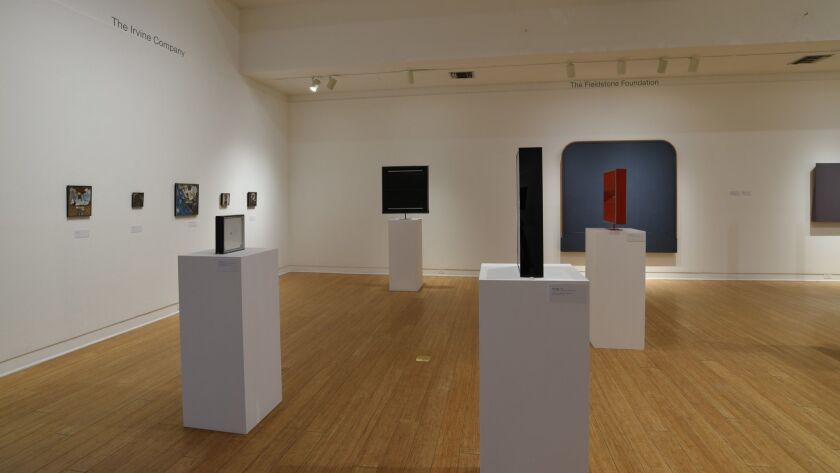 One of Orange County's most prolific and well-known artists played a direct role in his retrospective, currently on view at Laguna Art Museum through May 28.
Tony DeLap, a Corona del Mar resident for 53 years, has created boundary-pushing hybrids of painting and sculpture since the 1960s.
He worked with the Laguna Beach museum and L.A.-based gallery owner Christopher Heijnen to design the layout of "Tony DeLap: A Retrospective" and place works covering a 60-year career in specific spots in the ground-floor and second-floor galleries.
"It's absolutely true. As a matter fact, we had two maquettes of the museum," said DeLap, who turned 90 in November. "I built a small one early on, and we used some of the little prints of images from the computer to start working on what we wanted and what was available. A lot of it was done by Christopher, but I worked extensively with him on the installation."
Malcolm Warner, executive director of Laguna Art Museum, confirmed DeLap's hands-on involvement.
"He was indeed here for all five days of the installation period, and played a big part in fashioning the installation," Warner said. "In fact, he really wanted to see the whole exhibition as a Tony DeLap work of art."
The retrospective, curated by Peter Frank, features dozens of two- and three-dimensional works, some rarely seen publicly. Approximately 80 paintings, sculptures and drawings are on view, including Joseph Cornell-like boxed assemblages from the early 1960s that have not been exhibited for years.
Other works, such as his double-sided word play hybrids "Mona Lisa" (1962), "Ping Pong" (1962), "Flip Flop" (1963) and "Hard Edge" (1963), are signature DeLap pieces that helped put him on the aesthetic map.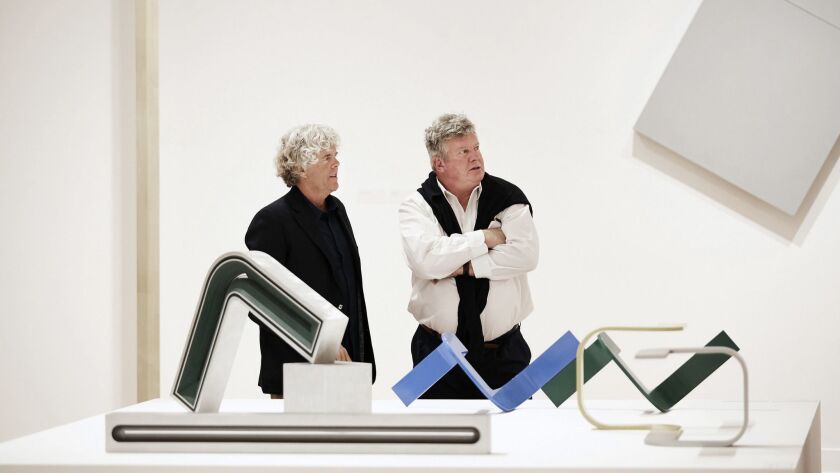 DeLap, an influential contemporary artist, is a key figure in West Coast minimalism and Op Art of the 1960s and '70s. He was also a founding member of the studio art department at UC Irvine, teaching there from 1965 to 1991. DeLap was an essential player in several art movements, including "finish/fetish," hard-edge painting, the California Light and Space movement and site-specific installation.
"Tony DeLap has a long association with this area," Warner said. "He moved here in 1965 to take up his position at UC Irvine, and at various periods has had close associations with this museum. So, he was a natural for us, in that he had these solid connections to us and our area, but also a growing national and international reputation."
The Laguna retrospective, which opened in February, offers key examples of all major groups of the artist's work, including monochrome pieces that echo New York artist Ellsworth Kelly, except for an unusual curve or missing piece here or there. Other works reveal his interests in minimalism and "finish/fetish" and can be compared to contemporaries Larry Bell, Craig Kauffman or DeWain Valentine.
Two series of prints upstairs, "Hands and Stick Portfolio" (1974/1991) and "The Floating Lady Portfolio" (1984), as well as the sculpture "Mahatma" (1981), embody DeLap's long-held interest in magic.
"Floating Lady II" (1970/2017) is a recently updated version of his play with illusion using wood, glass and metal.
On May 24 at 6 p.m., Grace Kook-Anderson, former curator of exhibitions at Laguna Art Museum, is delivering a lecture on DeLap and the "Best Kept Secret" years at UC Irvine. In 2011, she curated the exhibition, "Best Kept Secret: UCI and the Development of Contemporary Art in Southern California, 1964-1971," which featured DeLap's work prominently.
"Working with Tony on 'Best Kept Secret' was essential, not only for conceiving of the project but in helping to illuminate what the ecology was like at that time," said Kook-Anderson, who's now curator of Northwest Art at the Portland Art Museum.
The DeLap retrospective is part of Laguna Art Museum's centennial celebration this year. The museum originated from the Laguna Beach Art Association, formed by local artists in 1918.
DeLap has gallery shows in New York and Europe opening in the coming months.
"I went to my oncologist yesterday and everything was quite good," he said. "I don't run around the block a hundred times. But I still work every day, and I have an awful lot going on. I'm not trying to set a record. I do it because I enjoy it."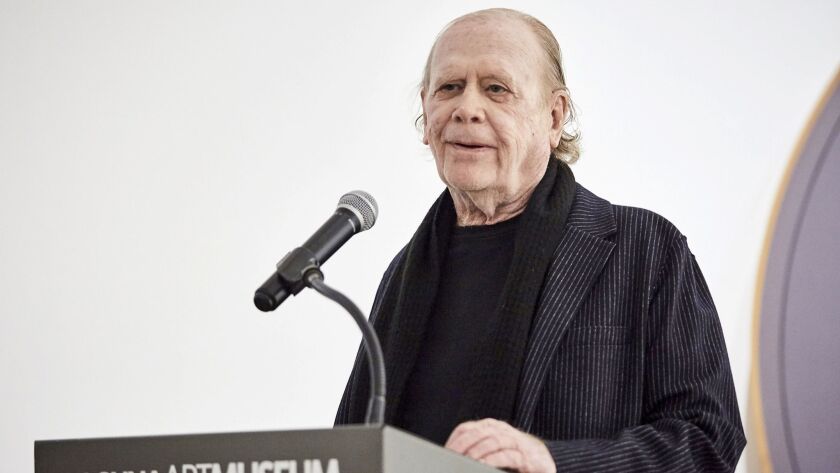 If You Go
What: "Tony DeLap: A Retrospective"
When: Through May 28; hours are 11 a.m.-5 p.m.; open until 9 p.m. Thursdays, closed Wednesdays
Where: Laguna Art Museum, 307 Cliff Drive, Laguna Beach
Cost: $7 general, $5 for students, seniors and active military, free for children under 12
Information: (949) 494-8971 or lagunaartmuseum.org.
Richard Chang is a contributor to Times Community News.
---
All the latest on Orange County from Orange County.
Get our free TimesOC newsletter.
You may occasionally receive promotional content from the Daily Pilot.