Santa Ana development will house and support low-income veterans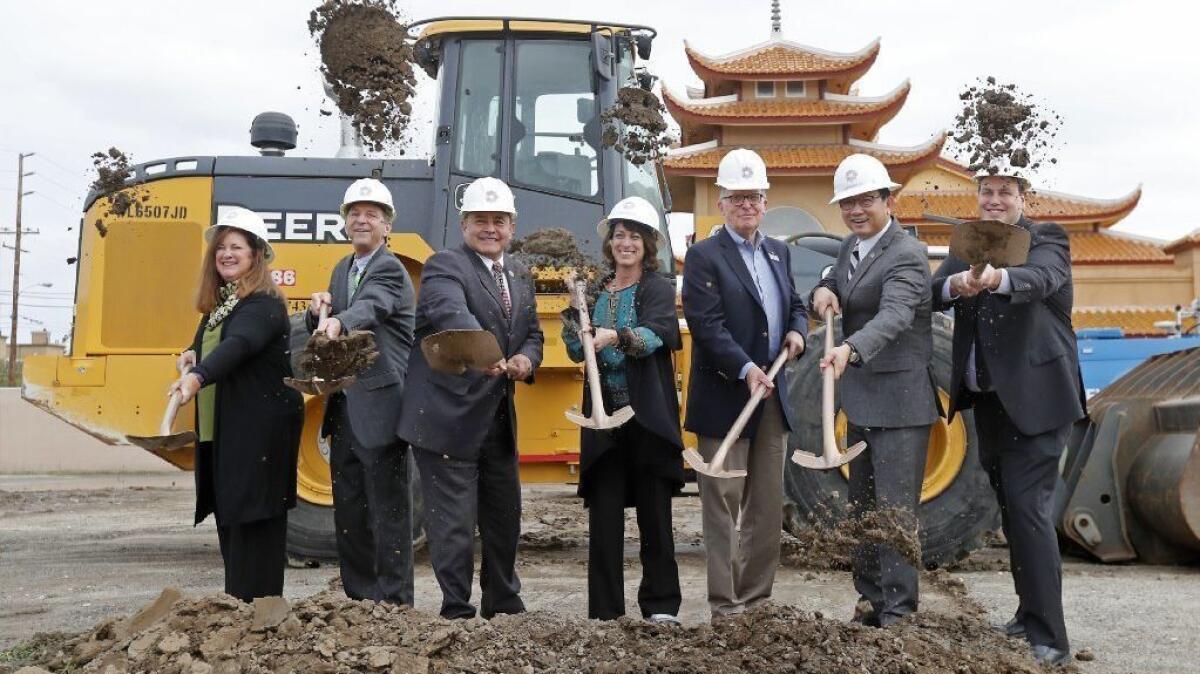 After serving in the Army from 1987 to 1990, and then five years in the Army Reserve, Robert Torres wound up laid off from his retail job and homeless.
Torres crashed on friends' couches and lived off and on with relatives until a nonprofit gave a hand up.
Torres, 60, of Fullerton, now works for that same agency, Volunteers of America, which provides affordable housing and support services.
On Monday, Torres joined a group of about 150 community members, business leaders and public officials who attended a groundbreaking ceremony for Santa Ana Veterans Village, a development that will supply permanent housing and support services exclusively to low-income military veterans and their families.
Situated on what is now a vacant lot on West First Street, the completed village will house 75 homeless veterans who earn 30% of the area's median income.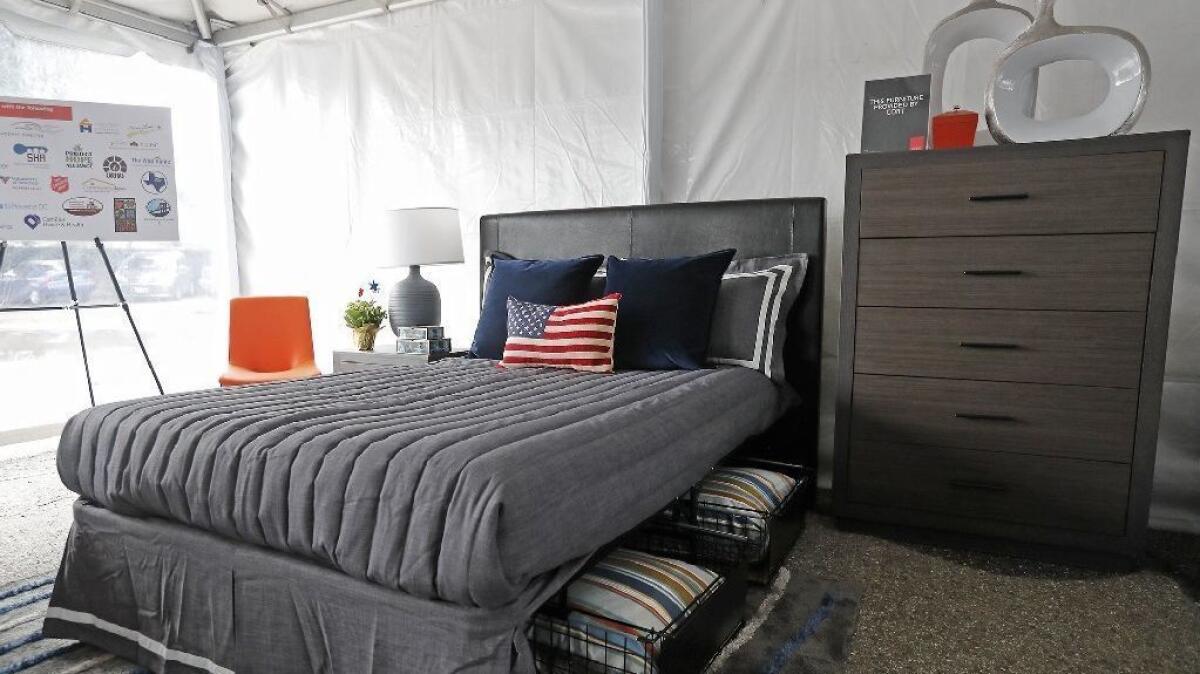 Torres said there are many veterans in Orange County who need advanced services.
"We have veterans who are living on [Social Security] and are barely making their rent right now, and the rent every year is going up," he said. "A lot of money they are making right now is going towards their rent, and they have nothing to live on. They are older or disabled, so who is going to hire them?"
RELATED STORY: 200-bed homeless shelter opens in Santa Ana »
Jamboree Housing Corp., an Irvine nonprofit that develops and manages affordable rental housing statewide, is building the $29.7 million complex, which includes a Spanish-style, U-shaped three-story building containing 75 furnished one- and two-bedroom apartments, a 4,500-square foot community center and 10,000 square feet of open space.
Potential residents will be vetted before receiving Veterans Affairs Supportive Housing vouchers that provide $1,580 for a one-bedroom unit and $1,994 for a two-bedroom.
Residents will pay a portion of the rent based on their incomes, with the average contributing $267 a month, said Laura Archuleta, president of Jamboree Housing.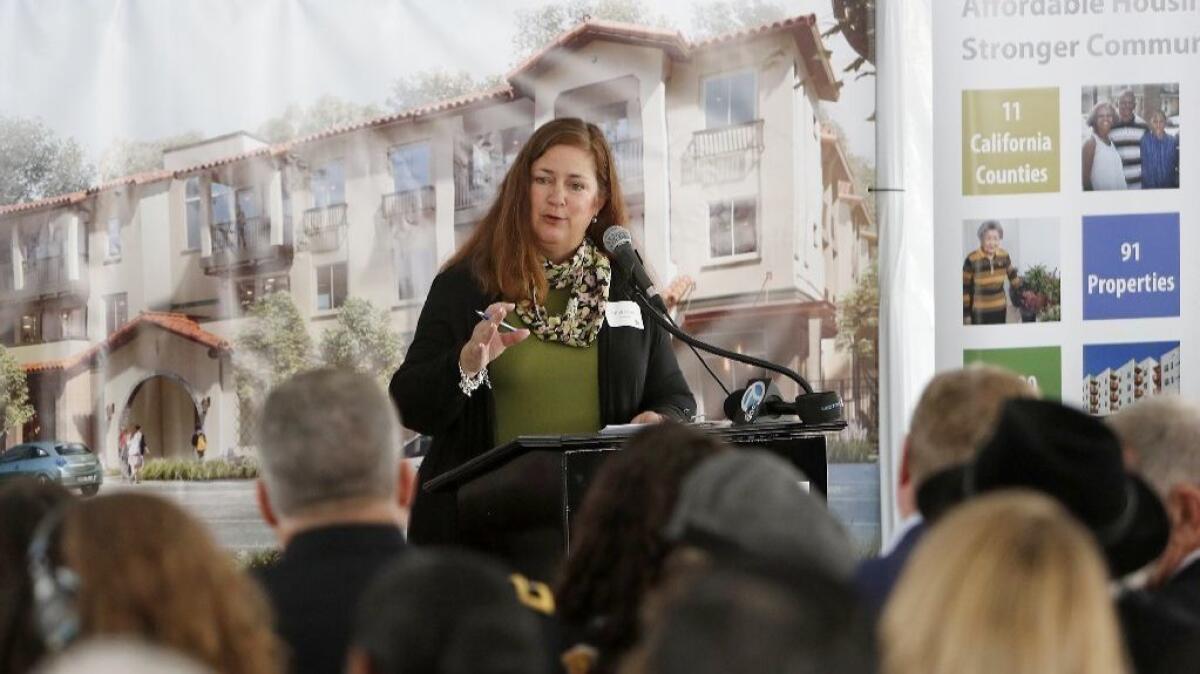 A key element of the project is the inclusion of on-site service providers — Goodwill of Orange County's Tierney Center for Veterans Services, the VA Long Beach Healthcare System, Step Up on Second and Veterans Legal Institute among them.
Veterans comprise about 12% of the county's overall homeless population, according to a 2017 survey.
A 2018 Orange County grand jury report stated the annual cost of providing for a chronically-homeless person is $100,759 compared with $51,587 for a formerly homeless person living in supportive housing.
"This is a cost-saving solution to homelessness," Archuleta said.
The Santa Ana City Council and the Orange County Board of Supervisors approved the village project.
"Now we have a place for veterans to go for help," 1st District Supervisor Andrew Do said. "That's important because sometimes it can be hard to navigate the system of care that we have."
U.S. District Court Judge David O. Carter, a decorated Vietnam War veteran presiding over the current civil rights lawsuits centering around homelessness, argued that it's time to serve those who served.
"They give you a blank check, and it's a check that says, 'I'm going to put my life on the line to serve without question,' " Carter said. "They don't ask whether we are Democrats or Republicans or who the president is ... The civilian population of this country is reaching back to veterans and building an incredible structure such as this."
Lou Ponsi is a contributor to Times Community News.
All the latest on Orange County from Orange County.
Get our free TimesOC newsletter.
You may occasionally receive promotional content from the Daily Pilot.