Deputies take the Fifth in court hearing on jailhouse incidents involving son of ex-'Real Housewives' star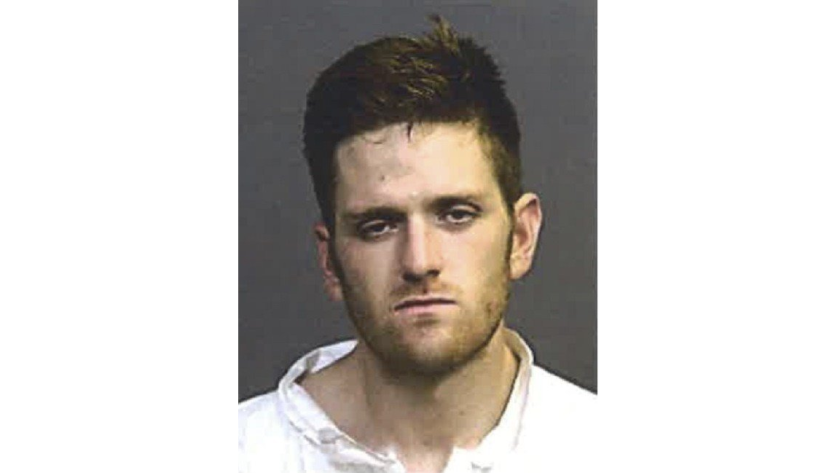 An Orange County sheriff's deputy who was overseeing Joshua Waring when Waring was attacked in jail by another inmate while awaiting trial on attempted-murder charges invoked his constitutional right against self-incrimination during a court hearing Wednesday.
Two deputies alleged to have been involved in pepper balling a jail wing housing Waring, son of former "Real Housewives of Orange County" cast member Lauri Peterson, did the same.
The hearing in Orange County Superior Court stemmed from Waring's attempt to have his $1-million bail reduced or be released on his own recognizance. He is being held on three counts of attempted murder in connection with a 2016 shooting in Costa Mesa.
Waring, 30, contends sheriff's deputies have put him in harm's way and failed to protect him while he is in custody.
The Sheriff's Department has denied the allegation.
The deputies answered mostly hypothetical questions about jail procedures, but their attorney advised them to invoke their Fifth Amendment right against incriminating themselves.
The Sheriff's Department began an investigation after Waring was involved in a fight with a blade-wielding inmate on Oct. 9 at the Intake-Release Center in Santa Ana.
A video of a jailhouse fight last month involving Joshua Waring, who is charged with three counts of attempted murder in a 2016 shooting in Costa Mesa, shows Waring in a prolonged battle with another inmate, during which Waring suffered several slash wounds.
Waring's attorney, Joel Garson, said that according to a preliminary, heavily redacted report prepared by sheriff's personnel, a command was made over a loudspeaker for inmate Jose Dejesus Guzman to get back in his cell, but he closed the door from the outside and hid behind stairs to wait as Waring was entering a jail module after making a phone call.
Waring needed 20 staples, as well as stitches and butterfly bandages, to treat wounds to his chest and face, his attorney said.
Waring and Guzman were supposed to have been separated from other inmates, said Garson, who is seeking unredacted copies of the reports on the incident. No charges have been filed, according to Garson.
Sheriff's investigators are conducting an internal review, said Carrie Braun of the Sheriff's Department.
Deputy Stephen Hipple, who has been with the department for a few months, testified about various procedures for making sure inmates in protective custody do not interact with one another. Hipple said deputies get a visual on all the inmates to make sure they are in their cells and check a console that indicates the doors are closed.
When asked if he had been trained on how to look for blind spots, he invoked the Fifth Amendment.
Hipple testified that inmates are allowed to go to another wing to use a phone if the phones in their sector are broken, and he talked about procedures that are followed to make sure the other inmates in the wing are locked up while the inmate is led back to his cell.
Senior Deputy District Attorney Cindy Nichols told Superior Court Judge Jonathan Fish on Wednesday that she had received multiple documents the night before of police reports on the pepper ball incident in June 2018. Previously, when Garson subpoenaed records on the pepper balling, county officials told him there were none.
Last month, Fish lifted a protective order on video of the pepper ball incident, allowing Garson to turn it over to Nichols, who referred the evidence to her office's special prosecutions unit. Fish turned over the newly surfaced police reports to Garson on Wednesday.
A county custodian of records who previously said there were no police reports is scheduled to testify Nov. 13.
Nichols was unaware that the pepper ball case had been previously reviewed by prosecutors and declined to file charges, according to Kimberly Edds, a public information officer with the Orange County district attorney's office. Prosecutors have decided to reconsider the pepper ball incident and the attack on Waring, Edds said.
Deputies Ever Zeyala and Ryan Hansen acknowledged they were on duty in Waring's module in the Intake-Release Center when the pepper ball incident happened, but they repeatedly invoked their Fifth Amendment right regarding details of it. The two testified they spoke with investigators.
Waring testified last month that the dozen inmates in the module were asleep with lights out for about an hour before two deputies came in, with one firing pepper balls.
After the incident, the two deputies involved were placed on administrative leave, Braun said. An internal investigation was conducted, but officials won't reveal the outcome, citing state law regarding law enforcement officers' rights, Braun said.
Garson has argued it is another example of how Waring is not being protected while in custody.
"At this point, our focus is on [Waring's] safety and his ability to go to trial alive," Garson said after Wednesday's hearing.
Garson suspects Waring was targeted for attacks when he raised issues of governmental misconduct regarding the improper recording of phone calls from inmates to their attorneys.
"I think they're after him and have been for a long time," Garson said of some deputies.
"The safety and security of inmates in our custody is our primary responsibility as a Sheriff's Department," Braun said in a statement. "We protect and provide for more than 5,500 inmates in the Orange County Jail daily."
Waring has outlined another recent attack in a federal class-action lawsuit in which he is a plaintiff. He said he was thrown in "the hole" for trying to fix a television in the day room and spent 10 days in solitary confinement, then was taken to another part of the jail where he said gang members "green-lighted" him for an attack.
When Waring raised concerns about his safety and asked to see a psychiatrist, he was told that was possible only if he felt suicidal, he said.
Waring alleged that deputies later threw him naked into a tiny concrete cell that had a broken toilet and was "filthy with feces."
He claimed he was denied medication for seizures while in the cell and suffered a seizure while confined there.
Last week, Fish ordered doctors to examine Waring and provide him with his medication.
Braun said that due to the pending litigation, the Sheriff's Department is restricted in the information it can provide about the matters.
"Other parties do not have these restrictions and can release information and lodge accusations without concern for due process or protecting the integrity of ongoing investigations," Braun said.
Daily Pilot staff contributed to this report.
Updates
8:09 p.m. Nov. 6, 2019: This article was originally published at 4:56 p.m. and has been updated with additional information.
---
All the latest on Orange County from Orange County.
Get our free TimesOC newsletter.
You may occasionally receive promotional content from the Daily Pilot.