Video shows jailhouse fight in which son of former 'Real Housewives' star is slashed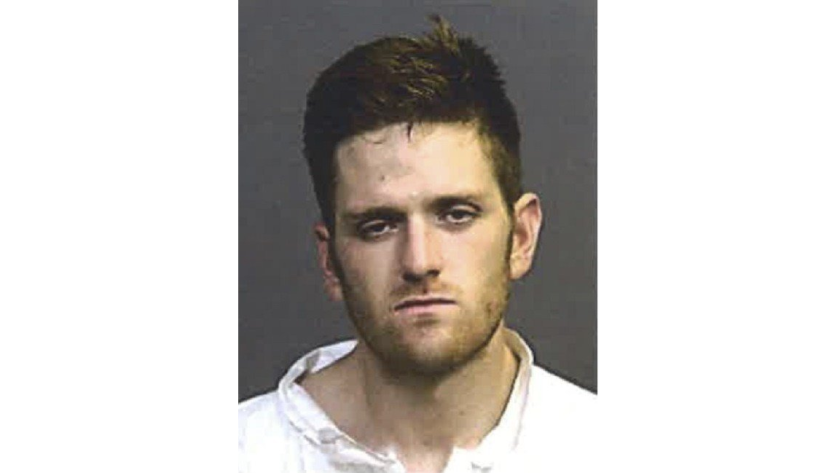 A video of a jailhouse fight involving Joshua Waring, who is charged with three counts of attempted murder in a 2016 shooting in Costa Mesa, shows Waring in a prolonged battle with another inmate, during which Waring suffered several slash wounds.
Waring's attorney, Joel Garson, alleges that the inmate, who he said was wielding two blades, ignored a command to get back in his cell and hid behind stairs before going after Waring as Waring was returning to his cell after making a phone call shortly before 6 p.m. Oct. 9 at the Orange County Jail Intake-Release Center in Santa Ana.
The video, posted on YouTube by TMZ.com and others, shows Waring waiting for a door to a jail module to be opened remotely and then being confronted by a shirtless man when he starts to enter the area.
The video shows the two fighting toe-to-toe, with Waring landing several punches, before deputies arrive to break it up about halfway through the 3½-minute recording.
Afterward, Waring is seen being treated in another room for a long slash on his right breast and two cuts on the left side of his face. According to Garson, he needed 20 staples to his body, as well as stitches and butterfly bandages on his face, to treat his wounds.
Waring, 30, son of former "Real Housewives of Orange County" cast member Lauri Peterson, is being held on $1-million bail but is seeking to have his bail reduced or to be released without bail based on claims that sheriff's deputies have put him in harm's way and cannot protect him in custody.
The Sheriff's Department has called the allegation "completely untrue."
An appellate court denied an appeal from Joshua Waring in his efforts to have attempted-murder charges against him dismissed. Meanwhile, his attorney said Friday that he would seek to lower his bail after Waring was attacked by a fellow inmate in Orange County Jail on Wednesday night.
The Sheriff's Department opened an investigation into the incident. Garson said that according to a preliminary, heavily redacted report prepared by sheriff's personnel, a command was made over a loudspeaker for inmate Jose Dejesus Guzman to get back in his cell but he closed the door from the outside and hid behind stairs to wait for Waring.
Waring is supposed to be in a sort of custody that separates him from other inmates because he is notable and more vulnerable to attack, Garson said shortly after the incident.
"He never should have been in contact with this other inmate," Garson said.
Guzman also was supposed to have been separated from other inmates, according to Garson, who is seeking unredacted copies of the reports on the matter. Orange County Superior Court Judge Jonathan Fish is scheduled to make a ruling on that request Wednesday.
City News Service contributed to this report.
---
All the latest on Orange County from Orange County.
Get our free TimesOC newsletter.
You may occasionally receive promotional content from the Daily Pilot.