Laguna Beach closes City Hall to public after declaring local emergency in response to the coronavirus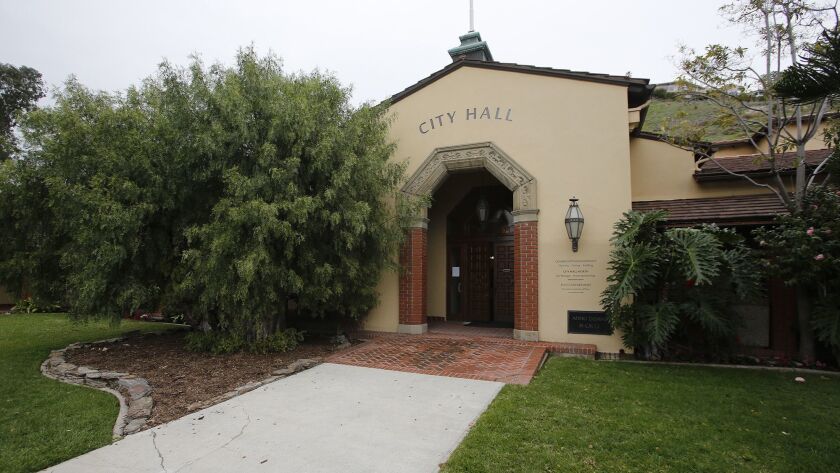 Laguna Beach City Hall closed to the general public Monday after the city declared a local emergency over the weekend in response to state advisories attempting to slow the spread of the COVID-19 coronavirus.
The city announced Sunday that police, fire and marine safety services would continue operating as usual but that City Hall and the Community & Suzi Q Center would be closed to the public through March 27.
Operations will continue at City Hall with available staff, the city said.
Tuesday's City Council meeting will continue as scheduled but has had several items removed from its agenda, including interviewing candidates for a position on the Design Review Board, awarding a contract to study the feasibility of parking structures in the downtown area and a presentation of efforts to improve the development review process.
The city is encouraging the public to email comments about agenda items to City Clerk Lisette Chel-Walker at lchel@lagunabeachcity.net.
Costa Mesa also halted public admission to its City Hall on Monday. Newport Beach, Huntington Beach and Fountain Valley have not done so, though Newport Beach closed its libraries for the rest of March.
Libraries in Laguna Beach, Costa Mesa and Fountain Valley were closed by the OC Public Libraries system for the rest of the month.
Gov. Gavin Newsom on Sunday urged people 65 and older and those with chronic health conditions to isolate themselves from others in addition to calling for bars, breweries and wine-tasting rooms to close to patrons.
"[Laguna Beach] is closely following recommendations from the federal, state and county level to ensure that we take all prudent steps to minimize, as best we can, possible impacts to Laguna Beach residents and visitors from COVID-19," Mayor Bob Whalen said in a statement.
The City Hall closure follows previous actions intended to limit public attendance at City Council meetings by postponing items likely to draw crowds.
All city-sponsored events have been canceled along with recreation classes and programs for the rest of March. AgeWell senior lunches also were canceled, but the city said Meals On Wheels will be assisting those in need.
The city also is canceling a March 24 special council meeting to review changes to the Downtown Specific Plan, along with all other city commission, committee and board meetings through March. That includes the Planning Commission and Design Review Board.
The March 31 City Council meeting also may have its agenda limited or may be canceled, the city said.
"These actions are necessary to help keep our community and our employees safe," City Manager John Pietig said. "The decision to make these changes was made after much deliberation and in response to local, county, state and federal agencies' guidance to slow the spread of the virus."
In addition to previously announced cancellations and closures in Laguna Beach are these:
Animal shelter: closed to the public, except by appointment, through March. Call (949) 497-3552 between 11 a.m. and 4 p.m. daily.
Compost giveaway (March 28): postponed
Friday Flicks at the Forum (April 3): canceled
Paint, e-waste and shredding event (April 4): postponed
Composting workshop (April 11): postponed
Thalia Street public art installation: postponed until June
Farmers market (weekly): canceled through March
Boys & Girls Club: closed until further notice
Pacific Marine Mammal Center: closed to the public until further notice
Daily Pilot City Editor Rob Vardon contributed to this report.
Updates
3:37 PM, Mar. 16, 2020: This article was originally published at 11:48 a.m. and has been updated with additional information.
---
All the latest on Orange County from Orange County.
Get our free TimesOC newsletter.
You may occasionally receive promotional content from the Daily Pilot.