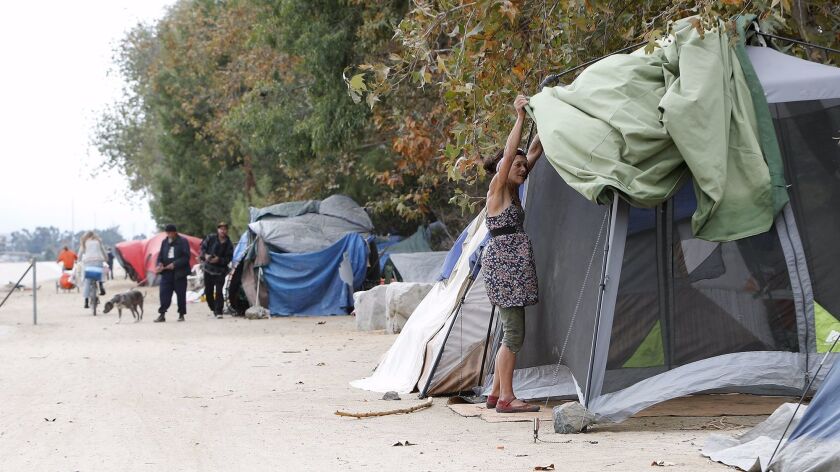 Fountain Valley has banned the overnight storage of personal belongings in parks in what the city positions as a tailored way to prevent homeless encampments.
The Fountain Valley City Council approved the new ordinance unanimously and without discussion Tuesday while repealing Fountain Valley's anti-camping ordinance and blanket prohibition on storing personal property in public spaces. Those repeals have become necessary since the U.S. Supreme Court declined in December to hear an appeal of a ruling by the U.S. 9th Circuit Court of Appeals in the landmark Martin vs. City of Boise case, which prevents police in California and eight other Western states from citing homeless people for sleeping in public spaces such as parks or sidewalks if no other shelter is available.
But cities can still set hours of operation and prohibit the storage of private property as reasonable restrictions on time, place and manner of use for public places, Colin Burns, the city's attorney, argued.
These regulations serve "a substantial and legitimate government interest in limiting wear and tear on public park properties in order to further the goal of conserving park property and ... to keep public parks in an intact and attractive condition," according to the ordinance. Burns said avenues for local controls prohibiting people from storing their belongings in parks are distinct from flat prohibitions on sleeping, an involuntary physical function, in public.
"We don't want to ban persons from sleeping anywhere on public property — we can't do that," Burns told the council before its tentative approval March 17 of the ordinance. "But we can have a limited ban in the parks."
After the Supreme Court declined to hear Martin vs. City of Boise and let the circuit court decision stand, Fountain Valley suspended enforcement of its anti-camping and general storage bans until enough beds are available regionally.
Since then, however, encampments have started to take root, Burns said.
"The county has made significant progress in putting shelter beds together, but we're still a ways off from having enough shelter beds for everyone," he said. "So in the meantime, we've put our ordinance on hold and we're dealing with some significant encampments in city parks, and the encampments are interrupting the ability of the public to enjoy the park."
The ordinance is specific to storing property in parks after closing time, which Burns said could be a stopgap measure until the region has enough shelter beds online — then the city can reinstate its camping and general storage bans, he said. The new regulations include the portion of Mile Square Regional Park owned by the county.
The city will hold any seized belongings for up to 90 days, after which time it may destroy the items. The new regulations go into effect May 7.
The new ordinance is a follow-up to a park curfew clarification the council passed in November prohibiting people from being in parks during off hours. City parks are closed from sunset through 6 a.m. except the recreation and sports center complex, which closes at sunset or when the sports field lights turn off, whichever is later.
---