Laguna Beach council reviews budget, makes cutbacks in response to projected losses amid coronavirus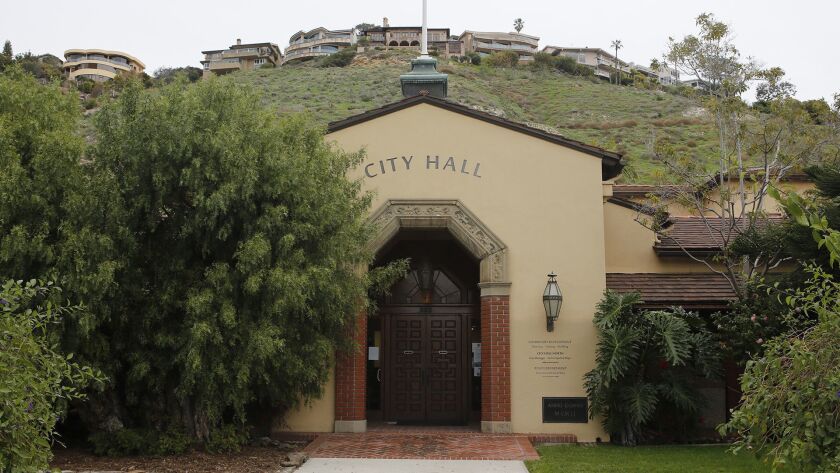 The Laguna Beach City Council made significant cutbacks to its budget Tuesday night, ahead of an expected $12-million loss in revenue.
City staff said the most significant change results from a decline in the transient occupancy tax and sales tax. In a normal year, the city typically sees a tourist population of about 6 million visitors. Staff expects hotel tax revenue to drop by $3.5 million, sales tax by $1.3 million and community development fees by $1.2 million less than initial budget estimates.
Property taxes, which account for about 56% of general fund revenue, are not expected to change, though city staff said the impact of the coronavirus may delay receipt of a portion of that revenue until later in the year.
City Manager John Pietig said that while there is a need to reduce spending, there is also a need to continue providing essential services such as the police, fire and marine safety departments throughout the pandemic.
Pietig added the city needs to be able to ensure employees are able to enforce closures during the stay-at home order and that workers and inspectors are available to maintain utilities, all in addition to making sure that the city is prepared to respond in the event of a natural disaster.
Financial planning has proven especially difficult for the city because nobody knows when life will return to normal.
"Questions that none of us can answer are, 'Will there be festivals, overnight hotel stays and restaurant dining?'" Pietig said. "'When will that occur? And how quickly will people be able to return to work to be able to afford ... those activities?'"
The city has a general fund reserve of $13.2 million and a $6.4-million reserve in the disaster contingency fund, but city staff said that they are using resources to close beaches, beach parks and trailheads in addition to incurring other costs in response to the coronavirus pandemic.
Members decided to defer discussion on whether to remove the reserve fund for the South Laguna Community Garden Park to a later discussion on next year's budget in June and to adjust both the Laguna Playhouse and Laguna Art Museum's grants if money is leftover.
The City Council also decided to defer the payment of the Transient Occupancy Tax collected from January to May. Deferment would be until November for hotels that average less than $150,000 in the hotel tax and until September for hotels averaging more than $150,000.
The public gave input about the budget changes through written correspondence and calls. Many were in support of the decision to curtail government spending but not of eliminating projects completely and asked to defer the projects instead.
The city was initially considering sending a letter to both commercial and residential landlords, asking for deferment of rent and forgoing of evictions prior to Gov. Gavin Newsom's executive order.
Councilwoman Toni Iseman spoke in favor of deferring projects as opposed to canceling them outright.
Councilwoman Sue Kempf said that she felt the city needed to "batten down the hatches" during the crisis.
"We have our whole downtown completely dead," Kempf said. "We have people who are unemployed here and probably not going to get their jobs back."
"To be honest with you, and I know [residents] love the garden, but optically, if someone were to say, 'OK, I got the ... balance of the money for the garden right now,' what would the public think if we wrote a $500,000 check when people don't have jobs and we don't have any businesses downtown?" Kempf added.
Kempf said she was in favor of retaining any economic stimulus projects and ensuring that the city could continue providing services and preserving fire safety.
Councilman Peter Blake agreed, adding that he was open to spending money on projects that would make money in the future, adding that the city needed to be considering what could be done during the stay-at-home order that couldn't be done normally when businesses were operating, such as improving Forest Avenue.
---
All the latest on Orange County from Orange County.
Get our free TimesOC newsletter.
You may occasionally receive promotional content from the Daily Pilot.