Orange County retailers ready to return to business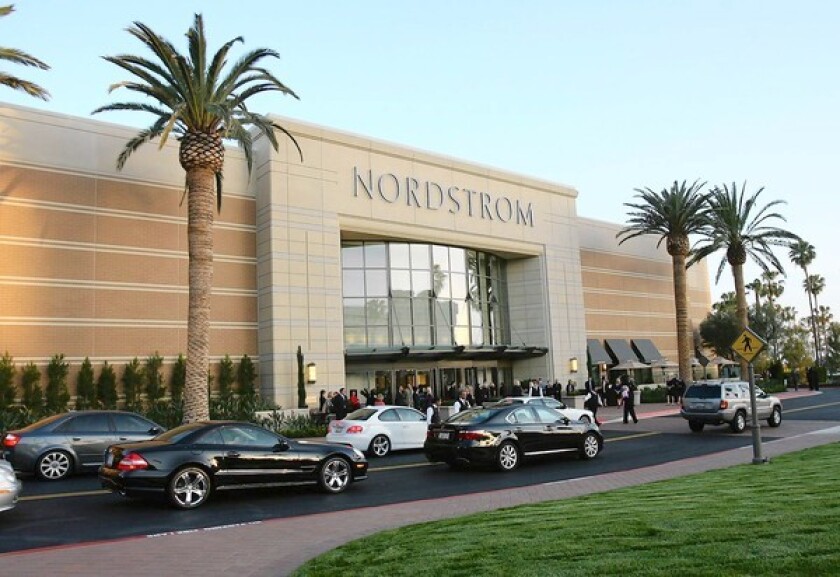 Erin Kelly has kept her independent Corona del Mar toy store afloat during the last two months of lockdown with online sales and curbside pickup, aided by the floor-to-ceiling windows showcasing her cheery wares to passersby on East Coast Highway.
So when restrictions on retail start to ease statewide Friday with the permission of Gov. Gavin Newsom, the Wee Loft will keep doing what it has been doing as sweeping stay-at-home orders to stem the coronavirus pandemic have gripped commerce over the last several weeks: bringing toys to happy kids in the store parking lot. But with the approaching reopening Kelly hopes to do more.
"I'm already getting calls: 'Are you open, are you open?'" she said Thursday. "People are anticipating."
With California entering Stage 2 of reopening, toy stores like the Wee Loft, along with florists, bookstores, music stores, clothing shops and sporting goods stores, among other lower-risk businesses, can reopen for curbside pickup. Manufacturers and suppliers that provide goods for those businesses also will be allowed to resume operating.
Orange County businesses large and small are ready.
Costa Mesa
At Costa Mesa's flagship shopping center South Coast Plaza, which closed March 16 after an employee tested positive for the coronavirus, some department stores will begin allowing customers to pick up items purchased online at the curb.
Macy's and Bloomingdale's will offer curbside service starting Friday, a plaza employee confirmed Thursday. Nordstrom has been allowing pickups for the past week.
"That's music to my ears," Costa Mesa Mayor Katrina Foley said of the new store offerings. "Every day that South Coast Plaza is closed our city budget suffers."
Costa Mesa budget and purchasing manager Carol Molina recently estimated the city could lose between $5 million and $10.6 million in the current fiscal year due to lost sales tax revenue.
Foley said city hall has received numerous requests from residents for a total reopening of businesses and public facilities, but vowed Costa Mesa leaders would heed the advice of state and county public health officials.
"I'm very empathetic," said Foley, an attorney who's had to close her Newport Beach practice during the pandemic. "But I'm also somebody who believes in the science. We all have to work together, and we have to do it safely."
The city is beginning a four-pronged 'reStore Costa Mesa' plan to aid businesses as the economy opens up statewide.
Foley said city officials are collaborating with business and community leaders across multiple industries in a new initiative, "reStore Costa Mesa," to create a pathway for commercial recovery in the weeks and months ahead.
The group had its first meeting May 1 and will continue to meet weekly to develop guidelines for each phase of the reopening effort, Foley said. Representatives will ultimately make recommendations to City Manager Lori Ann Farrell Harrison and members of the Costa Mesa City Council.
"Our goal is to create a city checklist that is general for all businesses and also industry specific, so that we are ready when the governor gives the green light," Foley said.
Of the four phases identified by Gov. Gavin Newsom, Foley estimated the city was currently in "Phase 1B" and could be ready to move into Phase 2 — which would see the return of customers to the interiors of nonessential businesses such as dining establishments and retail stores — in the coming weeks.
"If we don't see a backtrack, because of failure to comply with social distancing, and we don't see an increase in hospitalizations and deaths and ICU visits, we'll be at the stage where the governor will have allowed Phase 2 to begin," Foley said.
Fountain Valley
The reopening announcement could not have come at a better time for Magnolia Florist of Fountain Valley, as Mother's Day is this Sunday.
The shop has already been doing no-contact deliveries and plans to offer curbside pickup for the first time on Friday.
A big constraint for the shop, at 17032 Magnolia St., is the fact that most of the flowers come from other countries.
"A lot of things that we've ordered and tried to have still aren't being flown into the country," said Marcy Horgan, Magnolia Florist owner. "We're going to do our very best to accommodate everyone, if possible."
Horgan said that it had been tough being closed. She was relieved that her store can open on this timely weekend, adding, "It might save my business, thank God."
The Fountain Valley City Council unanimously confirmed a grant to help small businesses with low- and moderate-income workers and an ordinance that allows first responders to use RVs as alternative housing to keep their families safe from COVID-19.
Due to the repercussions of the coronavirus pandemic, the selection might not be the same, but Horgan hopes that she can help to satisfy the community's floral needs.
"I've had this store for 30 years," Horgan said. "They're used to us having everything and being able to accommodate any last whim, but now, the flowers just aren't there. We're going to try our best, though."
Seeden Photography, which provides business photography services like head shots, as well as marketing and product photography, is also set to take appointments again on Friday.
The business can also fulfill one of the time-honored senior traditions with graduation photos, although in accordance with social-distancing guidelines, it is not offering hair and makeup at this time.
"We're also starting tomorrow with cap-and-gown [photos] for local seniors," said owner Lynn Seeden, whose studio is at 17280 Newhope St. "They still have to make an appointment so we schedule them out and not have too many people at the studio at once."
Restrictions have also begun to be loosened on recreation. Within the last week, Fountain Valley has had the Beach City Dog Camp, the Los Caballeros Sports Village and the Fountain Valley Tennis Center reopen.
Tennis Spectrum, 16519 Brookhurst St., is ready to serve those who are looking to get back out onto the court. The shop strings rackets and sells all the desired tennis items — rackets, strings, shoes, grips and balls, to name a few.
Store manager Tom Phan said that selling online had allowed the store to sustain since it closed in mid-March.
"We're planning on opening tomorrow," Phan said. "I know L.A. County is allowing it. We're trying to look up regarding Orange County, but we're not sure … If we're allowed to open tomorrow, then yeah, definitely we'll be open tomorrow."
Huntington Beach
Madison Diepstraten, the owner of Love N' Bloom flower shop, said that her business has been considered essential as a part of agriculture throughout the novel coronavirus pandemic.
"We've been open, however, not accepting people into our location," she said. "We've been offering curbside pickup and no-contact delivery."
Diepstraten said the pandemic has put a damper on the shop's sales, though Mother's Day is good for business. She said she is keeping things status quo and that she doesn't anticipate customers coming into the store, 18822 Beach Blvd., starting Friday.
"We're pushing through," she said. "Throughout the last month and a half, it's been really hard. We haven't been able to have personal connections with our customers … but not much is going to change until I see what happens with the state, with the country and really with the world. I can technically open my doors, but I want to see how it pans out. It's just very daunting."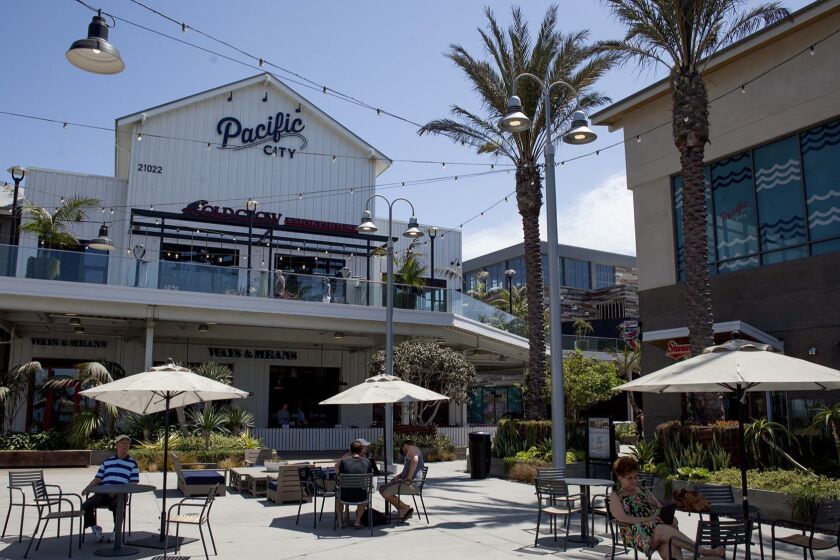 Huntington Beach city staff presented an adjusted budget that factors in hiring freezes and budget cuts in anticipation of reduced tax revenues.
Ed Klund, the owner of O'Connell's Sports Pub & Grille, said that he will be reopening for to-go orders only beginning Friday.
Though O'Connell's, 19047 Bushard St., could have been open for the past few weeks, Klund said he's opening the bar in anticipation of eventually allowing dine-in customers. According to Newsom's directive, that would come later in Stage 2; Klund said he hopes it happens within the next two weeks.
Klund said O'Connell's, which has been closed since March 17, will take precautionary measures such as masks and gloves. He said he's also planning to have temperatures taken before people enter the restaurant.
"We're pretty busy most of the time," he said. "Fifty-percent occupancy, I think that would put us at the break-even point [financially]."
Popbar Huntington Beach, a dessert shop south of the pier along Pacific Coast Highway, announced it would be opening this weekend for walk-in orders and deliveries.
Employees at Jack's Garage Skateshop and Huntington Surf & Sport, popular apparel companies in downtown Huntington Beach, confirmed each store will be reopening, too.
Two sporting goods stores, Big 5 Sporting Goods at Five Points and Play It Again Sports at 18352 Beach Blvd. remained open for business Thursday. Play It Again employee Jake Favazza said the store has been open weekdays with modified hours.
Weight sales have been big during the pandemic, Favazza said.
Laguna Beach
For retailers in Laguna Beach, the soft reopening is a welcomed one — especially ahead of the upcoming Mother's Day weekend.
"Mother's Day is the number-one flower holiday. This is the day everybody counts on and waits for," said Sara Fabrizio, who owns Fairytale Flowers Boutique at 1259 S. Coast Hwy.
Fabrizio said the store has largely been doing online orders and distanced delivery, which involves knocking doors or ringing doorbells and stepping away 6 feet to wait until the customer answers. Fabrizio said the store has continued to operate because of its qualification as agriculture but added the storefront also sells other items such as candles or handmade cards that have not been sold because people were unable to enter the store. Starting Friday, Fabrizio said customers will be able to browse.
"It is kind of lonely not talking to anybody," Fabrizio said. "I'm really excited for [reopening]."
Like Fairytale Flowers Boutique, Laguna Beach Books and Hobie Surf Shop have been primarily operating through their online stores and keeping employee presence at a minimum. Regina Carroll, who manages the Laguna Beach location for Hobie Surf Shop at 294 Forest Ave., said that her store only has as many as three to four employees inside a day.
For Lisa Childers, who manages Laguna Beach Books, and Fabrizio, they've been the only ones running their stores.
Childers said that the bookstore, 1200 S. Coast Hwy., has largely been operating on a case-by-case basis on curbside pickups and plans to continue that as some businesses begin to reopen Friday, but she added that most of their business has been through online sales. She said the bookstore has also been hosting digital events and said she felt it was very "heartening" to see the support from the community.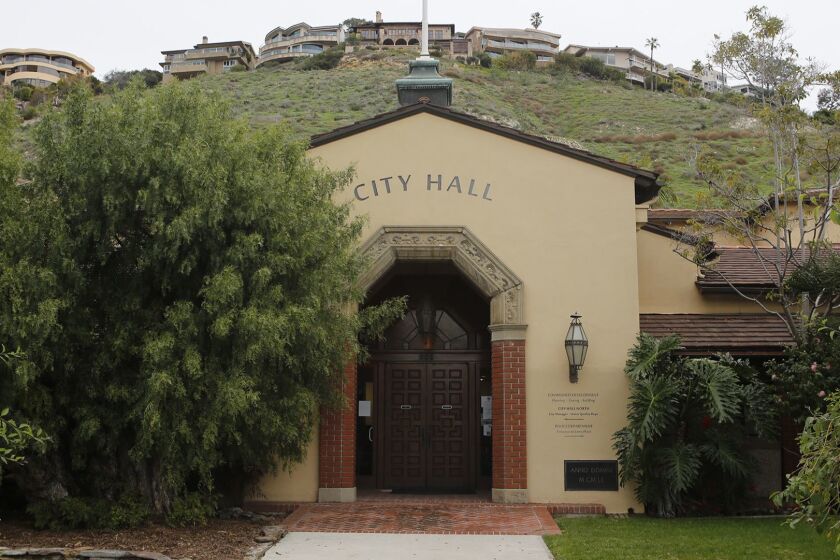 Laguna Beach's new tourism marketing district will replace their business improvement district, which includes all lodging businesses within city borders.
Carroll said Thursday morning that she and her employees were setting up merchandise.
The store will be offering curbside pickup from 10 a.m. to 4 p.m. starting Friday and added that the decision to offer the service came immediately after the state gave notice to businesses. She said much of their business has come from online retail and many shoppers are also making purchases through Instagram and personal phone calls.
But she said she doesn't expect for the store's sales to pick up anywhere near what they would have normally been if operations had continued as normal.
"We are based in a tourism town with people who walk by and come into our store," Carroll said. "We will be seeing a shift, but I definitely think this will at least help get us back on track and hopefully it can shift even more before the main part of summer."
Carroll said she expects traffic to become heavier this weekend because of the Mother's Day holiday, which she said draws customers because the store also sells clothing, skincare items and perfumes in addition to surfboards and other gear. She said this weekend will be strictly curbside pickup but she hopes it will change in the coming weeks.
Newport Beach
Newport Beach retail juggernaut Fashion Island has remained partially open as several eateries transitioned to take-out. Its Whole Foods grocery store has also maintained as an essential business.
With Friday, several boutiques and major department stores will also allow curbside service: Neiman Marcus and Nordstrom, Barnes & Noble bookstore and Dick's Sporting Goods, Alice and Olivia and Talia women's apparel, and Hyde Park Jewelers. The outdoor mall will update its website, fashionisland.com, in real time as more merchants come online.
City officials say this year's $13.5 million is a conservative estimate, and the city can absorb it by tightening up on spending without having to dip into reserves. But in contrast, fiscal year 2020-21, which starts July 1, is "exceptionally challenging" to forecast without knowing the duration of stay-at-home orders and associated high unemployment.
About two miles away, a nearly straight shot on Coast Highway to the mom-and-pop-friendly Corona del Mar village, Erin Kelly will be doing the same at the Wee Loft.
The Wee Loft sells toys that you aren't likely to see at big box stores — there are Lego and Playmobil construction sets but also European and independent brands, geology sets with grow-your-own geode kits and German-made doll buggies hewed from beech wood.
Online and curbside shopping has kept the shop open in a "different way and much less busy way," Kelly said. She's hoping the well-publicized state-sanctioned reopenings will give her a boost, because while business has been OK, it's still been hard.
Her well-stocked 1,600-square-foot store at 3331 E. Coast Hwy. is normally a hands-on place, with tables to test out the goods. It typically gets lots of walk-up traffic from young neighborhood families, as its sister store does in Dana Point.
The Wee Loft has toys for all ages and interests, although lately some of the best sellers have been arts-and-crafts sets and 1,000-piece jigsaw puzzles — as even adults need toys right now, Kelly said.
Kids are bored too, Kelly said. And she misses them.
"We're looking forward to getting back to normal seeing our favorite little guys and girls on a more regular basis and hopefully that'll be sooner rather than later," she said.
---
All the latest on Orange County from Orange County.
Get our free TimesOC newsletter.
You may occasionally receive promotional content from the Daily Pilot.