Jacqueline Angeles, Brian Pacheco overcame obstacles on way to graduating from Los Amigos High
Many have felt that they had to put on a brave face to get through times of trouble, but two students from one Fountain Valley high school found that sharing their struggles allowed them to grow stronger.
Jacqueline Angeles and Brian Pacheco, two members of the Los Amigos High School class of 2020, demonstrated an ability to deal with adversity well in advance of the coronavirus, the source of much lament for this year's senior class.
Angeles, 18, had told her story in a televised segment with KCBS-TV, but there were still plenty of people who did not know.
At the age of 3, Angeles lost her mom, Adriana, to skin cancer. By the fifth grade, her dad, Alberto, had died. She also had her right leg amputated due to cancer — osteosarcoma — discovered when she was taken in for X-rays after she fell off her bicycle.
The story would be revisited in an AVID class. Angeles said that students put together a scrapbook sharing the journey of their lives. She did not want to do the assignment initially, but she was inspired by the vulnerability that other classmates showed.
She heard stories from classmates that varied from mothers, fathers or grandparents passing away to growing up without their parents in their lives.
"It honestly hit me because a lot of them were just not showing it," Angeles said. "Everybody takes a struggle differently, and most of my classmates put themselves together in such a way that you don't expect it.
"Out of those struggles, we all just try to grow stronger and learn from all the things that have happened to us."
Angeles and her brother, Alberto, were raised by her aunt, Margarita Garcia. "The mother figure I didn't really have," Angeles says.
Although their time together was short, Angeles said she and her father formed a strong bond. After Angeles was diagnosed with cancer, it changed the dynamic of the relationship for a father who might have otherwise been compelled to shield his children from the details of their mother's passing.
Honoring this year's graduating seniors from high schools in Newport Beach, Huntington Beach, Costa Mesa, Fountain Valley, Laguna Beach and other parts of Orange County.
He became Angeles' greatest inspiration. Angeles said that while her father is not there physically, she finds comfort in the thought that he will see everything she does.
"My dad would always tell me, 'You're going to do something. You're going to be someone. You have to work hard for it,'" Angeles said. "He was there through my whole process of having the cancer."
Angeles, who has been cancer-free for 10 years, will be the first in her family to go to college. She is headed to Cal State Bakersfield. Angeles said she will feel close to her parents there, too — both worked as farm workers, following the seasons in places like Bakersfield and Oxnard.
"I'm happy because, honestly, what I've been through, I never thought I would be able to graduate from high school," Angeles said. "I didn't think I would make it past a certain age because of my cancer."
Having always known that she wanted to work in the medical field, Angeles has determined that her aim is to become a nurse practitioner.
"I'm giving back to other people who have helped me," Angeles said of why she is pursuing that path. "I want to give back that hope that people need in difficult times."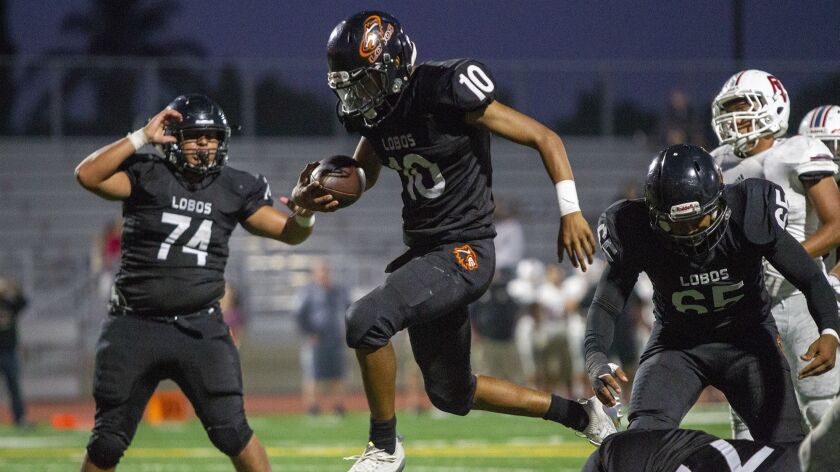 A good support system can provide a push in the right direction. Pacheco, 18, said he was fortunate to have that after a promising athletic career was sidelined.
Pacheco entered Los Amigos considering basketball to be his primary sport. A meeting with the high school's late football coach Harold McDowell nudged him toward the sport.
By his sophomore season, Pacheco was all in for football. His junior season had started well from an individual and team perspective. The Lobos were 3-1, with Pacheco posting three 100-yard rushing performances and nine total touchdowns.
Then in the final nonleague game against Garden Grove, Pacheco suffered a torn left ACL.
Health insurance issues forced Pacheco to postpone the surgery seven months, delaying the recovery timeline. Pacheco would miss out on high school sports for the remainder of his junior year.
"You get depressed," Pacheco said, crediting his parents and friends for getting him over the mental hurdle. "You get sad because all your life, you play your sport. That's what you do. You go to school. You play your sport, and I couldn't do that."
Los Amigos High School put on a virtual graduation for its seniors, one that drew more than 500 viewers for the livestream production.
Pacheco was told that he would not be back to play football his senior year, either. It hurt to have the game taken away from him, but there was light at the end of the tunnel. A return to basketball was still a possibility.
He was scared of the injury recurring, but Pete Sanchez, an assistant coach for the Los Amigos boys' basketball team, had some words that stuck with Pacheco.
"You're the only one that could stop yourself [from being] who you want to become in this world," Pacheco said, recalling Sanchez's advice.
Pacheco went on to lead the Los Amigos boys' basketball team. The Lobos went 19-9 overall and 9-1 in the Garden Grove League, claiming their first league championship since the 2001-02 season.
Los Amigos also earned a 58-50 win over Calvary Chapel in the first round of the CIF Southern Section Division 5A playoffs, marking the first playoff victory for the program since 1984.
"It felt out of this world," Pacheco said. "I never thought I was going to come back and win a league title for my coach, [Larry Isaacs]. I never thought I was going to win anything in high school after my [injury during] junior year."
Pacheco, the school's Lobo Grande Award recipient, averaged 12.8 points, 8.3 rebounds, 2.5 assists and 2.2 steals in Garden Grove League games as a senior. He also shot 44.7% from the field and recorded four double-doubles.
Up next, Pacheco hopes to continue his basketball career in college.
---
All the latest on Orange County from Orange County.
Get our free TimesOC newsletter, coming in August.
You may occasionally receive promotional content from the Daily Pilot.