YMCA of O.C. offers child care as school families prepare to resume distance learning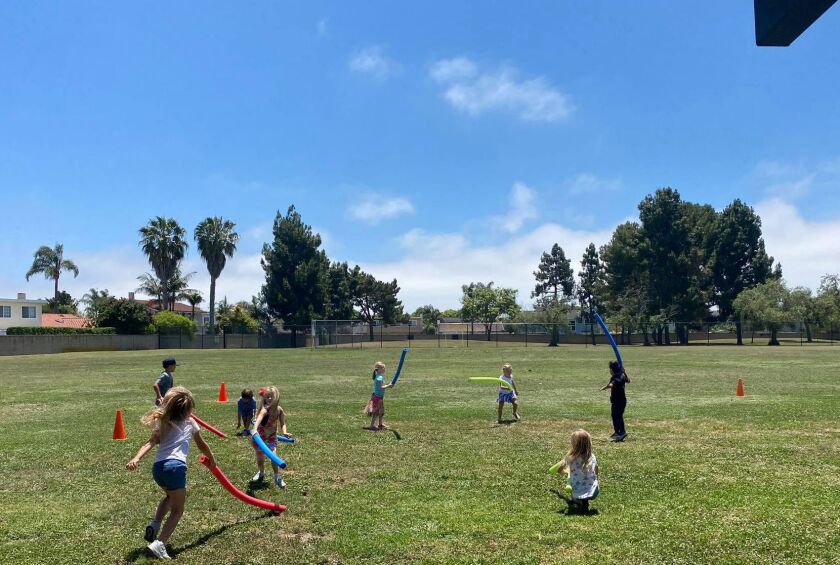 As students brace for another year of distance learning and parents ponder the complications of balancing workplace demands with kids learning at home, YMCA of Orange County has announced it will offer in-person child care and homework support to K-8 students.
Students may be enrolled in full- or part-time Y programs operating at one of more than 40 school sites that have been retooled to accommodate socially distanced enrichment, homework support, clubs and activities in the upcoming academic year.
Anna Romiti, vice president of marketing for YMCA of Orange County, said the organization has continued to adapt its operations in response to state and county closures throughout the coronavirus pandemic, most recently moving fitness equipment and classes outdoors.
"When COVID-19 struck, we immediately pivoted our services," she said, describing Y locations offering child care to essential frontline workers and later expanding to summer day camps with safety measures in place. "We know caregivers need support, so as long as we've been allowed as an essential service to remain open, we've remained open."
District officials said Wednesday high Orange County coronavirus infection rates have thwarted plans to reopen physical campuses on Aug. 24. Some reacted with relief, others dread.
Seeing the vital need for child care options, especially for single-parent households and homes where both parents are working, organizers have developed a protocol for bringing kids onto still-closed school campuses during the regular hours of 6:45 a.m. to 6 p.m. on weekdays.
Of course, there are some new rules to observe.
Parents and children must wear facial coverings during check-in, and guardians may no longer visit classrooms. Kids must be distanced and will be kept in smaller groups of about 10 to 14 participants, and surfaces will be regularly disinfected.
New games, such as noodle tag, will reinforce distancing, and instructors will provide distance-learning support throughout the day. Parents must confirm health statements when dropping off children for the day, and children exhibiting any signs of illness will not be accepted.
Romiti said the precautions and guidelines are designed to ensure kids get the interaction they need in while minimizing the risk of exposure.
"We're a safe place for children to come and do distance learning," she said. "They're also getting other benefits — they're getting outdoor playtime and they're getting other activities that are curriculum-based."
As the start of the school year draws closer, a new portal on the Orange County Health Care Agency's coronavirus website gets into granular detail on COVID-19's impact on children, allowing deep dives not broken out for any other age group: cases by city, zip code, and school district, further divided into age subgroups.
Staci Costello works as a quality assurance specialist with the Y, auditing school programs and making sure protocol and training are properly implemented. But as a mother of two young sons, aged 6 and 7, she admits she and her husband, like many others, have been stretched thin during the pandemic.
"It was a huge struggle for him to have a work meeting when the kids had to be on Zoom with their teachers at different times," Costello said of her husband's adventures in distance learning.
Now her sons, typically enrolled in YMCA child care before and after school, are participating in a full day of programming and enrichment that will give her and her husband time to work without sacrificing their children's learning or social needs.
"Thank goodness there are child care programs like the Y that can do this," Costello said. "There are a lot of parents going back to work right now, and they're going to need help."
YMCA of Orange County chief executive Jeff McBride said the program was designed to provide a safe option for families who struggled when schools transitioned online in March and will need support in the academic year ahead.
"This new format of schooling will have a major impact on families, especially working families, and we want them to know that if and when they need support and/or child care, we are here to help them meet that need," he said in a statement last month. "Families should not have to choose between their children's development and education and parental livelihoods and household health."
---
All the latest on Orange County from Orange County.
Get our free TimesOC newsletter.
You may occasionally receive promotional content from the Daily Pilot.