Newport-Mesa Unified board, overriding concerns, names Russell Lee-Sung district superintendent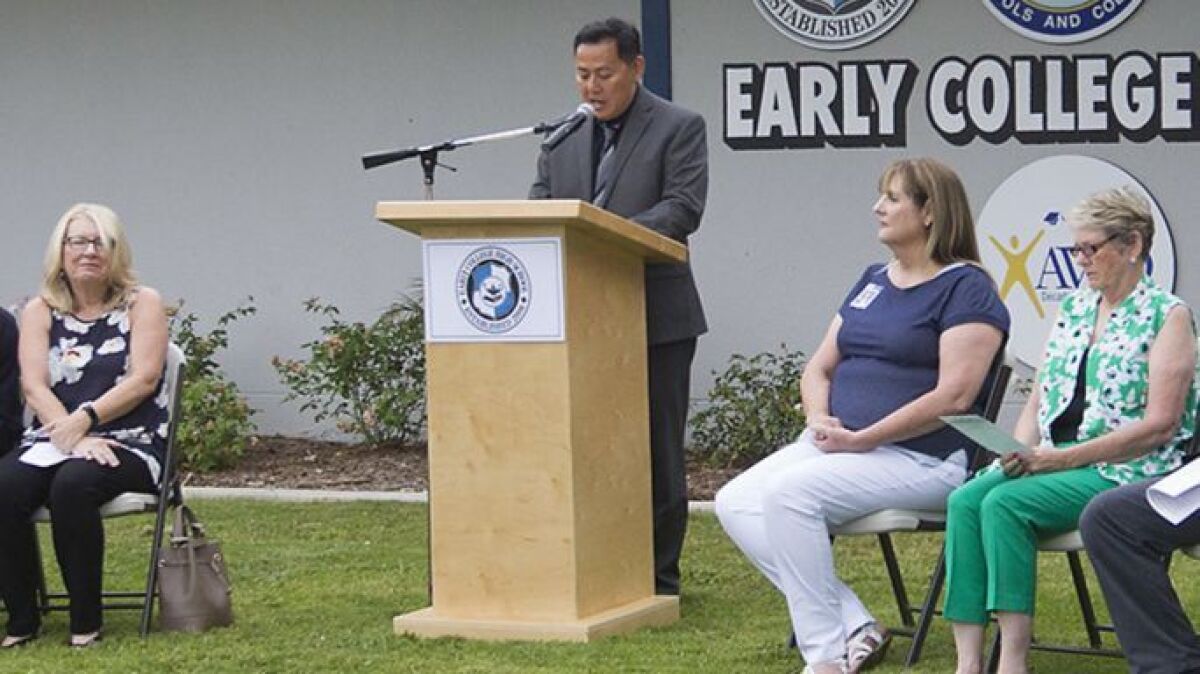 Newport-Mesa Unified School District board members agreed Tuesday to hire Interim Supt. Russell Lee-Sung as superintendent through June 2022, overriding concerns from the public about the prudence of the decision and a claim from the teachers union the move violates board policy.
According to a contract approved in a 6-1 vote, Lee-Sung will serve in the position from Aug. 1 through June 30, 2022 and earn an annual salary of $298,000 plus benefits. A provision in the agreement states the administrator could receive up to six months' pay should the district terminate him without cause.
Board President Martha Fluor explained options were considered during multiple closed session meetings. Lee-Sung's selection followed an in-person interview and was vetted through the district's legal counsel.
Fluor said the promotion would provide stability through the continuing coronavirus pandemic. With three board seats up for election in November (Fluor in Trustee Area 3, Vicki Snell in Area 1 and Dana Black in Area 6), it would also save potential new board members from having to add a nationwide superintendent search to an already steep learning curve.
"This two-year contract will give the newly constituted board in November time to adjust to their new roles and responsibilities and understand school board governance, evaluating Mr. Lee-Sung in 2021 and focusing their attention on the ongoing coronavirus," Fluor read from a board statement.
But nearly 20 people who spoke in public comment prior to the vote questioned the soundness of foregoing a traditional nationwide search for a replacement for former Supt. Fred Navarro, who retired July 31 after eight years helming the district.
Many urged the board to consider a one-year contract that would give a newly formed board more of a say in its own leadership.
Dr. Fred Navarro, the superintendent of the Newport-Mesa Unified School District, said he plans to retire next month. He held the position since 2012.
"Allowing a temporary superintendent to be given a two-year contract is ridiculous," said commenter Martha O'Meara. "Give him a one-year contract and start a superintendent search in the next few months. This would allow the new school board to have some input."
Tamara Fairbanks, president of the Newport-Mesa Federation of Teachers, said promoting an internal candidate without posting the position publicly could be a violation of equal employment opportunities laws and the district's own policy on superintendent recruitment and selection.
Board Policy 2120 states the board shall establish a search and selection process that considers community input and includes advertising the vacancy and the recruitment of qualified candidates.
"The input of NMFT and other important stakeholders are not being taken into account," Fairbanks said in her comment. "Board Policy 2120 is being violated by this agenda item. All stakeholder groups should be highly involved in the selection process."
Legal counsel Spencer Covert explained the board was within its rights to promote Lee-Sung without adhering to the policy, which outlines guidelines but doesn't give mandates.
"One of the guidelines that is in there is the ability to promote from within," Covert said. "There is no legal requirement to post and advertise for position of school superintendent — ultimately, it's going to be the decision of the board how it wants to fill this position."
Board members largely supported the contract, praising Lee-Sung's leadership and problem-solving skills demonstrated since his arrival in 2015 as Newport-Mesa's associate superintendent and chief human resource officer.
In five years, the administrator has risen swiftly through several high-level positions.
Appointed acting associate superintendent and chief academic officer in July 2016, Lee-Sung was serving as deputy superintendent by the following year. He remained in that position until this July, when officials announced Navarro's impending retirement and named him acting superintendent.
On Tuesday, Lee-Sung thanked the board and affirmed his "proud record" of increasing student achievement.
"I would love an opportunity to be able to meet people … and, more importantly, for me to listen and to build those bridges and keep our district not only stabilized, but moving forward and bringing it to higher levels than it's ever been," he said.
Trustee Ashley Anderson, who cast the lone dissenting vote, said she would have preferred to see a one-year contract. She also questioned the board's failure to post the position.
"There are other people on staff who may have wanted to apply and could have come in and been stable [for] our district, but they didn't have that opportunity," Anderson said.
---
All the latest on Orange County from Orange County.
Get our free TimesOC newsletter.
You may occasionally receive promotional content from the Daily Pilot.