New dining options coming to Huntington State Beach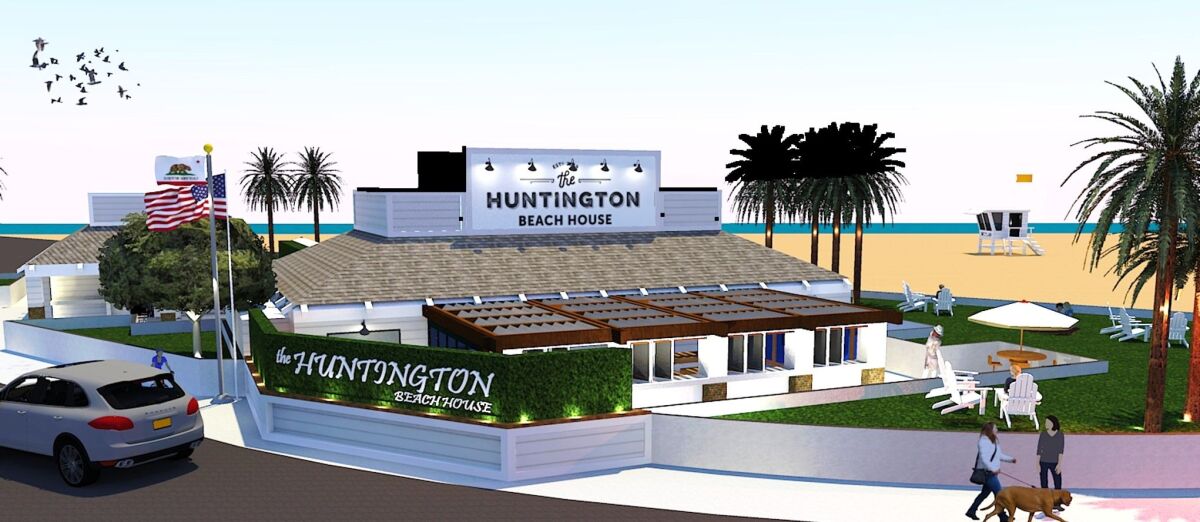 Alicia Whitney is ready for her next challenge, and visitors to Huntington State Beach will ultimately benefit from her culinary adventure.
Whitney, a Huntington Beach resident, is the founder and chief executive of Prjkt Restaurant Group, which is bringing three new concession-style eateries to the local state beach in the next year.
The Huntington Beach House, located at Beach Boulevard and Pacific Coast Highway, is scheduled to open this spring. Sahara's Sandbar, a pizza place named after Whitney's 10-year-old daughter Sahara, will open this fall at Magnolia Street and PCH.
California Fork and Spoon, located at Brookhurst Street and PCH, is slated to open in early 2022. Additionally, SandBox Beach Rentals, located at Newland Street and PCH, will offer services like surfboard and firewood vending machines when it opens to the public this May.
Whitney, 41, describes herself as "all things Huntington."
"I'm just excited and grateful," she said. "I hope that I can continue to make our community and State Parks proud with the effort we put into this big project."
The existing concessions buildings, which have been at the Huntington State Beach since 1984, are being rebranded as part of the Prjkt Restaurant Group effort. Whitney, who previously was behind four concessions areas at Bolsa Chica State Beach, including the popular SeaLegs at the Beach, found out she won the bid for the new project last May after responding to a request for proposal in September 2019.
Prjkt (pronounced "Project") has a 10-year agreement in partnership with the California State Park System, State Park Orange County Supt. Kevin Pearsall said. Prjkt must spend at least $650,000 on the improvements, and 10% of the concessions sales go back to the state park system.
Whitney said that the combined renovations will likely exceed that requirement and pass $1 million.
"They're getting pretty significant facelifts, all of them," she said of the properties. "It's time to create new legacies and memories. Each time you build a restaurant, it's not just four walls. It's kind of like your home. Your home is four walls until you make it a home, and a restaurant is four walls until you make it a restaurant."
She said California Fork and Spoon will feature the California state bear carved into a Redwood tree out front, creating a photo opportunity. A California mural created by Newport Beach-based artist Timree Gold will reflect the history and energy of the coastal region.
The Huntington Beach House, the first to open of the three new outdoor concession areas, will feature fire pits, sandboxes and a 120-foot seated counter over the boardwalk.
Pearsall, who first worked with Whitney on the Bolsa Chica concessions, said the new concepts will represent a welcome change in Surf City. He said he liked that they brought the option for healthier food choices.
"They were so underachieving and so underused, the concession element of these beaches, for such a long time," he said. "You could see how much mental design she put into her submissions, her bid proposals. They were so impressive, and they were exactly what we were looking for to make these two parks the destinations that they are. They have the ocean, they have the sand, they have the beauty and the weather. They didn't have a comfortable, lounge concession environment."
Whitney said she had to make sacrifices along the way. The restaurateur closed her SeaLegs Wine Bar and SeaSalt Woodfire Grill — both located in town but not at the beach — in 2019 so she could focus on her beach operations.
"I knew that if I wanted to grow on the beach, I had to re-strategize my business," she said. "On paper, it seemed like it was going to be so easy. But in reality, it was so hard to say goodbye to my two restaurants that were like my babies that got me going, especially SeaLegs Wine Bar. I literally was heartbroken, but I knew that I needed to do this to grow."
Whitney, who also has a SeaLegs location at Los Angeles International Airport, said her daughter Sahara was still in the womb when she began developing SeaLegs Wine Bar.
Now Sahara, whose name is tattooed on Alicia Whitney's arm, has been around for a decade. And her name is the inspiration for a restaurant to boot.
"I looked at her one day and I got the name," Alicia Whitney said with a laugh. "You'd better believe she'll be working there when she can."
---
All the latest on Orange County from Orange County.
Get our free TimesOC newsletter.
You may occasionally receive promotional content from the Daily Pilot.