U.S. Open of Surfing returns to Huntington Beach in September
The U.S. Open of Surfing has long been seen as one of the signature summer events in Orange County, with action firing off at the south side of the Huntington Beach Pier typically starting in late July.
This year, though, most of the event will take place in the beginning of fall.
The U.S. Open will return Sept. 21-26, World Surf League organizers announced Wednesday, as part of a four-event Challenger Series.
The event in Huntington Beach will kick off the four-stop series, which also features stops in Portugal from Oct. 2-10, France from Oct. 16-24 and Hawaii from Nov. 25-Dec. 7.
"We're very excited to bring the Challenger Series to life in 2021," World Surf League chief executive Erik Logan said in a statement.
"These four events will not only provide an enhanced showcase for the up and coming surfers, but will also allow those who fail to requalify through the [Championship Tour] the opportunity to perform well and requalify for the 2022 Championship Tour."
The U.S. Open of Surfing, which is free to spectators, is the world's largest professional action sports competition and festival, as well as the world's largest surfing competition. It also features skateboarding and BMX biking events.
It was canceled in 2020 due to the coronavirus pandemic.
The event is clearly an economic boon for Huntington Beach. It drew an estimated 375,000 attendees and generated $55.3 million of direct spending in 2018, according to a Visit Huntington Beach study conducted by Destination Analysis.
A majority of the visitors (68%) were from outside of the city, with 54% saying they were from outside of Orange County.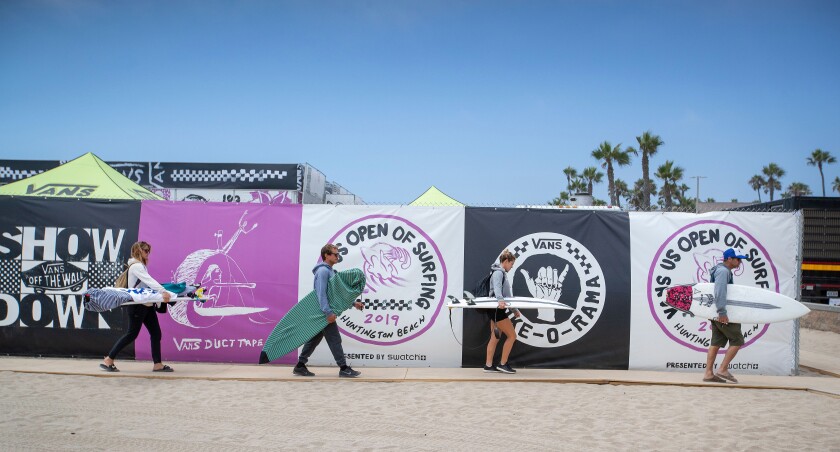 But it remains to be seen if an event later in the year will attract the same size audience. The U.S. Open's final weekend coincides with the Grand Prix of Long Beach this year, and it is just a week before the Pacific Airshow, which is scheduled Oct. 1 to 3.
Local surfers have had success in recent years, with Huntington Beach native Kanoa Igarashi winning the men's event back-to-back in 2017 and 2018. Igarashi is gearing up to represent Japan at the Tokyo Olympics later this month.
Sage Hill School graduate Courtney Conlogue, from Santa Ana, is also a two-time U.S. Open women's winner in 2009 and 2018.
The World Surf League announced that Challenger Series fields will include 96 men and 64 women. That includes 34 men and 17 women from the Championship Tour, 58 men and 44 women that are allocated by the league's regions, two men's and women's World Junior wild cards and two men's and one women's wild cards.
The 2021 Challenger Series rankings will be comprised of a surfer's best three results out of five events, including his or her best 2020 qualifying series result.
"This new level of competition will provide greater opportunity for [Championship Tour] qualification as well as give visibility to the next generation of surfers," said Jessi Miley-Dyer, World Surf Tour senior vice president of tours and head of competition.
"I can't wait to see who will qualify for the tour in 2022."
---
All the latest on Orange County from Orange County.
Get our free TimesOC newsletter.
You may occasionally receive promotional content from the Daily Pilot.