Won't you be my neighbor? Costa Mesa campaign asks people to meet 10 neighbors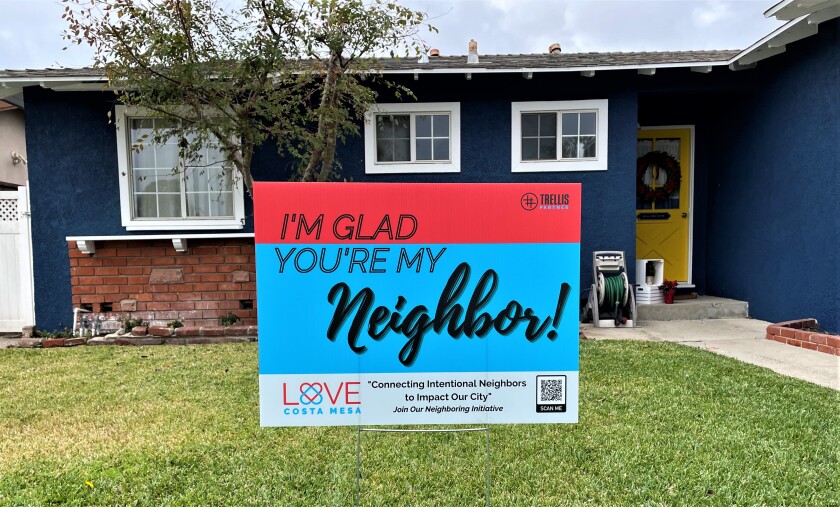 Neighbors might live near one another for years without saying much more than a simple "hello," but a new campaign in Costa Mesa aims to break the barrier of silence and create friendly connections across walls, lawns and fences.
"I'm Glad You're My Neighbor" asks participants to pledge to introduce themselves to at least 10 people living in their neighborhood and then send in a contact sheet by Dec. 20 to be entered into a raffle drawing for prizes.
The effort is being organized by Costa Mesa nonprofit Trellis — whose goal is to connect community members and groups for the purpose of finding solutions to local issues — as a project of "Love Costa Mesa," where neighbors volunteer to take care of one another and local parks and organizations.
Reina Cuthill, director of Trellis' Neighboring Initiative, says the new campaign is designed to help create small networks of neighbors across the city who know and look out for one another.
"Do you know the people around you physically?" she posed. "It's such an obvious thing, but it's something that's just not common anymore. My goal is to get 100 people to start knowing their neighbors by name, so 1,000 neighbors will know each other."
Nearly 1,000 locals helped seniors, beautified city parks and engaged in acts of service Saturday during "Love Costa Mesa," which organizers hope to expand into a wider volunteer campaign.
Cuthill assured names gathered during the campaign will not be added to any kind of list but will simply be reviewed to verify participation. Those who take part in the campaign will be given a yard sign to promote the effort and introduction cards they can fill out, so neighbors can learn more about them.
Costa Mesa retiree Ralph Hulett, who's participated in annual "Love Costa Mesa" days of service and other Trellis programs, went out into his own Westside neighborhood with canine companion Faye to meet some of the people living near him.
Faye is a great icebreaker and conversation starter when he's out and about on a walk, as people will often approach him and ask about her. Still, he's not opposed to knocking on doors to extend his personal network a bit further.
One neighbor who answered his knock said she and her husband were new in town and hadn't met many people, Hulett recalled. She seemed grateful for the introduction.
"The initiative, to me, really is a wonderful thing," he added. "It's to help us understand there's someone out there who wants to be there for us."
Cuthill said talking to strangers may seem an onerous task at first but can be quite refreshing.
"I think people will be surprised at how fulfilling the experience is when you just take those steps forward," she added.
Those who sign up and submit contact sheets are eligible for one of four raffle prizes, include a complimentary "A la Plancha" tableside dining experience for four at Descanso, dinner for two at Newport Rib Co., five free meals and a "fun goodie" courtesy of Chic-Fil-A or a gift basket with complimentary meals from Raising Cane's Chicken Fingers.
To take the "I'm Glad You're My Neighbor" pledge and receive a yard sign, contact sheet and 10 introductory cards, sign up online at lovecostamesa.org. Participants can turn in contact sheets by emailing reina@wearetrellis.com.
"Relationships really take away some of those negative emotions a lot of people can feel with neighbors," Cuthill said. "There's so much power when you become friends with the person next door."
---
All the latest on Orange County from Orange County.
Get our free TimesOC newsletter.
You may occasionally receive promotional content from the Daily Pilot.