Newport Beach teens help get buddy benches on local campuses with Patrick's Purpose Foundation
There is a bench just outside of Newport Harbor High School's library in front of a mural that adorns a wall.
Sometimes, a group of friends might sit there and just talk: about their days, their families, their lives and loved ones. Other times, the bench's use is simpler: a place for students to wait and pass the time between classes. What remains constant is its presence and the words etched into one of its wooden panels: "Be nice to everyone, most importantly, be inclusive."
This is one of two buddy benches recently installed at Newport Harbor and Corona del Mar high schools, in part due to the collaboration between two high school seniors and the Patrick's Purpose Foundation.
Kim Turner, founder and executive director of Patrick's Purpose, said the idea of the buddy bench predated the nonprofit and did not claim the idea as her own. But, Turner said, the notion of installing them at schools in the Newport-Mesa Unified School District had always appealed to her.
And so, the benches at Newport Harbor and Corona del Mar are the fourth and fifth installed under the auspices of the foundation, with another soon to be installed at Whittier Elementary.
The words etched into each bench are inspired by Turner's late son, Patrick "Patty" Turner, who died in 2018 by suicide.
"The idea behind the buddy bench is that it's a way to send a silent message that there is a student who is feeling lonely, isolated or might be new to the environment," said Turner. "Just by going to sit on this bench, people can know the student needs a buddy or a friend or someone to eat lunch with. That's kind of the beauty of the bench. They don't have to outwardly say it."
Each bench costs around $1,800. The Corona del Mar School Boosters underwrote the bench on their campus while the foundation financed the one at Newport Harbor.
Two were previously installed at Wilson and Sonora elementary schools. Another buddy bench is also at Andersen, but that was installed outside of the Foundation's efforts.
Turner said the Exchange Club of Newport Harbor reached out to the foundation in October, and efforts are currently being organized to install a buddy bench at all of the Newport-Mesa elementary campuses.
Turner said the benches send a message of kindness and foster empathy in students.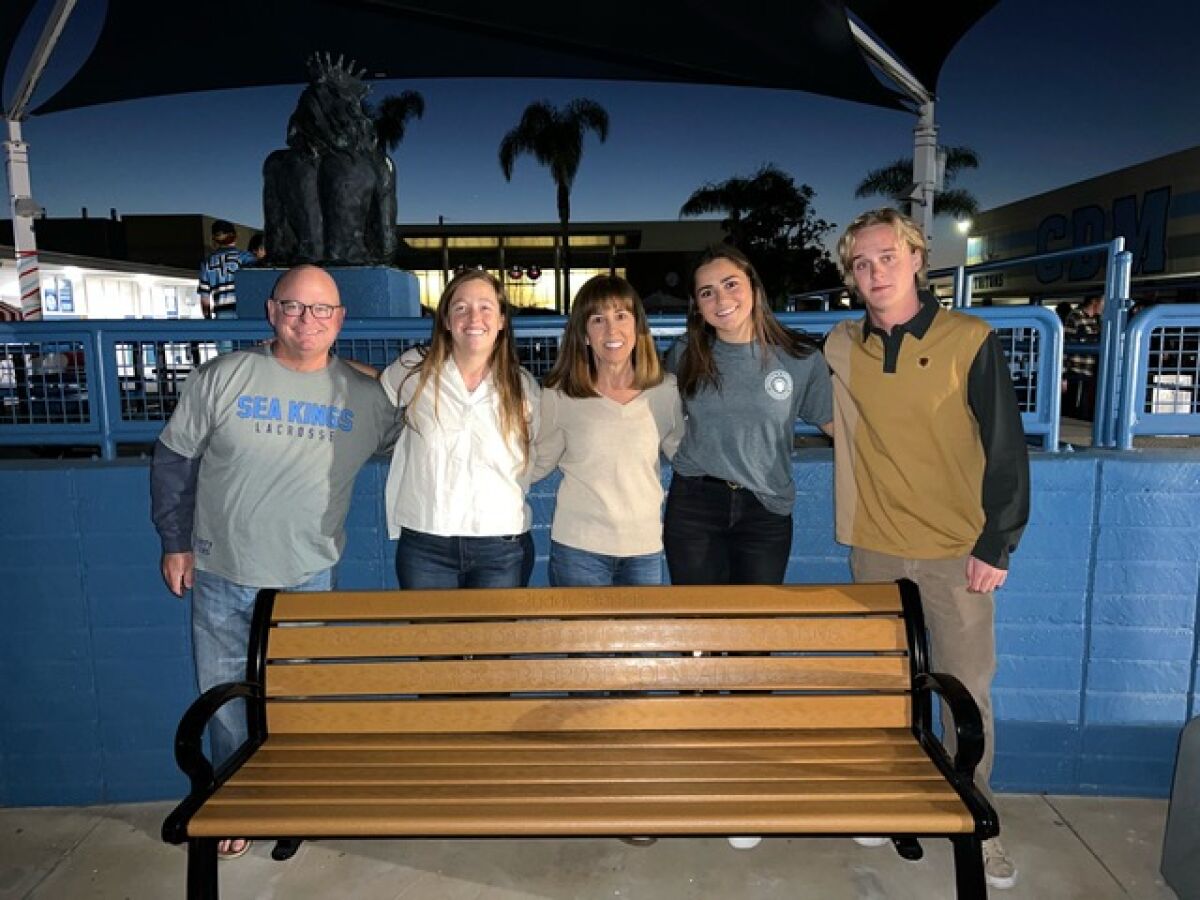 Claire Eusey, 18, said her brother, Richard, was in the same grade as Patty, and she's been acquainted with the Turner family for years. Her mother, Shannon, is a foundation board member.
Eusey said the on-campus club associated with the nonprofit had been working for years to get a buddy bench on campus and, though she is credited with bringing it to this point, she said she couldn't have done it without all their support.
The bench was installed on March 11.
"As we first started trying to destigmatize talking about mental health and advocating for suicide prevention, Corona del Mar [the community] was hesitant about embracing the message; but this year with Mr. [Joshua] Hill as our principal and the support of our teachers, my peers and how well the people before me set up this project, we were able to make this change," said Eusey.
Her boyfriend, Joseph Hurley, helped lead the charge over at Newport Harbor.
Hurley, 18, said he heard of the project from Eusey and decided to reach out to his own teachers and faculty about establishing a buddy bench on their campus. Their bench was recently installed earlier in April and Hurley said the most difficult hurdle had already been cleared by Eusey and past students.
"I was really pushing for it. I didn't want them to forget about it. I'm graduating, so I wanted to do it before I graduated," said Hurley.
He said he has seen a few people using the buddy bench since it was installed. Eusey said she heard from at least one student that used the bench on her campus that they were glad for the bench because they "just really needed to talk to someone [that day]." Hurley and Eusey acknowledged that not all students, especially those in high school, are willing to come out and talk about their feelings. But that's where something like the buddy bench comes in useful.
"You don't really have to say something about it. You can just go sit down and hope someone sits down with you," said Hurley.
---
All the latest on Orange County from Orange County.
Get our free TimesOC newsletter.
You may occasionally receive promotional content from the Daily Pilot.