Costa Mesa beefs up rental assistance programs by $500K, widens eligibility and uses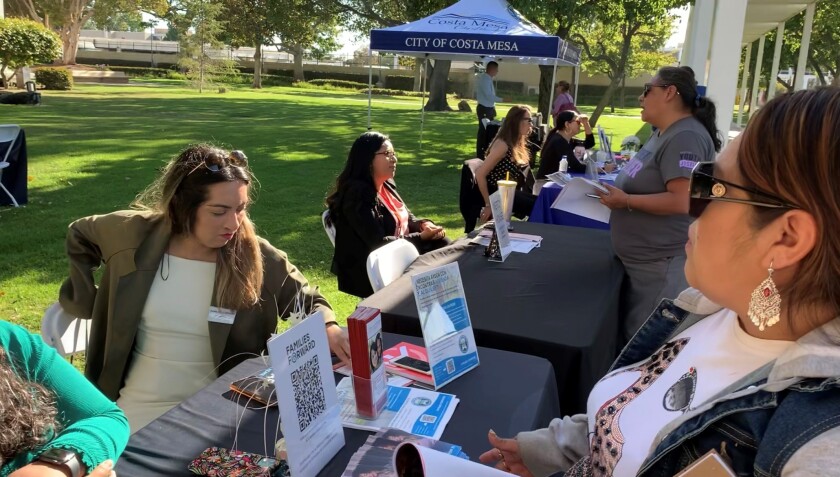 In the wake of resident complaints about the toll of rising rental costs, especially for low-income families, Costa Mesa officials last week bolstered the city's rental assistance programs, dedicating $500,000 in additional funding and broadening eligibility requirements.
As such, more than $1.1 million remains available for families and individuals who earn 80% or less of the county's area median income (AMI), which stands at $94,900 for an individual, $108,400 for a two-person household and $135,500 for a family of four.
Nate Robbins, a neighborhood services manager for the city, explained in a June 21 council meeting a slate of programs initially created to help alleviate renters impacted during the COVID-19 pandemic.
The city has allocated more than $904,000 in pandemic-related community development block grants to help people pay back rent and cover gaps since 2020. Another $300,000 was put into a tenant-based rental assistance (TBRA) Home program for displaced people who could prove a 36-month residency in Costa Mesa.
Of that total funding, $583,144 had been spent, Robbins said. Chipping in $500,000 in federal American Rescue Plan Act funding or other sources, while broadening who qualifies and what assistance may be spent on, will help more people, he said.
"The programs that we're setting up with these broadened eligibility factors are going to hit 90% of the people who need the assistance," he added.
Now, to receive up to six months of community block grant rental assistance — with no funding cap for "necessary and reasonable" requests — those who earn less than 80% of the AMI may apply for help with gap rental assistance, unpaid rent and eviction prevention. Applicants who earn 60% or less than the median income but may receive up to 24 months of TBRA assistance for deposits, rent and gap rental assistance for new and existing residences.
Local nonprofit service providers are assisting applicants throughout the process. Families with children are paired up with representatives from Serving People in Need (SPIN) or Families Forward, while individual applicants are assigned staff from Mercy House.
City staff will submit a request for proposals from existing organizations or other groups to help distribute the additional $500,000 allocated by council members at last week's meeting.
The enhancements come just two weeks after a group of mostly Spanish-speaking Costa Mesa tenants came to a June 7 council meeting urging officials to do something about swiftly escalating rents and residents being displaced from their homes. Many of the tenants came to Tuesday's meeting, where service providers and city staff were on hand to answer questions and help people enroll for assistance in English or Spanish.
A group of mostly Spanish-speaking Costa Mesa voters petitioned the City Council during a budget discussion Tuesday to prevent rent increases they say threaten to displace them.
In turn, the residents promised to help spread the word in their neighborhoods about rental assistance funds available and how more people can enroll, despite their immigration status, which is not a factor in having a request approved.
Carmen Ramirez, a Costa Mesa resident for the past 30 years, said she was more than willing to share the news in her community.
"There are a lot of people who don't have this information, who've left Costa Mesa because they can't pay rent," Ramirez said through a translator. "Sometimes, there are people living in their cars for months, and they don't know about any of this. As partners, we are here to help everyone."
Councilman Manuel Chavez, whose fourth council district comprises a bulk of the city's tenants, thanked demonstrators, in English and Spanish, for bringing their concerns to the city so changes could be made.
"There's a saying in Mexico, el pueblo tiene voz, or 'the town has a voice,' and when that town comes out, we make miracles happen," he said. "Without you we wouldn't be here today. This is a really good foundation for what we can do in the future."
Mayor Pro Tem Andrea Marr agreed, saying people must come together to help solve the city's problems.
"I'm super excited to support this motion," she said before a 5-0 vote. "It's actually making some change happen."
For information on rental assistance and to apply, visit costamesaca.gov/hot-topics/rental-assistance-asistencia-de-alquiler.
---
All the latest on Orange County from Orange County.
Get our free TimesOC newsletter.
You may occasionally receive promotional content from the Daily Pilot.