Buzz over legalizing backyard beehives in Costa Mesa grows
Costa Mesa resident Alberta Mirisciotti has a thing for bees.
Her fascination began 13 years ago, when she saw a swarm on her property and had to call someone out to rescue them. Soon after she started learning more about the practice, then became a rescuer herself.
"We need the bees," she says of the prolific pollinators. "Every three bites of food we eat has been touched by a bee."
Today, Mirisciotti runs Hey Honey, a rescue and relocation business that offers raw, natural honey and education about the essential role bees play in the production of flowers and food crops.
The bottom of her business card reads: "Give Bees a Chance." It's a relevant message, she says, because, despite the fanfare the humble insect receives from farmers, science teachers and conservationists, many still view them as potentially harmful due to their capacity to sting.
This includes the city of Costa Mesa, where it is illegal to keep bees outside of educational or scientific settings. Any errant beekeeping is a code violation that could incur penalties, including costly fines.
Despite Orange County's historic ties to agriculture, fewer than half of its cities permit residential beekeeping, including Huntington Beach, Laguna Beach, Santa Ana and Irvine. That's something Mirisciotti and other apiarists would like to see change in Costa Mesa.
And perhaps it may. For the past year, there's been a growing buzz around crafting an ordinance to allow residents to legally keep bees.
In 2022, the city's Animal Services Committee — an advisory panel that promotes pet licensing and animal-related events and services — included among its annual goals exploring existing Orange County beekeeping ordinances.
Members Wednesday reviewed a report from an ad hoc subcommittee on how cities regulate the practice through permitting, zoning and distancing requirements, inspections and limiting hive numbers.
"Beekeeping is of particular importance now, as there has been a worldwide decline in domesticated honeybee populations," reads the report, describing a trend of Colony Collapse Disorder due, in part, to a rise in deadly mites and parasites.
"Backyard beehives contribute to the bee population, help address the adverse effects of CCD and contribute to making the city greener."
Subcommittee member Jenn Tanaka noted in 2010, New York City allowed residents to maintain hives, even on apartment balconies.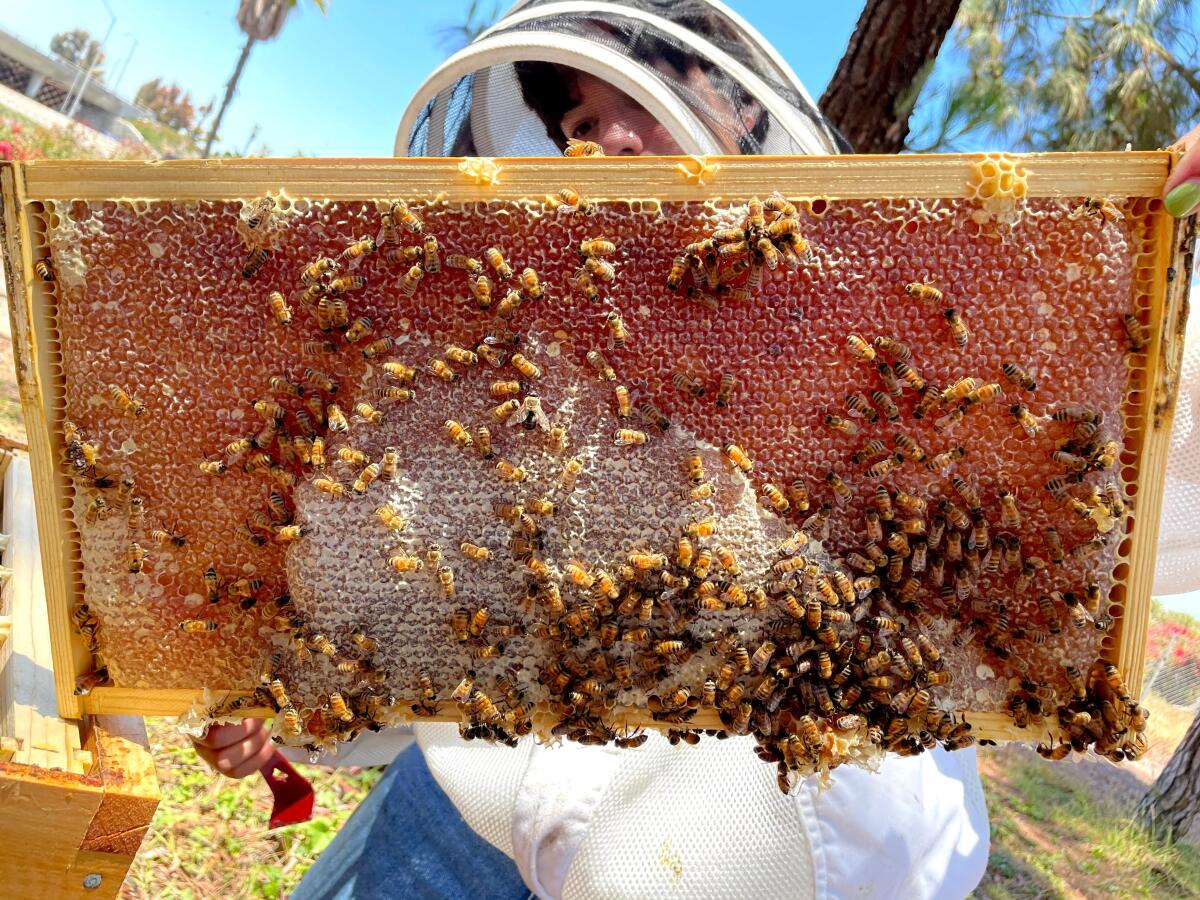 "It can be done, even in an incredibly dense area," she said. "We've been having a lot of trouble in Southern California with maintaining our pollinator population. I think it would be good to keep the conversation open."
Some committee members seemed hesitant to move forward with an ordinance. Chair Becca Walls maintained it falls outside the group's purview, which should focus primarily on pets. Vice Chair Angela Minjares agreed.
"I just think our effort could be put to better use on other things," Minjares said. "I'm a little concerned about how it would be maintained. It's easy to call about a barking dog, but how do you maintain this?"
Costa Mesa Deputy Police Chief Joyce LaPointe said although some residents have shared concerns about the safety of children and animals, allowances might be made for open spaces.
"We do have some areas in town with pretty large properties. Maybe there are certain areas that would allow for it," she said. "But at this time we have no information to really even speak to how that would work."
Most beekeepers distinguish between European honeybees and feral colonies of "Africanized" bees, known to attack animal and human intruders with great force.
Looking to increase honey yields in the 1850s, Brazilian farmers bred the two species together, not knowing African bees, which faced more natural predators, were also more aggressive in defending hives.
Hybrid strains eventually reached the U.S. and are now thought to be behind reports of "killer bee" attacks, in which unwitting victims receive hundreds of stings.
Corrine Powell is treasurer of the Orange County Beekeepers Assn., a volunteer organization focused on education and best practices that maintains a permitted beehive at Centennial Farm at Costa Mesa's Orange County fairgrounds. She attested to the gentleness of colonies bred in Northern California, where harmful hybrids do not live.
"I've been beekeeping for six years. I've been stung maybe three or four times," Powell said. "I don't suit up when I'm just walking around in my backyard, and the bees don't bother me at all."
OCBA President Liz Savage said consuming local honey reduces allergic reactions to stings. She claimed breeding honeybees could ameliorate the prevalence of feral colonies.
"We want to have more common bees than Africanized bees, so we can tone down the genetics," she said. "If we don't have backyard beekeepers managing colonies, then all that's going to be out there is feral bees."
Mirisciotti, who came under the scrutiny of city code enforcers after a neighbor reported being stung by a bee from a hive she'd been relocating, urged some kind of compromise.
"We just want them to thrive in our communities because we need them. So why don't we educate and do things to keep them in safe environments, for them and for our communities?" she reasoned.
Committee members agreed to allow for the continued study of an ordinance. Any recommendations would have to be approved by the Costa Mesa City Council.
All the latest on Orange County from Orange County.
Get our free TimesOC newsletter.
You may occasionally receive promotional content from the Daily Pilot.