Costa Mesa, NMUSD field questions about new fence at Harper Park keeping public out
Regular users of Costa Mesa's Harper Park — a pocket park on a Newport Mesa Unified School District campus for special education students — were recently startled to discover a fence blocking entry to the property's wide open fields.
With no clear access provided, residents could no longer bring their children to play tag or fly kites on its grassy expanse. Dogs could no longer roam and sniff the perimeters of its mature oak trees.
Nearby resident Jenn Tanaka said while there's not much to the 1-acre park, it's popular among those who know of its existence, precisely for the roominess of the adjacent fields.
"Most of the time it's empty, so people love going to this park," she said in an interview Tuesday. "It's actually one of the few places in the [city's] east side where you have access to big, unstructured space."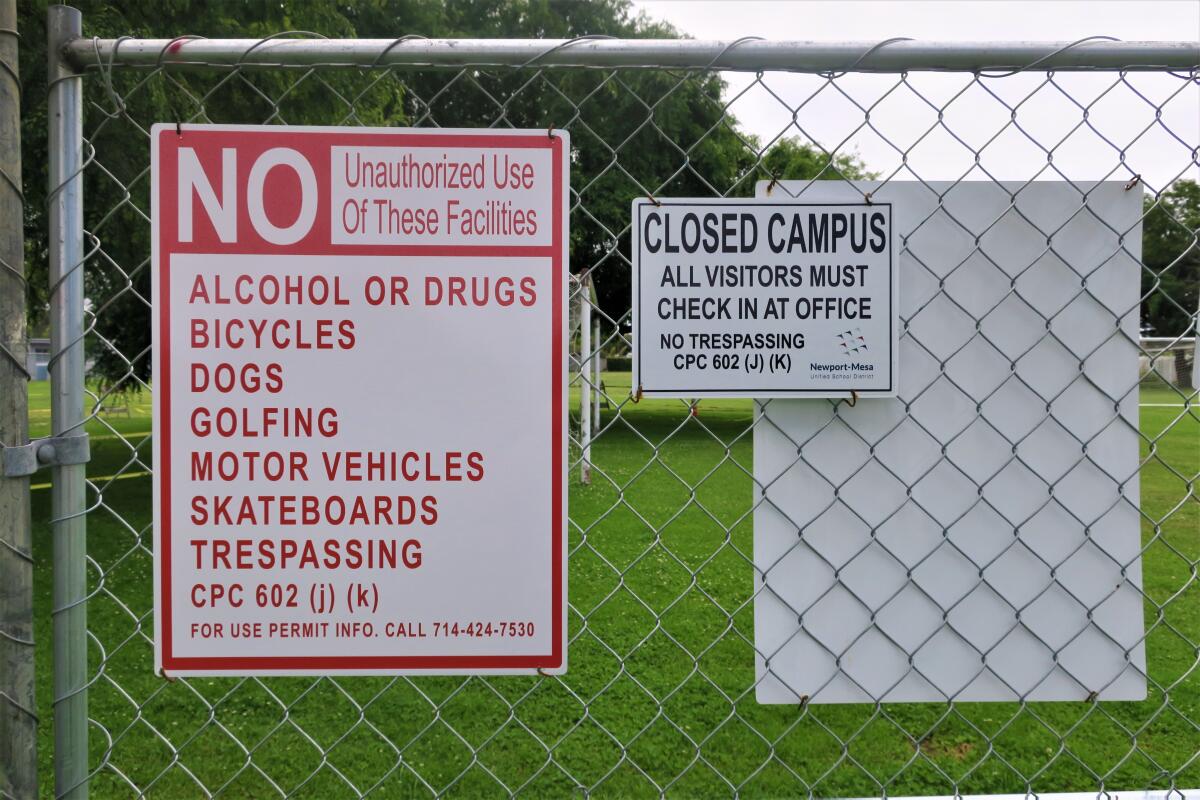 Signs posted on the temporary chain-link fence inform visitors that the area is a "closed off campus" and warn against trespassing, skateboarding, biking and the presence of dogs but give no reason for the closure.
Tanaka, an attorney who serves on two city committees and involves herself in civic matters related to safe streets, parks and housing, set out to find why the area was no longer open to the public.
She reached out to Mayor Pro Tem Jeff Harlan, who represents her district on the council, but he hadn't heard of the fence. Same with Krista Weigand, the NMUSD trustee for her area.
Eventually, Tanaka learned from Costa Mesa's Parks and Community Services director that the school district had, indeed, contacted the city about its plan and was doing some sort of pilot program.
"I believe staff was aware Newport-Mesa was going to do this, and I'd like to know why they didn't bring it to any elected officials who could bring it to the public," she said.
NMUSD spokeswoman Annette Franco clarified Thursday the entire property belongs to the district, which has granted the city an easement to operate the playground and pocket park. Field space is used by students at the district's Harper Assessment Center and a charter school that leases space there.
"The temporary fence between the park and our school fields was installed to improve safety conditions for students," she wrote in an email. "This allows students to have a dedicated outdoor space that separates them from the public that utilizes the public park during school hours."
Although the remaining acreage is not technically for use by the public, Franco said, neighbors may still access the fields during non-school hours (9 a.m. to 6 p.m. on weekdays) and on days when school is not in session.
Entry is available at the front of the school along 18th Street but not directly from the park, whose entrance is at Tustin Avenue.
Franco said the district reached out to the city about the fence and is continuing to work with staff about how to best meet the needs of everyone.
That fact was confirmed by City Manager Lori Ann Farrell Harrison during a City Council meeting Tuesday, after Tanaka shared her and neighbors' concerns in a public comment and some council members supported removing the fence.
"I am working with the mayor and Mayor Pro Tem Harlan on the issue but also with Wes Smith, the superintendent," she said. "We didn't put the fence up, and it's not our fence to take down. However, they're open to a conversation."
Harlan said the city could have done more to inform residents about what was happening at the site and called what happened "an epic fail."
"It's a failure of communication, a failure of implementation and a failure of accountability," he added. "I know we as a city can do better. It can be corrected, and I'm expecting that to be done quickly."
Tanaka said few people come to the park since the fences were installed less than a month ago. She'd like to see that change.
"I think people are just not coming anymore," she added. "To me, that's a shame."
All the latest on Orange County from Orange County.
Get our free TimesOC newsletter.
You may occasionally receive promotional content from the Daily Pilot.