Around Town: Newport's Marina Park to host celebration in advance of Newport to Ensenada race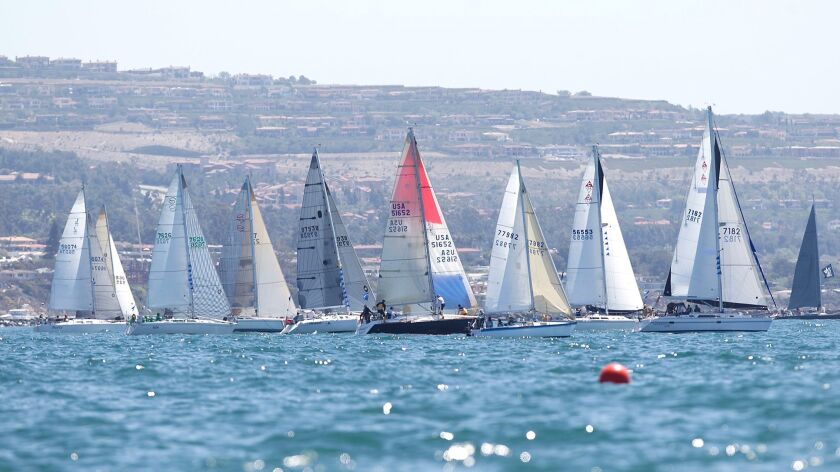 The Newport Ocean Sailing Assn. is having a race week kickoff party Sunday at Marina Park.
The free event goes from noon to 4 p.m. at the park, 1600 W. Balboa Blvd., Newport Beach. It will celebrating the 70th annual Newport to Ensenada International Yacht Race and includes tours of race boats and 1950s-1960s beach cruise cars on display. Food will be available at the nearby Lighthouse Café.
Trainers honored for saving student's life
Two athletic trainers were honored Friday for saving the life of a Golden West College student who collapsed during a track and field practice.
Golden West trainer Pat Frohn and Tori Mulitauaopele, a Cal State Long Beach student trainer, were presented with the Lifesaver Award by the California Athletic Trainers' Assn. during a ceremony at Golden West in Huntington Beach.
Student Javier Venegas had been running on the school track during a practice in January when he collapsed from a heart arrhythmia.
Frohn said Venegas wasn't breathing and didn't have a pulse, but he and Mulitauaopele were able to revive him with chest compressions and a defibrillator.
Venegas has fully recovered and the doctors who later treated him credited the trainers with saving his life.
F.V. High to host fundraiser for theater
Fountain Valley High School's theater department is having its "Paint and Pour" fundraiser April 28.
The event begins at 7 p.m. at a private home, 1032 S. Elliott Place, Santa Ana. A $20 donation is requested to attend and another $20 to paint.
Drinks and appetizers will be provided.
For more information, call or text (714) 269-8405.
Newport Harbor alumni group starts scholarship fund
The Newport Harbor High School Alumni Assn. has started a scholarship fund for graduating students interested in vocational trade or nursing. The scholarships are $1,000 and could continue a second year.
Requirements are a minimum 2.5 GPA, proof of acceptance or enrollment at a college and proof of community involvement.
To apply, contact Angie Miner, the counseling secretary at Newport Harbor High School, at (949) 515-6304. The deadline to apply is May 8.
Pet expo coming to OC fairgrounds
The America's Family Pet Expo returns to the OC Fair & Event Center in Costa Mesa April 28-30.
The event includes animal adoptions, the Orange County Turtle and Tortoise Club, a 10-gallon aquarium, police dog demonstrations and a petting zoo.
General admission is $15. Seniors 60 and over are $13 and children 6 to 12 are $10. Children 5 and under are free. Active and retired military are also free with identification.
Organizers ask that attendees do not bring their own pets. For more information and operating hours, visit petexpooc.org.
CdM's Harbor Day, Fountain Valley's Vista View earn tickets to youth empowerment event
Students from Harbor Day School in Corona del Mar and Vista View Middle School in Fountain Valley have earned their tickets to attend WE Day California, one of the world's largest youth empowerment events.
The event takes place April 27 at The Forum in Inglewood.
Organizers noted that Harbor Day hosted a global water issue awareness week in February and created marketing materials for it. They also raised money for water projects in developing communities.
Vista View students completed beach cleanups, donated items to Second Harvest Food Bank of Orange County and helped a student's family raise money after the student was diagnosed with leukemia.
'Endless Summer' to have 50th anniversary event
Tickets are available to attend a party on April 29 in Huntington Beach for the 50th anniversary of the iconic "Endless Summer" surfing film.
A private reception is slated for 4 to 6 p.m. and the party will be held from 6 to 9 p.m. at the Shorebreak Hotel, 500 Pacific Coast Hwy. Many surfing legends will be in attendance, including the three behind the film: Bruce Brown, Robert August and Mike Hynson.
A portion of the proceeds will go toward the International Surfing Museum and The Surfing Heritage and Culture Center. Tickets can be purchased at endlesssummerbooks.com.
Interfaith council looking for volunteers
The Greater Huntington Beach Interfaith Council is looking for volunteers for the city's annual day of service on April 29.
The council is recruiting people to work on one of eight city projects, including painting picnic benches at Central Park and giving food to needy children.
To sign up, visit justserve.org.
OCC spokesman named to national council board
Juan Gutierrez, the director of marking and public relations at Orange Coast College in Costa Mesa, was recently named to the executive level of the National Council for Marketing and Public Relations.
On the council's board, Gutierrez, an Anaheim Hills resident, will serve as secretary. He joined OCC in 2014 and has more than a decade of experience, including positions at Pasadena City College and Bakersfield College.
Youth ballet auditions to be held next month
Auditions for the 2017-18 American Ballet Theatre William J. Gillespie School will be held on May 6 for children 8 to 13 and on May 13 for children 14 to 18. Classes begin Sept 5.
Children 3 to 8 without prior experience do not need to audition.
For more information about the auditions and to sign up, visit scfta.org/ABTGillespieSchool, call (714) 556-2122, Ext. 4100, or email abtgillespieschool@scfta.org.
UCI group looking for study participants
The UC Irvine Institute for Memory Impairments and Neurological Disorders, an Alzheimer's disease research center, is looking for Orange County residents ages 65 to 85 to participate in a study.
The project aims to find new ways to prevent, slow or stop Alzheimer's.
Those interested can visit c2c.uci.edu or call Beatriz Yanez at (949) 824-0008.
OCC lauded by ValueColleges.com
Orange Coast College has been named No. 2 in the country by ValueColleges.com for the school's educational return on investment.
The Costa Mesa campus was credited for preparing students for four-year universities, but also for excelling at "bringing practical and technical education to a wide variety of diverse students, including a growing Latino population. With highly accomplished instructors, award-winning students and an exciting location, Orange Coast College has everything necessary to make a great education, and a low price to boot."
H.B. nonprofit hosts fundraiser
Women of the Wells, a Huntington Beach-based organization that helps bring clean water to remote villages in the world, recently hosted a charity luncheon.
The April 8 event took place in Newport Beach's Irvine Cove community.
Women of the Wells is having another fundraiser Aug. 26. For more information, visit womenofthewells.org.
Project Independence receives $5,000 donation from bank
Project Independence, a Costa Mesa-based nonprofit that helps adults with developmental disabilities, recently received a $5,000 donation from Union Bank.
The money came from being a charity partner at the OC Marathon, which takes place May 5-7.
"We are thrilled with this donation from Union Bank," Project Independence Chief Executive Officer and President Debra Marsteller said in a statement. "We know that this generosity will encourage others to give and help build lives of true independence for our clients through our programs, including supported employment, day programs and independent living."
---
All the latest on Orange County from Orange County.
Get our free TimesOC newsletter.
You may occasionally receive promotional content from the Daily Pilot.