Around Town: Newport kicks off Concerts on the Green on Sunday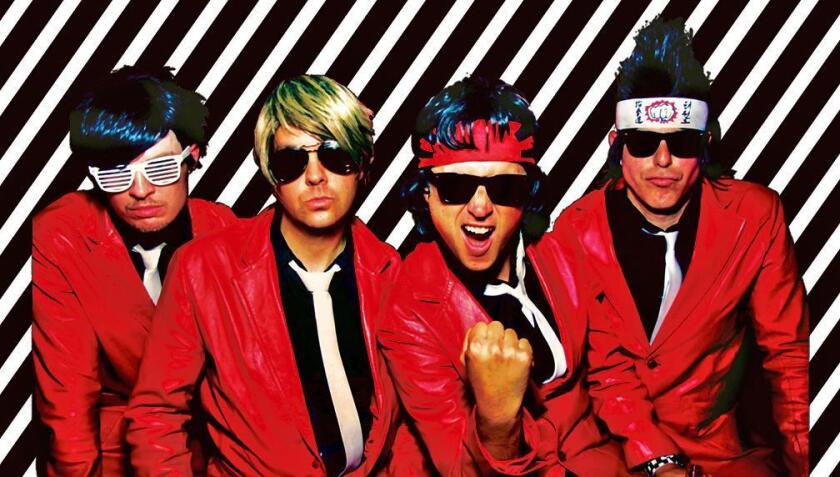 Newport Beach's Concerts on the Green series begins Sunday with Orange County '80s cover band Flashback Heart Attack from 6 to 7:30 p.m. on the Newport Beach Civic Center lawn, 100 Civic Center Drive.
The free concerts, presented by the city Arts Commission, will feature meals available for purchase from food trucks.
Here's the rest of the schedule:
July 16: Pacific Symphony, 7 p.m. (Musical Playground for children at 5:30 p.m.)
Aug. 6: Tijuana Dogs (rock, R&B, jazz, country), 6 p.m.
Sept. 3: Night Shift (pop ensemble from Citrus College in Glendora), 6 p.m.
Party to celebrate anniversary of Huntington Beach senior center
A party will be held Saturday in Huntington Beach to celebrate the first anniversary of the senior center in Central Park.
The event will be from noon to 3 p.m. at the center, 18041 Goldenwest St. There will be barbecue, desserts, live music and other entertainment.
Tickets are available for $5 at the center's front desk.
For more information, call (714) 536-5600.
Fountain Valley hosts concert series in July
The Fountain Valley Recreation Center & Sports Park is hosting Concerts in the Park — Fountain Valley Live, featuring shows every Thursday in July beginning at 6 p.m.
The series began Thursday with the 80z Allstars (rock and funk), followed by Stone Soul (classic soul and Motown) on July 13, Queen Nation (Queen tribute) on July 20 and Desperado (Eagles tribute) on July 27.
Admission to the concerts is free. The sports park is at 16400 Brookhurst St.
Free concerts at H.B.'s Pacific City through July
Pacific City in Huntington Beach is offering free live music throughout July on the main deck between restaurants Lemonade and Simmzy's.
The concerts will be held from 5 to 8 p.m. Thursdays and 1 to 4 p.m. Saturdays and Sundays at the shopping center at 21010 Pacific Coast Hwy.
For the schedule and more information, visit gopacificcity.com/events.
German Heritage Day celebration Sunday in H.B.
Old World Village in Huntington Beach will celebrate German Heritage Day with a festival from 2 to 6 p.m. Sunday.
The 40th-anniversary event will offer free food to the first 500 guests, along with a German band, folk dancers and dachshund races.
Old World Village is at 7561 Center Ave. For more information, call (714) 895-8020.
Petition opposes possible Mariners Mile widening
The Coalition to Protect Mariners Mile plans to gather signatures Sunday in opposition to the potential widening of West Coast Highway.
Petition stations will be at the corner of 15th Street and Irvine Avenue, the 400 block of Redlands Avenue and the 2000 block of Cliff Drive. The petition also is at protectmarinersmile.org.
The group says it also wants residents to have a voice in other redevelopment efforts in the Mariners Mile area. The city of Newport Beach is considering revitalization plans for the 1.3-mile stretch of West Coast Highway through the harborside area, a longtime hub of boater services.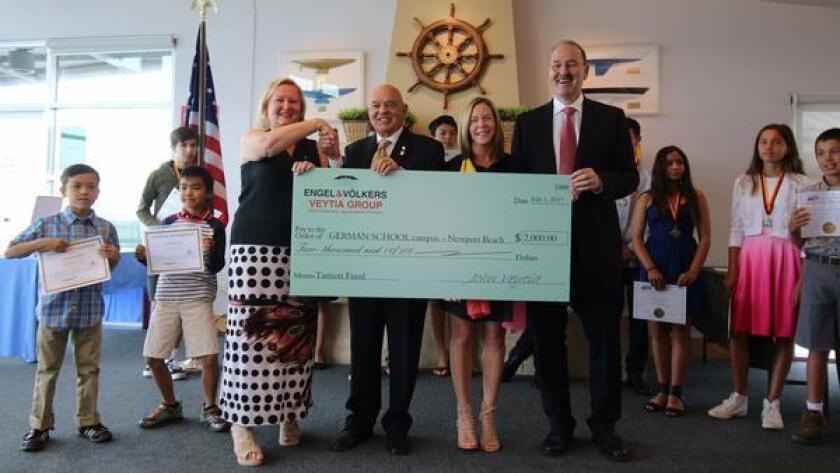 Laguna real estate agents give to Newport German-language school
Newport Beach's German School campus has received $2,000 from local real estate agents to further its German-language studies mission.
The gift came from the Laguna Beach-based Veytia Group office of global real estate firm Engel & Völkers during a student awards luncheon last weekend.
Before the check presentation, students received awards for success in language studies, including their results on the German National Exam, the official test by the American Assn. of Teachers of German.
Chargers VP to speak in Newport Beach
Kimberley Layton, vice president of external affairs for the NFL's Los Angeles Chargers, will be the guest speaker Tuesday as part of the InSpire Women in Business Speaker Series presented by the Newport Beach Chamber of Commerce.
One of the topics of Layton's speech will be how to survive and excel in a male-dominated industry.
The event will be held from 11:30 a.m. to 1 p.m. at the Pacific Club, 4110 MacArthur Blvd., Newport Beach. Admission is $45 ($35 for chamber members), with lunch included.
For reservations and more information, visit newportbeach.com/events or call (949) 729-4400.
Costa Mesa Concerts in the Park start Tuesday
The Costa Mesa Foundation's annual Concerts in the Park series will begin Tuesday, offering a trio of evening shows in July at Fairview Park.
Performing this year are Stone Soul (soul and Motown) on Tuesday, Common Sense (reggae-rock) on July 18 and Hard Day's Night (Beatles tribute) on July 25.
The concert series is free and open to the public and will feature food trucks, a beer and wine garden, children's activities, raffles and prizes. It is the primary fundraiser for the Costa Mesa Foundation.
For more information, visit costamesafoundation.org/concerts-in-the-park.
Nékter Juice Bar donates $5,000 to Festival of Children Foundation
Nékter Juice Bar, a Santa Ana-based juice and smoothie company, recently donated $5,000 to the Costa Mesa-based Festival of Children Foundation, according to a news release.
The foundation puts on the annual Festival of Children at South Coast Plaza.
Donated funds were raised from the sale of "Sneaky Spinach," a children's book written by Nékter co-founder Alexis Schulze that touts healthy eating.
Leadership in Heels to present panel discussion in Costa Mesa
The Leadership in Heels speaker series will present a panel discussion July 27 focusing on the gender communication gap from the male point of view.
"He Said, She Said" will run from 7 to 9 a.m. at the Center Club, 650 Town Center Drive, Costa Mesa.
Tickets cost $75 and can be purchased at lih-fromamanspointofview.eventbrite.com.
For more information on the panel or Leadership in Heels, visit scharrelljackson.com/about-leadership-in-heels.
---
All the latest on Orange County from Orange County.
Get our free TimesOC newsletter.
You may occasionally receive promotional content from the Daily Pilot.