Around Town: OC Marathon returns this weekend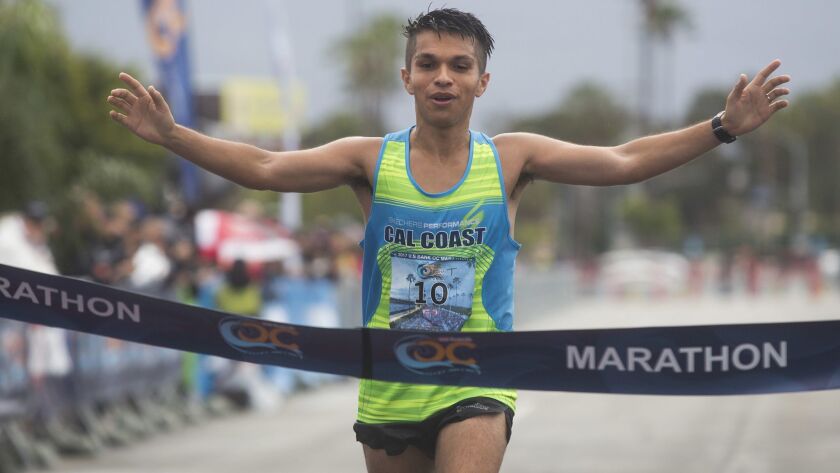 Thousands of runners will pound the pavement in Costa Mesa and Newport Beach this weekend during events for the 14th annual OC Marathon.
On Saturday, the starting gun will sound at 8 a.m. for the 1-mile Kids Run the OC and at 5 p.m. for the Wahoo's OC 5K, both of which will start and finish at the OC Fair & Event Center in Costa Mesa.
On Sunday, participants in both the 26.2-mile marathon and the 13.1-mile OC Half Marathon will take off in front of the Newport Beach Marriott Hotel & Spa, 900 Newport Center Drive. Starting times are 5:30 and 6:15 a.m., respectively. Both courses end at the Fair & Event Center.
Along with the races, events include a Lifestyle and Fitness Expo from 4 to 8 p.m. Friday and 9 a.m. to 6 p.m. Saturday at the fairgrounds, 88 Fair Drive.
For more information and a list of road closures, visit ocmarathon.com.
Totally Radtrofest will take H.B. back to the '80s
Totally Radtrofest, a festival featuring drum machines, spandex, synthesizers and more pop staples of the 1980s, will take Huntington Beach back in time with a three-day run starting Thursday at the Huntington Beach High School Theatre at 1905 Main St.
The festivities, presented by the Huntington Beach Academy for the Performing Arts, will feature KROQ/106.7 FM DJ Richard Blade on opening night. Show times are 7:30 p.m. Thursday and Friday and 2 and 7:30 p.m. Saturday.
Admission is $16 to $22. For tickets, visit hbapa.org/see.
Newport Beach meeting to provide update on state of tourism
Newport Beach residents can get an update on the state of tourism in the city on Thursday when Gary Sherwin, president and chief executive of Newport Beach & Co., the city's marketing organization, speaks at the monthly Wake Up Newport meeting.
The free breakfast event will be held from 7:15 to 8:30 a.m. at the Newport Beach Central Library Friends Room, 1000 Avocado Ave.
Jewelry shopping event will benefit the Literacy Project
The Literacy Project, a Newport Beach-based nonprofit that works to teach young children how to read, will hold a shopping event from 6:30 to 8:30 p.m. Thursday at David Yurman at South Coast Plaza, 3333 Bristol St., Costa Mesa.
Guests can buy various designer jewelry from the store, and a portion of the proceeds will go to the Literacy Project.
To RSVP, email rsvpsouthcoastplaza@davidyurman.com.
Fountain Valley High wins esports championship
Fountain Valley High School took home the championship of the inaugural season of the Orange County High School Esports League.
Thirty-eight teams from 25 schools participated in the league, which aims to connect gaming competition and entertainment with education focused on science, technology, engineering and math, or STEM.
Teams from Cypress, La Quinta, Sunny Hills and Fountain Valley high schools made it to the final four in the league's championship tournament, with Fountain Valley defeating La Quinta and Cypress in the video game League of Legends to win first place.
The esports league, with the involvement of several partners, including the Orange County Department of Education and UC Irvine, provides participating students with coaches to help them develop social and emotional skills as well as improve their game play, career-focused workshops incorporating engineering, technology and entrepreneurship, and mentoring in communication, collaboration and teamwork skills, according to a news release.
For more information, visit ochighschoolesports.org.
'Grease' car to be on display before Newport Harbor High performance
"Grease" fans can get an extra treat before attending Saturday's performance of the nostalgic musical at Newport Harbor High School.
The Greased Lightning car from the 1978 movie version will be on display, courtesy of the Petersen Automotive Museum in Los Angeles, along with other classic cars starting at 5 p.m. in front of the school.
The Newport Harbor drama department will present the play at 7 p.m. Friday and Saturday and 2 p.m. Sunday at the Robert Wentz Theater, 600 Irvine Ave., Newport Beach. Tickets are $5 for students and $15 for adults.
For more information, visit nhhsdrama.com.
Workshop set for Newport residents looking to join boards and commissions
Newport Beach residents can attend an hourlong workshop Friday to learn how to apply for a city commission or board.
The hour-long event begins at noon at the Civic Center Community Room, 100 Civic Center Drive.
The city is accepting applications until noon May 9 for various boards and commissions.
For more information, visit newportbeachca.gov/Home/Components/Calendar/Event/47437/72.
Paddleboarders in Newport to help raise money for breast cancer treatment
Standup for the Cure Newport Beach, a paddleboarding event to raise money for breast cancer detection and treatment, is set for 8 a.m. to 2 p.m. Saturday at Newport Dunes Waterfront Resort, 1131 Back Bay Drive.
The day also will feature demonstrations from instructors, plus food, yoga and live music.
Registration is $30 to $55. All proceeds will benefit Susan G. Komen Orange County.
To sign up or for more information, visit suftc.org/events/2018/5/standup-newport-beach-2018.
Laguna Beach police schedule DUI patrol for Cinco de Mayo
Laguna Beach police will be on the lookout for people driving under the influence during Cinco de Mayo weekend.
The department's DUI enforcement team will be patrolling between 5 p.m. Saturday and 3 a.m. Sunday in areas of the city that frequently have drunk driving-related crashes and arrests.
"If you choose to drink this Cinco de Mayo, make sure you have a designated sober driver," the department said in a news release. "Decide today that you won't ever drive after drinking or impaired by drugs."
Funding for the operation is provided by a grant from the California Office of Traffic Safety.
Cars N' Copters show debuts Sunday in Huntington Beach
The inaugural Cars 'N Copters on the Coast exhibit will run from 10 a.m. to 4 p.m. Sunday at Huntington City Beach at Pacific Coast Highway and Huntington Street.
The show will feature rare cars from Koenigsegg, Bugatti and Pagani, as well as various helicopters.
Spectator admission is free. Proceeds from car show registration and vendor fees will go to the Huntington Beach Police & Community Foundation.
For more information, visit hbpcf.org/cars-n-copters.html.
Art lecture Monday in Newport Beach
Newport Beach Arts Commissioner Grace Divine will present a free lecture Monday about the Civic Center Park sculpture "Cultural Pedestrians" by Sue Quinlan.
It is part of a series of nine lectures, each focusing on a different artist in the Phase 3 additions to the sculpture garden.
Monday's lecture runs from 7 to 8 p.m. at the Newport Beach Central Library Friends Room, 1000 Avocado Ave.
Lido Isle philharmonic committee celebrates diamond anniversary
The Lido Isle Committee of the Philharmonic Society of Orange County recently celebrated 60 years of supporting local orchestral music.
Committee members raise money for the Orange County Philharmonic, volunteer to usher at youth concerts and serve as docents for the annual Philharmonic House of Design. The committee also brings instruments from a symphony orchestra into elementary schools across the Newport-Mesa Unified School District through the Music Mobile Program, which it helped create in 1975.
The Philharmonic Society has several committees around the county for boosters to contribute to the cause.
Free tour of Newport's new Lido House hotel May 10
Good Morning Corona del Mar, a monthly community meeting, will feature a free tour of Newport Beach's new Lido House hotel on May 10.
The event will be held from 8 to 9:15 a.m. at the hotel, 3300 Newport Blvd.
For more information, visit CdMchamber.com.
---
UPDATES:
4:50 p.m.: This article was updated with the "Grease" and Lido Isle items.
This article was originally published at 12:10 p.m.
---
All the latest on Orange County from Orange County.
Get our free TimesOC newsletter.
You may occasionally receive promotional content from the Daily Pilot.