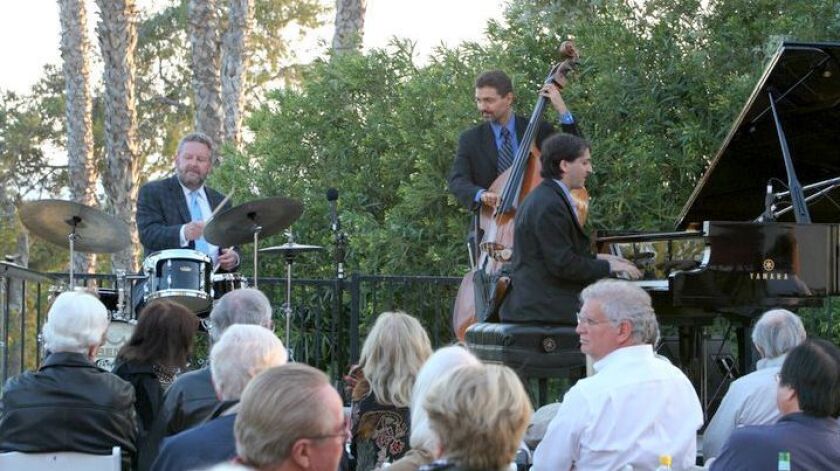 The Newport Beach Marriott Hotel & Spa is hosting the ninth annual Sunset Jazz at Newport summer concert series from 6 to 8:30 p.m. Wednesdays through Sept. 19.
Remaining shows on the schedule are:
Wednesday: Akiko-Hamilton-Dechter organ trio
July 25: Bria Skonberg Quintet
Aug. 1: Ken Peplowski and the Katie Thiroux Trio
Aug. 8: Four Freshmen
Aug. 15: Emmet Cohen Trio and Tony Guerrero
Aug. 22: John Pizzarelli Trio
Aug. 29: Byron Stripling-Bobby Floyd Quartet
Sept. 5: Billy Mitchell & Circle of Friends, featuring Bili Redd
Sept. 12: Barbara Morrison-Rickey Woodard Quintet
Sept. 19: Tom Kubis Big Band
The hotel is at 900 Newport Center Drive. For ticket information, call (949) 759-5003 or visit sunsetjazzatnewport.com.
Newport councilwoman to appear at CdM meeting Thursday
The Corona del Mar Residents Assn. board of directors will hold its monthly meeting at 7:30 a.m. Thursday at the Oasis Senior Center, 801 Narcissus Ave.
Newport Beach Councilwoman Diane Dixon will join members of various city panels to discuss how the City Council uses the input of boards and commissions while making decisions.
For more information, visit cdmra.org or call (949) 478-2454.
Surfing competition Saturday in H.B. to benefit Bolsa Chica Conservancy
To celebrate the 12th anniversary of the Bolsa Chica tidal inlet, the Bolsa Chica Conservancy will hold a surfing competition from 8 a.m. to noon Saturday at 18331 Pacific Coast Hwy., Huntington Beach.
Proceeds from the event will benefit the conservancy.
For ticket and competition information, contact Abbey Messmer at abbey@bolsachica.org.
Newport Beach women's group to hold "Christmas in July" event
The Junior League of Orange County, a Newport Beach-based women's community group, will hold a "Christmas in July" event from 8 a.m. to 1 p.m. Saturday at 5140 Campus Drive, Newport Beach.
The organization will be selling holiday decorations, books, household items and more. Proceeds will go toward the Junior League's volunteer training programs and community projects.
For more information, visit jlocc.org/about.
Fountain Valley school lunch prices are going up
The Fountain Valley School District board of trustees voted last week to raise the price of school lunches by 25 cents starting this fall.
The price of an elementary school lunch will increase from $3 to $3.25. A middle school lunch price will rise from $3.50 to $3.75.
District officials said the price of elementary school lunches was last raised in 2014 and that middle school lunch prices haven't increased since 2011.
The district attributed the new price hikes to a more expensive food service contract with Gold Star Foods of Ontario.
Bolsa Chica Conservancy helps Scouts pursue conservation badges
Orange County Boy Scouts and Girl Scouts can pursue a soil and water conservation merit badge or patch through the Bolsa Chica Conservancy in Huntington Beach, which is providing hands-on science workshops intended to expand the water knowledge of area youths.
About 40 Scouts attended a workshop Saturday at the conservancy's interpretive center at 3843 Warner Ave., and a similar number is expected for the next one on Friday, according to the conservancy.
"Educating youth is the cornerstone of the Bolsa Chica Conservancy's mission," Executive Director Grace Adams said in a statement. "Engaging youth in hands-on, immersive conservation work is a vital step in preparing our future stewards and leaders."
The merit badge is earned through a four-hour clinic at the Bolsa Chica Ecological Reserve. The clinic, organized by the Municipal Water District of Orange County, includes an overview of the county's water supply and sources, a guided tour of the wetlands and lab work that meets Scout standards and badge requirements.
Hoag Hospital to hold free event for breast cancer survivors
Hoag Hospital in Newport Beach will host a free event for breast cancer survivors from 5 to 7 p.m. July 25 at the Patty and George Hoag Cancer Center, 1 Hoag Drive.
A panel of experts will discuss post-treatment sex and intimacy, stress-reduction exercises and diet recommendations to help decrease the risk of breast cancer recurrence.
To RSVP, call (949) 722-6237.
'Meet the Mayor' in Huntington Beach on July 26
Huntington Beach Mayor Mike Posey will hold a public "Meet the Mayor" event from 5 to 7 p.m. July 26 at Johnny's Saloon, 17428 Beach Blvd.
Posey will speak about "Decoding the Alphabet Soup of Government."
For more information, visit bit.ly/2Nqskc7.
Laguna Beach church taking vacation Bible school sign-ups
Laguna Beach United Methodist Church's annual vacation Bible school will be held from 9 a.m. to noon Aug. 6-10 at the church, 21632 Wesley Drive.
The cost is $70. To sign up, visit lbumc.org or call (949) 499-3088.
Laguna Food Pantry looking for summer volunteers
The Laguna Food Pantry, which delivers food to needy families, is searching for summer volunteers to work from 8 to 11 a.m. Mondays through Fridays.
The pantry is at 20652 Laguna Canyon Road, Laguna Beach.
For more information, call (949) 497-7121, email volunteer@lagunafoodpantry.org or visit lagunafoodpantry.org.
Local nonprofits raise $85,476 at event
The Newport Beach-based Orange County Community Foundation and five local nonprofits raised $85,476 during a fundraising event July 11.
The program, titled "Preserving Dignity," was organized to support the foundation's new initiative to help nonprofits with fundraising through a series of "giving days." The five participating organizations in last week's event were Alzheimer's Orange County, SeniorServ, Council on Aging of Southern California, Southern California Hospice Foundation and St. Francis Home.
"Thanks to the work of local organizations and generous donors, O.C.'s older adults are receiving the support they need to help them live independent, autonomous and productive lives," said Shelley Hoss, president of the Orange County Community Foundation. "We are proud to support exemplary nonprofits to tackle the most important issues facing our county. The success of this campaign truly would not be possible without the compassion displayed in our community."
Hoag announces new program director of diabetes center
Hoag Hospital in Newport Beach recently named David Ahn as program director of the hospital's Mary and Dick Allen Diabetes Center.
Ahn will research and oversee outpatient and inpatient care as part of his new role.
Senior singing group looking for new members
The Singing Goodtimers, a group of about 70 senior citizens who perform for assisted-living facilities and senior centers around Orange County, are looking for new members.
The group largely performs renditions of mid-1990s tunes.
For more information, call Caroline Fuelling at (714) 840-6331 or Cathy Dunn Babbitt at (714) 842-6371.
---