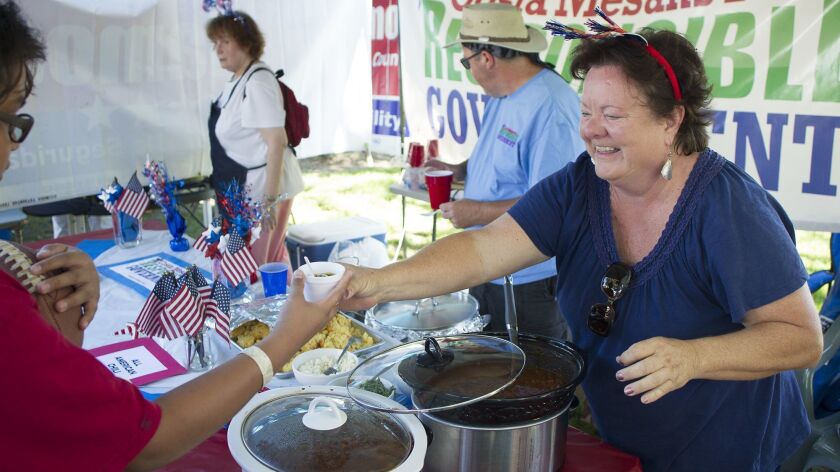 Costa Mesa's Halecrest Park will whip up the latest edition of its annual chili cook-off Saturday.
The event will run from noon to 4 p.m. at 3107 Killybrooke Lane and feature live music, vendors and a selection of chili recipes to sample. For more information, visit halecrestpark.com.
Thanksgiving Turkey Wobble returns to Huntington Beach
Runners can celebrate Thanksgiving — and work up some extra room for their meals — in the annual Turkey Wobble 5K , 10K and kids' 1K in Huntington Beach.
The event will begin at 7 a.m. Nov. 22 at 21599 Pacific Coast Hwy. Registration is $20 to $40.
Funds raised during the event will go to Causelife, an organization that helps provide clean water to needy people in developing countries.
To register, visit active.com/huntington-beach-ca/running/distance-running-races/causelife-huntington-beach-turkey-wobble-2018.
Laguna Beach solicits input on wall replacement project
Laguna Beach is seeking public input on a proposed design of a wall replacement project during an onsite workshop at 3 p.m. Friday adjacent to 870 Baja St.
The proposal is for a wall on the southern end of Baja Street.
Comments also can be submitted to Alpha Santos at asantos@lagunabeachcity.net or (949) 497-0729.
For more information about the project, visit lagunabeachcity.net/cityhall/pw/cityprojects/construction_projects_list.htm.
Entries due for Laguna kids' holiday art exhibit
Kids can submit designs for Laguna Beach's annual Children's Holiday Palette Exhibition by 4:30 p.m. Friday at City Hall, 505 Forest Ave.
Youths ages 5 to 17 who live in Laguna Beach or attend a local school or art program are eligible. Designs should be original, showcase the holiday season and be painted or drawn on paper.
The city Arts Commission will judge the designs based on creativity and will choose 12 to be displayed throughout December at City Hall. Winners also will receive certificates at the Dec. 4 City Council meeting.
For more information, visit lagunabeachcity.net/news/displaynews.htm?NewsID=1847&TargetID=1.
Dress to Impress fundraiser Friday night in H.B.
Community members are invited to the Dress to Impress fundraiser benefiting the Huntington Beach Art Center at 7 p.m. Friday at 538 Main St.
The event will include food, music and a silent auction. Guests are encouraged to dress in repurposed thrift store apparel. Prizes will be awarded to those with the most inspiring outfit and the crowd favorite.
Tickets are $40 and are available at huntingtonbeachartcenter.org.
For more information, call (714) 374-1650.
Fixit Clinic in H.B. offers help repairing broken gadgets
If you have a broken gadget or appliance, you can learn how to repair it Saturday at a free Fixit Clinic at the Senior Center in Huntington Beach, 18041 Goldenwest Ave.
Participants are asked to bring their non-functioning items, and fix-it coaches will provide tools and guidance to try to repair them.
The event is from 12:30 to 3:30 p.m. Registration is available online at goo.gl/qTzh9J.
Local mom-made businesses in spotlight at fairgrounds
More than 150 local mom-made businesses will be featured this weekend at the OC Fair & Event Center in Costa Mesa.
The event runs from 10 a.m. to 5 p.m. Saturday and 10 a.m. to 4 p.m. Sunday at the Hangar. General admission is $5; children 12 and younger get in free. Parking is $8.
Santa Claus will be on hand for free photos from 10 to 11:30 a.m. both days.
Document shredding, e-waste and tire recycling services set in Laguna
Free document shredding, e-waste and tire recycling services will be offered from 8 to 11 a.m. Saturday at Laguna Beach's maintenance facility at 1900 Laguna Canyon Road.
The event will accept TVs, CD and DVD players, alarm clocks, digital cameras, thermometers, printers, scanners, answering machines, microwave ovens and more.
Free tire recycling services will be available only to Laguna Beach residents. Up to nine tires per vehicle will be accepted.
For more information, visit lagunabeachcity.net/recylcing.
Supplies to be packaged for troops Saturday in Newport
The American Legion Auxiliary Unit 291 invites residents Saturday to help package supplies to send to troops in Afghanistan and Iraq.
The event begins at 8 a.m. at 215 15th St. in Newport Beach. About 300 boxes of goodies will be shipped to troops and canines.
Free event will celebrate Puerto Rican and South Korean cultures
The Segerstrom Center for the Arts in Costa Mesa will celebrate the cultures of Puerto Rico and South Korea on Saturday at the center's Julianne and George Argyros Plaza.
The free event, "Bridges: Connecting Cultures from South Korea to Puerto Rico," will run from 2 to 6 p.m. and feature performances from the Korean American Youth Performing Artists, OC Kpop Academy, Oskar Cartaya and the Ricannection, Taller Bula and others.
The Segerstrom Center is at 600 Town Center Drive. For more information, call (714) 556-2121.
Inaugural kite-flying fundraiser to benefit lung cancer research
Kite fans can help raise funds to support lung cancer research Sunday by decorating and flying kites in Huntington Beach for the San Carlos-based Bonnie J. Addario Lung Cancer Foundation.
The inaugural Your Next Step is the Cure Kite Fly runs from 1 to 4 p.m. on the sand in front of the Pier Plaza parking lot at 401 Pacific Coast Hwy. The event will honor those who are living with or have died because of lung cancer.
Registration ranges from $30 to $175. To register, go to huntingtonbeachkitefly.yournextstepisthecure.org.
Shark-themed 5K and 1K slated for Sunday in Newport
A shark-themed 5K and 1K running event will be held Sunday at the Newport Dunes Waterfront Resort, 1131 Back Bay Drive, Newport Beach.
Registration is $40 for the 5K and $30 for the 1K for kids 15 and younger. Proceeds will benefit Shark Stewards, an organization dedicated to protecting sharks.
The 5K begins at 9 a.m. and the 1K at 9:15. Prizes will be awarded for the top three ocean-themed costumes in the 1K.
Participants can register at runreg.com/run-4-sharks-ocean-protection.
Laguna center finds harbor seal a new home in N.Y. state
Lumiere, a harbor seal who had been living at the Pacific Marine Mammal Center in Laguna Beach, has a new home in upstate New York.
Lumiere was rescued by the mammal center in April 2017 from San Onofre State Beach. He was a few months old, malnourished and dehydrated and weighed only 27 pounds.
Center officials said that even in their care, he was not foraging or eating fish easily and was deemed non-releasable.
But after a long process, the center recently released Lumiere to the Aquarium of Niagara in Niagara Falls. Brennan Slavik and his family donated a private plane to take Lumiere to New York, where he will be slowly introduced to the aquarium's population of pinnipeds, the center said.
Migratory birds to be featured on social media
Bird lovers can catch a virtual glimpse of migratory birds that fly across the nearly 40,000-acre Irvine Ranch Natural Landmarks during a 24-hour social media event starting at 9 a.m. Tuesday.
More than 150 migratory bird species will be featured by the Irvine Ranch Conservancy on the landmarks' Instagram, Twitter and Facebook pages.
The conservancy partners with OC Parks and the cities of Irvine and Newport Beach on myriad activities. To see the full list, visit LetsGoOutside.org.
Oasis Senior Center to host Thanksgiving lunch
A Thanksgiving lunch is set for noon to 1 p.m. Wednesday at the Oasis Senior Center, 801 Narcissus Ave., Corona del Mar.
The event will feature holiday food and live entertainment. Tickets are available at the Oasis administrative office for $5. Only cash and checks are accepted.
H.B. businesses collect gift cards for Woolsey fire victims
A group of Huntington Beach businesses is collecting gift cards through Nov. 27 to help victims of the Woolsey fire.
All types of gift cards are welcome. Organizers encourage residents to remember the animals affected by the fire when considering donations.
Gifts can be mailed to Unity Impact at the Cards for Cali Campaign, 7071 Warner Ave., No. F747, Huntington Beach.
They also can be dropped off at the following locations: De Guelle Glass Co., 19006 Holly Lane; Easyrider, 328 Main St.; Johnny's Saloon, 17428 Beach Blvd; Priority One Bookkeeping, 18652 Florida St., No. 335; Seashore Pest Control, 16562 Gothard St.; and Tattoo Gallery, 19921 Beach Blvd.
New toys sought for Patrick's Pub drive
Costa Mesa's Patrick's Pub is seeking new, unwrapped toys for its 18th annual toy drive Nov. 22 through Dec. 22.
Donations can be dropped in a collection box inside the pub at 2645 Harbor Blvd.
For more information, call (714) 966-2721.
Veterans wall unveiled at H.B. Police Department lobby
The Huntington Beach Police Department dedicated a wall in its front lobby to honor 203 Huntington Beach veterans.
Community members can visit the wall during weekday business hours at 2000 Main St.
Applications sought for H.B. Human Relations Task Force
Huntington Beach is accepting applications for the Human Relations Task Force, a volunteer committee.
Applicants must be available to attend regular meetings on the first Tuesday evening of each month.
Applications can be downloaded at huntingtonbeachca.gov/government/boards_commissions.
For more information, visit surfcity-hb.org/HRTF or call (714) 536-5903.
---
UPDATES:
7:30 a.m. Nov. 16: This article was updated with the item about Lumiere the harbor seal.
This article was originally published at 5:30 p.m. Nov. 15
---