The UVSA Tet Festival returns to Costa Mesa this week, bringing three days of entertainment, attractions, carnival rides and cultural displays to the OC Fair & Event Center.
The 38th annual Vietnamese New Year celebration, presented by the nonprofit Union of Vietnamese Student Assns., is themed "Stories of Our Heritage" and runs from 4 to 10 p.m. Friday, 11 a.m. to 10 p.m. Saturday and 11 a.m. to 9 p.m. Sunday at the fairgrounds, 88 Fair Drive.
General admission is $6; children 2 and younger get in free. Parking is $9.
For more information, visit tetfestival.org, email contact@uvsa.org or call (714) 388-6711.
Poet to deliver Witte Lecture this weekend
Richard Blanco, presidential inaugural poet for Barack Obama and the first Latino immigrant and openly gay person to serve in that role, will speak on "The Civic Role of Poetry: For, By and of the People" in the second installment of this year's Witte Lecture Series on Friday and Saturday in the Friends Room at the Newport Beach Central Library, 1000 Avocado Ave.
Blanco is the author of works such as "The Prince of Los Cocuyos: A Miami Childhood" and "An Inaugural Poet's Journey." Born to Cuban exiled parents and raised in Miami, his books center on cultural identity and place in society.
Friday's lecture begins at 7 p.m., with a light supper and wine at 8:30. General admission is $63.
Saturday's event starts at 2 p.m., with coffee and dessert at 3:30. General admission is $43.
For tickets, visit nbplfoundation.org/content/onlineorder.html.
UCI Foundation sells late professor's donated house for over $2 million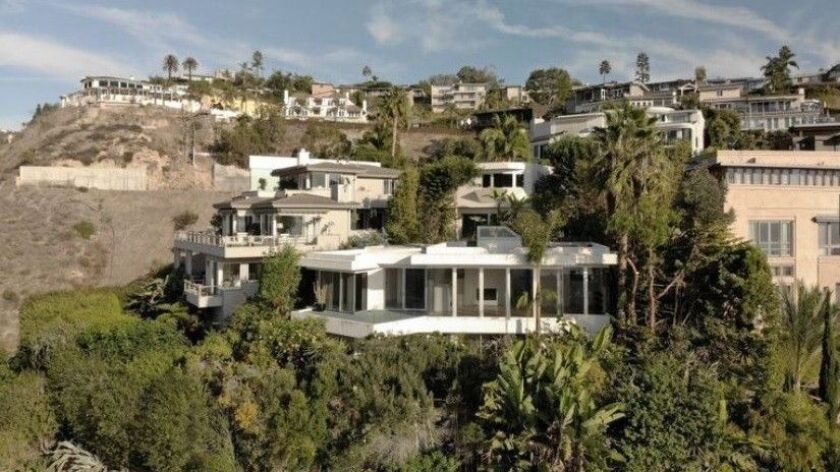 The UC Irvine Foundation has sold the donated Laguna Beach home of a late professor for $2.14 million.
The three-bedroom, 2,672-square-foot home of Christian Werner, former dean of UCI's School of Social Sciences and professor emeritus of geography and economics, was listed in November for $2.295 million and sold Jan. 30.
Werner's estate donated the house, at 657 Buena Vista Way, to the university in April along with $200,000 in cash. The estate has contributed to the school since Werner's death in March 2016 at age 81, including two $1-million donations in 2017.
UCI said proceeds from the home sale will support graduate programs at the School of Social Sciences, where Werner worked for more than two decades.
"The Remarkable Life of John Weld" documentary to premiere in Laguna
Late stuntman, journalist, novelist and Laguna Beach resident John Weld will be remembered at a movie premiere in his honor Friday.
"The Remarkable Life of John Weld" follows the life of the Alabama native, who moved to Hollywood at age 18 to perform stunts for Charlie Chaplin, Laurel and Hardy and other stars. Weld followed a path to journalism that led him to Paris, where he wrote about famed pilot Charles Lindbergh and rubbed elbows with writer James Joyce.
Weld and his wife, American actress Gigi Parrish, eventually settled in Laguna Beach, where they founded the local newspaper Laguna Beach Post and embarked on a series of trips around the world on cargo ships. Weld died in 2003 at age 98.
The premiere will begin at 7:30 p.m. in the Artists Theatre at Laguna Beach High School, 625 Park Ave. Tickets are $15, and proceeds will go to the Laguna Beach Historical Society.
For more information, visit johnweldofficial.com.
Laguna Beach Garden Club to hold silent auction
The Laguna Beach Garden Club invites the community to cast bids on decorative container gardens at a silent auction Friday to benefit school gardens, scholarships and civic beautification.
The club's meeting and fundraiser will be held from 9:30 a.m. to noon in Tankersley Hall at Laguna Presbyterian Church, 415 Forest Ave.
For more information, email Lynette LaRoche at lynette1021@gmail.com.
Ceremony Saturday to dedicate plaque at Diego Sepulveda Adobe
A ceremony is scheduled for Saturday to dedicate a historical plaque at the Diego Sepulveda Adobe in Costa Mesa's Estancia Park.
The installation will recognize the history of the adobe and the surrounding Native American site.
The free dedication event — presented by the Orange County Board of Supervisors and county Historical Commission in cooperation with the city — will be held from 10 a.m. to noon. The adobe, at 1900 Adams Ave., will be open for tours during that time.
For more information about the site, visit costamesahistory.org/visit/adobe.
Lunar New Year and Valentine's events coming to Argyros Plaza
The Segerstrom Center for the Arts will celebrate the Lunar New Year with free festivities Saturday at the Julianne and George Argyros Plaza, 600 Town Center Drive, Costa Mesa.
The event will feature cultural performances ranging from traditional Chinese folk dancing to contemporary K-pop from 5:30 to 7:45 p.m.
On Feb. 14, the Argyros Plaza will be the scene of "Swing Under the Stars," a Valentine's Day dance with live music from Dave Stuckey and the Hot House Gang.
The event, from 6 to 9 p.m., will offer a chance to make Valentine's cards and taste bourbon from High West, for a fee.
Landscape art exhibit opens Saturday
"Unexpected Places," a juried art show presented by the Laguna Plein Air Painters Assn. and the Community Art Project, will open this weekend with several landscape paintings. The show gets its name from the unexpected places where artists receive inspiration.
The exhibit and a reception will be held from 10 a.m. to 1 p.m. Saturday, with an awards show at noon. The paintings will be displayed for more than three months in the CAP Gallery on the second floor of the Wells Fargo bank at 260 Ocean Ave.
Author to discuss book about secret Holocaust negotiations
The Chabad Jewish Center of Laguna Beach will host a lecture and book signing Sunday by Max Wallace, author of "In the Name of Humanity: The Secret Deal to End the Holocaust." The book, a recipient of the 2018 Canadian Jewish Literary Award, focuses on the work of a committee of Swiss Jews that led to the destruction of Auschwitz, saving thousands of Jewish lives.
The event will begin at 7 p.m. at the center, 30804 S. Coast Hwy. Tickets are $15 in advance and $20 at the door.
To attend, email perel@chabadoflaguna.com or call (949) 499-0770.
Beach Boulevard bus line with fewer stops launches Monday
The Orange County Transportation Authority will launch a new limited-stop bus service Monday along Beach Boulevard between Huntington Beach and Fullerton.
The new Bravo Route 529 will make fewer stops — 13 compared with the typical 34 — along the popular route between the Golden West Transportation Center across from Golden West College in Huntington Beach and the Fullerton Park-and-Ride near the 5 and 91 freeways.
Compared with the usual Route 29, the Bravo service will save riders an average of 10 minutes, according to the OCTA. It will connect with 12 other major bus routes.
Leadership Laguna spring workshops open for registration
Laguna Beach residents can sign up for the city's five-week citizens academy, Leadership Laguna.
The program gives community members an overview of the city's offerings, including presentations from members of every city department, committee and commission. Workshop topics include local government, public safety, public works, community services, community development and cultural arts.
Leadership Laguna will be held from 6:30 to 8:30 p.m. Thursdays from March 7 to April 4 at the Community & Susi Q Center, 380 Third St.
For more information, contact Jeremy Frimond at jfrimond@lagunabeachcity.net or (949) 464-6673.
---