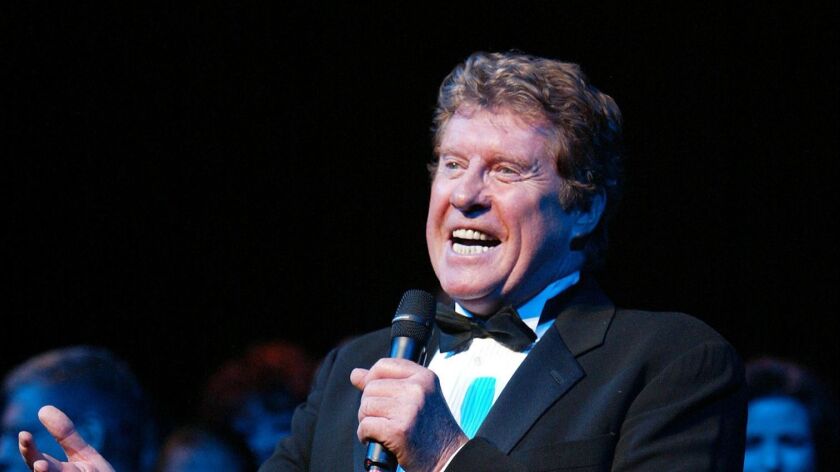 Singer and actor Michael Crawford, the original Phantom in the Broadway production of "The Phantom of the Opera," plans to attend the Huntington Beach Academy for the Performing Arts' performance of the show at 2 p.m. Sunday at the Huntington Beach High School Theatre, according to an academy representative.
The academy is wrapping up a series of performances of "The Phantom of the Opera" on Sunday, and Crawford has agreed to talk to the cast and audience, said Stacy Robison, special program administrator for the academy.
The theater is at 1905 Main St. For more information, visit hbapa.org.
Beach volleyball star Kerri Walsh Jennings sponsors 25 new courts in H.B.
Professional beach volleyball player and three-time Olympic gold medalist Kerri Walsh Jennings and her p1440 event series are sponsoring 25 new beach volleyball courts on the north and south sides of the Huntington Beach Pier.
Walsh Jennings and her husband, Casey Jennings, co-founder of p1440, will hold a ribbon-cutting ceremony at the courts at 10 a.m. Tuesday.
Fans will have the opportunity to meet Walsh Jennings and watch her train with her Olympic partner, Brooke Sweat. Olympic coaches and athletes also will be at the event.
Vintage cars on display this weekend in Huntington Beach
Vintage cars will be on display from 8 a.m. to 4 p.m. Saturday and Sunday for the 19th annual Beachcruiser Meet in Huntington Beach.
The event is free and open to those interested in showcasing their nomads, woodies, Volkswagen Transporters, convertibles and more at Main Street and Pier Plaza.
Vintage longboard collections will be on display with event-themed vendors next to Pier Plaza. Proceeds will benefit community programs and the National Woodie Club.
Jack's Surfboards Pro contest set in Huntington Beach
The Jack's Surfboards Pro surfing contest will run from 8 a.m. to 5 p.m. Friday through Sunday on the south side of the Huntington Beach Pier at Pacific Coast Highway and Main Street.
Some of the world's best surfers will be featured in the free contest, which is a World Surfing League qualifier.
For more information, visit bit.ly/2WhBlJ0.
Marina High School to host STEAM Expo
The Huntington Beach Union High School District will present its annual STEAM (Science, Technology, Engineering, Arts and Math) Expo from 10 a.m. to 1 p.m. Saturday at Marina High School, 15871 Springdale St., Huntington Beach.
The event will feature e-sports matches, virtual reality, ceramics and a host of other experiments and demonstrations, as well as Dogzilla, TK Burger and Snobird food trucks.
For more information, email HBUHSDSteam@hbuhsd.edu.
Free archery class coming to Fountain Valley
A free beginning archery class will be held from 9 to 10:30 a.m. Saturday at Mile Square Regional Park, 16801 Euclid St., Fountain Valley.
All archery equipment will be provided.
To register, visit letsgooutside.org/archery.
Tickets on sale Saturday for Seal, action sports events at fairgrounds
Tickets go on sale at 10 a.m. Saturday to see Seal in concert at the OC Fair & Event Center, as well as the Action Sports Arena lineup for this year's fair.
Seal will perform at 7:30 p.m. July 10 at the Pacific Amphitheatre as part of the Toyota Summer Concert Series. Tickets start at $40.
The action sports lineup will include X-treme Freestyle Moto-X on July 12 and 13 and the Speedway Fair Derby on July 14. Admission for both events starts at $15.
Tickets will be available at Ticketmaster.com.
South Laguna Community Garden to host fair
The public is welcome to visit the South Laguna Community Garden from 10 a.m. to 3 p.m. Saturday for a fair to celebrate and raise funds for the park.
The Garden Park band will play, craftspeople will display artworks and local businesses have donated for a raffle. Non-perishable food donations to the Laguna Food Pantry will be accepted.
For more information, email GardenPark@SouthLaguna.org.
Free farmers market moving from Costa Mesa to Irvine
The Free Pantry, an Orange County-based nonprofit, is moving its free farmers market from Costa Mesa to Irvine starting this weekend.
The market — which takes place the fourth Saturday of each month and offers fresh produce for local low-income families — will now operate at Mariners Church at 5001 Newport Coast Drive rather than at the Someone Cares Soup Kitchen.
For more information about the program, visit thefreepantry.com.
Holi by the Sea festival will raise money for poor youths
The fourth annual Holi by the Sea will raise money for underprivileged youths from 11 a.m. to 3 p.m. Sunday at Bolsa Chica State Beach, 17851 Pacific Coast Hwy., Huntington Beach.
The event, produced by Child Rights & You Orange County, will feature colored shirts and Bollywood music. Tickets are $20.
For more information, visit bit.ly/2TWRzuo.
Huntington Beach Lions to present 21st CrabFest
The Huntington Beach Lions Club will present its 21st annual CrabFest from 4 to 7 p.m. Sunday at the Huntington Beach Senior Center in Central Park, 1801 Goldenwest St.
The event will include chowder, crab and shrimp along with silent and live auctions and a raffle.
Tickets are $70. Proceeds will benefit local organizations including Off the Streets Huntington Beach and Therapeutic Riding Center of Huntington Beach.
For more information, visit bit.ly/2uih1ev.
LOCA Arts Education fundraiser set Sunday
LOCA Arts Education will hold an annual fundraiser from 4 to 7 p.m. Sunday at Neighborhood Congregational Church in Laguna Beach with live music, games and an auction to celebrate the Festival of Mosaics.
A community mural called "Coastline to Canyon" was finished last year, with more than 700 people contributing to designing the mural, sorting and laying tiles and more.
Tickets to the fundraiser are available for $50 each or $180 for four at locaarts.org. Proceeds will support LOCA's educational programs.
Neighborhood Congregational Church is at 340 St. Ann's Drive. For more information about the event, visit locaarts.org/event/loca-birthday-bash-annual-fundraiser or call (949) 363-4700.
New Directions for Women to hold breakfast in Newport Beach
New Directions for Women, a nonprofit that supports women who suffer from addiction, will hold an annual Circle of Life breakfast from 8 to 9:30 a.m. Monday at the Balboa Bay Resort, 1221 W. Coast Hwy., Newport Beach.
The program will include a 9-year-old speaking about how his mother's addiction affected his life. Graduates of the program and volunteers also will speak.
For more information, visit newdirectionsforwomen.org.
Golf tournament to support Pacific Marine Mammal Center
A golf tournament to raise money for the Laguna Beach-based Pacific Marine Mammal Center will be held at 10 a.m. Monday at Aliso Viejo Country Club, 33 Santa Barbara Drive.
The third annual Swing for the Sea Lions tournament will benefit the center's longstanding work rehabilitating sea lions and other marine animals.
The 18-hole tournament costs $200 per golfer or $700 for a four-person team.
For more information, visit bit.ly/2umFWh2.
Costa Mesa to hold community meeting on homeless shelter
The city of Costa Mesa will hold a community open house Tuesday to offer an update on its efforts to open a local homeless shelter.
The meeting will run from 6 to 7:30 p.m. at the Costa Mesa Senior Center, 695 W. 19th St.
The city presented a similar event Jan. 30.
Initially, the city's shelter will be located at Lighthouse Church of the Nazarene, 1885 Anaheim Ave. The plan is to operate the shelter there for about a year, starting in April, before moving it to a longer-term location.
For more information, visit costamesaca.gov/homeless.
Newport-Mesa sets meeting about human-relations task force
The Newport-Mesa Unified School District will present an informational meeting about its human-relations task force at 6:30 p.m. Wednesday at the Sanborn building at the district headquarters, 2985 Bear St., Costa Mesa.
The district board of trustees called for creation of the task force at its last meeting to address an incident in early March in which teenagers from Newport-Mesa high schools were photographed making Nazi salutes over a makeshift swastika during an off-campus party.
The district will be partnering with Orange County Human Relations.
'Heisenberg' play to be performed at Laguna Playhouse
The Laguna Playhouse will present "Heisenberg" from Wednesday to April 14.
The play, written by Tony Award-winning playwright Simon Stephens, features a love story between a young woman and an old man.
The Laguna Playhouse is at 606 Laguna Canyon Road, Laguna Beach.
Event will commemorate Child Abuse Prevention Month
The Costa Mesa-based Raise Foundation will present a free event from 9 to 10:30 a.m. Wednesday to launch the month-long "Keep Kids Safe, Healthy and Happy" awareness campaign for National Child Abuse Prevention Month.
The event will be held at the Bowers Museum, 2002 N. Main St., Santa Ana.
The program will include speakers and TV reporter Michele Gile as emcee.
Veterans to share stories at Heroes Hall event
Four local veterans will tell their stories beginning at 7 p.m. March 28 at Heroes Hall at the OC Fair & Event Center, 88 Fair Drive, Costa Mesa.
The Voices — Veterans Storytelling Project provides a platform for former military members to share experiences from their service. The program started in 2015 as a way to help service members adapt to civilian life in Orange County.
To RSVP for the free event, visit marchvoices2019.eventbrite.com.
Lyric Opera to perform various styles at Newport Beach event
Lyric Opera of Orange County will present medieval to modern music from 7 to 8:30 p.m. March 28 at the Newport Beach Public Library, 1000 Avocado Ave.
The free event also will include a question-and-answer session with the performers.
For more information, visit bit.ly/2OhgDWM.
Laguna art college showcases faculty members' work
The Laguna College of Art + Design is presenting an exhibit featuring works from seven of its animation faculty members through March 28 at the LCAD Gallery, 374 Ocean Ave., Laguna Beach.
The exhibit includes fine art, illustration and production art from Dan Boulos, Richard Ewing, Peter Ferk, Dave Kuhn, Larissa Marantz, Glen Miller and Mark Zoeller.
For more information, visit bit.ly/2BXCoWx.
Laguna Plein Air Painters Assn. announces contest winners
The Laguna Plein Air Painters Assn. dealt out six awards in its 15th annual juried art contest Saturday.
More than 280 works were entered in the contest, which was judged by a panel composed of two association members and Forest & Ocean Gallery owner Ludo Leideritz. All paintings are on exhibit at the Forest & Ocean Gallery through this weekend.
The winners were:
First place: Keiko Tanabe, "Hook Lighthouse, Ireland"
Second place: Anthony Salvo, "Crystal Cove Shadow"
Third place: Michael Obermeyer, "After Glow"
Honorable mention: Bob Upton, "Waldorf Towers"
Honorable mention: Kathie Odom, "Aren't Backyards the Best"
People's Choice Award: Durree Waseem, "A Warm Day in Pasadena"
Costa Mesa council makes committee appointments
The Costa Mesa City Council filled several vacancies on local advisory committees this week, voting Tuesday to make the following appointments:
Animal Services Committee: Diana Gardiner, Erin Roberts and Becca Walls
Bikeway and Walkability Committee: Mark Cernicky, Bryan Estrada, Michelle Fay, Edwin Stanly Garcia, Fiorella Gardella, Bridget Gleason, Kyle Ramer and Kari Nieblas Vozenilek
Cultural Arts Committee: Daniel Bragg, Kathleen Eric, Rocky Evans, Monica Morita-Hayden, Tracy Taber, Debrianna Obara (alternate) and David Sonnenberg (alternate)
Fairview Park Steering Committee: Dave Erickson, Amy Litton, Evan Rothman and Terri Fuqua (alternate)
Finance and Pension Advisory Committee: Tom Arnold, Kayleigh Horn, Robert Juneman, Wendy Leece, Matthew Parlow, Ralph Taboada and Anna Vrska
Historical Preservation Committee: Mikelle Fish, Dave Gardner, Mary Ellen Goddard, Karen McKenna-Juergens, Suzi Malek, Erin Roberts and Burton Sirota (alternate)
Housing and Public Service Grants Committee: Ofelia Claudio, Aaron Craddolph, Michelle Murphy, Yvonne Rowden and Dianne Russell
Mobile Home Park Advisory Committee: Leslie Chaney-Eames, Wanda Garro, Maria Horton, Jay Humphrey, Wendy Leece, Dolores Minerich and Vickie Talley
Laguna Beach accepting applications for police cadet
Laguna Beach is accepting applications for part-time police cadets to help with office work and traffic and parking enforcement.
The pay ranges from $13.86 to $16.17 per hour. Candidates must be at least 18 and able to work a sporadic schedule of about 16 to 36 hours a week.
For more information, visit bit.ly/2FsnQAo.
Newport-Mesa seeks input on renaming athletic field
The Newport-Mesa Unified School District is seeking public input on a request to rename Davis Magnet School's athletic field after the late Keith Frainie, a parent volunteer, member of the school's Education Foundation and its Pilot Cup soccer coach.
The field would be called Frainie Field.
A survey on the issue will be available through April 3 at surveymonkey.com/r/YY7XTJJ.
Laguna Beach State of the City luncheon to feature mayor
The Laguna Beach State of the City luncheon will be held from 11:30 a.m. to 1:30 p.m. May 2 at the Montage resort, 30801 S. Coast Hwy.
Mayor Bob Whalen will present a State of the City address and the Chamber of Commerce will present highlights from the past year as well as hopes for the future.
Tickets are $85. For reservations, call the chamber at (949) 494-1018 or email ashley@lagunabeachchamber.org.
---
UPDATES:
This article was originally published at 4:35 p.m. March 21 and was updated with the items about the Free Pantry, Costa Mesa community meeting and Michael Crawford.
---