Costa Mesa council approves lease to open temporary homeless shelter at Westside church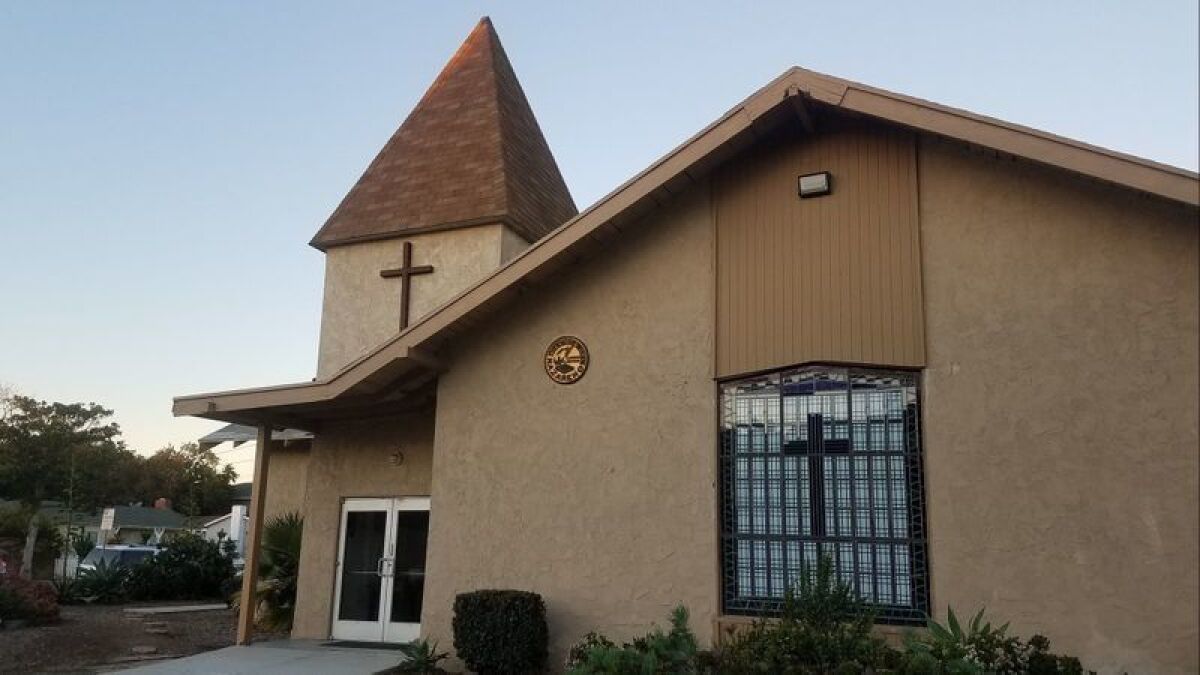 A new, 50-bed homeless shelter moved one step closer to opening in Costa Mesa Tuesday, when the City Council approved a lease to temporarily house the facility at Lighthouse Church of the Nazarene.
Under the agreement, which also must be approved by the Westside church's board, the shelter would open in April and operate for roughly a year — at which point the facility would move to a longer-term location.
"I look forward to April; I think it's going to be a really good month for our city," said Councilwoman Arlis Reynolds.
Once that more-permanent site opens, the plan is for Lighthouse to operate as a shuttle location for client transport and for some city community outreach workers to remain onsite to conduct shelter intake.
"We're in partnership, and I think we're going to work hard to address this issue, which the community has told us numerous times in numerous ways that they view ... as the most important issue in the city," said Mayor Pro Tem John Stephens.
The vote to approve the lease agreement was 6-1, with Councilwoman Sandy Genis opposed.
Over the life of the agreement, the city will pay Lighthouse $280,000. Additionally, Costa Mesa plans to spend an estimated $150,000 to rent four modular trailers that would house the shelter's beds, showers and restrooms, and another $50,000 for equipment and furniture.
Along with the trailers in the parking lot, other designated areas of the church will be used for cooking and dining, office space, case management and other services, according to the city.
The agreement includes a laundry list of site projects — including putting up 6-foot perimeter vinyl fencing and a motorized vehicular gate, adding additional lighting and video security, and installing new privacy screening and landscaping.
City officials have been working feverishly for months to hammer out a shelter plan that will pass muster with U.S. District Judge David Carter, who is presiding over a lawsuit filed against Orange County and the cities of Costa Mesa, Anaheim and Orange on behalf of homeless people cleared from a former encampment along the Santa Ana River.
The judge has called for cities to develop enough emergency and transitional beds to serve 60% of the unsheltered people tallied during a 2017 countywide count.
Applying that standard, Costa Mesa is responsible for 62 beds. Along with the 50 in the new shelter, 12 would be provided through a partnership with College Hospital, an acute-care facility at 301 Victoria St., and made available to people suffering a mental health crisis.
While the site for a long-term shelter has not yet been announced, city officials have focused their efforts on properties in the commercial and industrial area near John Wayne Airport.
Earlier this month, the council retained Mercy House Living Centers to run the local shelter at an annual cost of up to $1.457 million.
Some details of the lease agreement — such as the precise location of the modular trailers on the Lighthouse property — have been fluid in recent days and could still change moving forward, according to city staff.
Lighthouse Pastor Phil Eyskens said that the latest proposed shelter layout — particularly how it uses the church parking lot — differed from what he had seen before.
"I am going to go to bat for this any way I can, but I think we need to maybe have a discussion on that," he said.
This troubled Genis, who unsuccessfully petitioned her colleagues to delay approving the lease for a week so that staff could nail down more specifics.
"I'm kind of torn because I really want to move forward with the shelter project, but I feel in a way we're buying — with all due respect — a pig in a poke because we have all these different plans floating around with different facilities on here, different arrangements of buildings," she said.
"This is a huge step," she added, "and we're just racing right along and I'm worried that we're going to just race right off a cliff."
Other council members, though, said they were comfortable with the agreement and trusted staff to firm up the site plans.
"I think we can't move fast enough, because every single day that we are delaying or not open to provide shelter in our community is a day that, as Judge Carter would say, somebody might die," said Mayor Katrina Foley. "So that's the reality. We're trying to save people from dying."
All the latest on Orange County from Orange County.
Get our free TimesOC newsletter.
You may occasionally receive promotional content from the Daily Pilot.