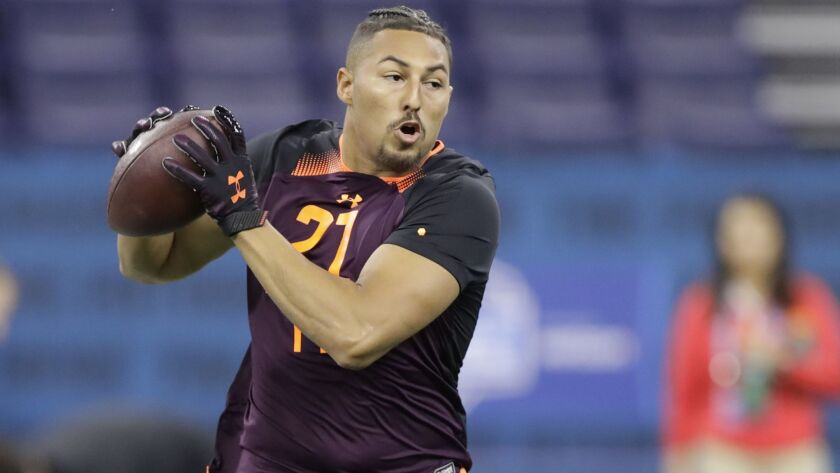 The annual Newport Beach celebration of Mr. Irrelevant — the last man taken in the NFL draft — will begin Friday with the All-Star Lowsman Trophy Banquet.
This year's Mr. Irrelevant, Caleb Wilson, will be honored by celebrities and presented with the Lowsman Trophy. Wilson was a tight end at UCLA and was drafted 254th by the Arizona Cardinals.
The event starts at 5:30 p.m. at the Balboa Bay Resort, 1221 West Coast Hwy.
Wilson will take part in different activities over the next several days as part of Irrelevant Week.
For more information, visit bit.ly/2X9doTY.
Bolsa Chica Conservancy to host surf competition in Huntington Beach
The Bolsa Chica Conservancy will host a "Jammin' at the Jetty Surfing For Conservation" surf competition event from 8 a.m. to noon Saturday in Huntington Beach.
The free competition, which celebrates the 13th anniversary of the opening of the Bolsa Chica Tidal Inlet, will be held south of Tower 16 at Bolsa Chica State Beach,18331 East Pacific Coast Hwy.
For more information, visit bit.ly/2XB1kiC.
'Pretty in Pink' prom for adults to benefit organizations fighting against cancer
A "Pretty in Pink" prom for adults will be held at 5:30 p.m. Saturday at the Fashion Island Hotel, 690 Newport Center Drive in Newport Beach.
The 80s-themed program will benefit Making Strides Against Breast Cancer and the Cancer Schmancer Movement.
There will be champagne, a three-course meal, silent and live auctions and other entertainment.
General admission is $125.
For more information, visit bit.ly/2KIDLi2.
Beach cleanup scheduled for Huntington Beach
Beach Cities Coastal Cleanup will host a beach cleanup at 9:30 a.m. Sunday on the sand on the north side of the Huntington Beach Pier.
Attendees must wear white shirts.
For more information, visit bit.ly/2NigaXD.
Newport Beach skateboarding event to benefit nonprofit that helps kids with autism
Skateboarding lessons, raffles, auctions and a screening of a skate video will be featured at an event Sunday in Newport Beach.
The lessons will be held from 9 a.m. to noon, raffles and a silent auction will run from 1 to 5 p.m. and the skate film screening will go from 5 to 8 p.m. All festivities will be held at Sessions West Coast Deli, 2823 Newport Blvd.
The film, "Autotelic," by Darkstar Skateboards will include Greg Lutzka, Ryan Decenzo, Dave Bachinsky and others from the Darkstar team.
The event will benefit the A.skate Foundation, a nonprofit that helps autistic children.
For more information, visit askate.org.
Costa Mesa private school to host summer academy
St. John the Baptist Catholic School in Costa Mesa will host a summer academy for kids to learn life and career skills from Monday to July 19.
The STREAM Academy will focus on science, technology, religion, engineering, art and math. Students who will be entering transitional kindergarten through eighth grade are eligible to attend.
The program, which costs $325, will run from 8:30 a.m. to noon each day.
The school is located at 1021 Baker St. For more information, visit bit.ly/2xikg70.
Laguna Beach Chamber to host annual golf tournament
The Laguna Beach Chamber of Commerce will host its annual golf tournament at 8:30 a.m. Monday at the Aliso Viejo Country Club, 33 Santa Barbara Drive.
The event will include a $5,000 putting challenge and $100,000 shootout tournament.
To register, visit bit.ly/2UBj1K6.
Los Angeles Rams reporting to training camp at UC Irvine on July 27
The Los Angeles Rams will report to training camp at UC Irvine on July 27.
The team also will hold joint practices with the Los Angeles Chargers on Aug. 1 at the Jack R. Hammett Sports Complex, 2750 Fairview Road, Costa Mesa; and on Aug. 3 at UC Irvine's Crawford Field, 903 West Peltason Drive.
For more information, visit bit.ly/2Lmu3kM.
Costa Mesa nonprofit awards scholarship to Newport-Mesa student
Costa Mesa nonprofit Save Our Youth awarded the $40,000 Isidore and Penny Myers scholarship Thursday to Jennifer Neri, who recently graduated from Estancia High School and has been accepted to UC Berkeley.
The award is given to a Newport-Mesa Unified School District student who is an immigrant or child of an immigrant and who will be attending a four-year university.
SOY has been giving out the award for 13 years.
Laguna Beach High looking for mentors for student learning program
Laguna Beach High School recently announced that it is looking for mentors to guide students during a learning program.
The Authentic Exploratory Research program will require students and a mentor to identify a field of interest and then work through one of three study plans: a business challenge, a project that solves a real-world problem or academic research that concludes with an oral defense.
Mentors will be paired based on the field the student chooses. They will then attend an orientation to review the AER mentor handbook and have any questions answered. Mentors must commit about 40 to 50 hours through the school year.
"The mentorship component is vital to this course," said AER mentor coordinator Jenn Lundblad, in a statement. "It is a one-on-one personalized learning experience for the student that connects them with an individual who is personally invested in their success, teaching them the value of building meaningful professional relationships. These are mutually beneficial relationships that build community capacity."
To participate as a mentor, contact Lundblad at (949) 497-7750 ext. 1216, or jlundblad@lbusd.org.
UC Irvine assistant professors receive Hellman Fellowships
Five UC Irvine assistant professors were recently awarded $50,000 Hellman Fellowships, which provides junior faculty with research funds.
The awardees are Mohammad Abdolhosseini Qomi, assistant professor of civil and environmental engineering, Maura Allaire, assistant professor of urban planning and public policy, Scott Atwood, assistant professor of developmental and cell biology, Jade Jenkins, assistant professor of education, and Samantha Vortherms, assistant professor of political science.
"Each year, UCI advances as an innovative environment for driven, forward-looking research intended to make a positive contribution to the world around us," said Diane O'Dowd, vice provost for academic personnel and professor of developmental and cell biology. "The 2019-20 Hellman Fellows proudly exemplify some of the most impressive talent within our junior faculty, and we sincerely appreciate the Hellman Fellows Fund for its generosity and strong support."
UC Irvine featuring exhibit on history of sexually exploited Korean women
UC Irvine is hosting an exhibit until Dec. 1 about the history of Korean "comfort women" who were forced into sexual slavery before and during World War II.
There will be video clips — including the first filmed evidence of comfort women — book displays and other related archival items. from the library archives.
"Korean Comfort Women and the U.S. Discoveries" will be on display in Room 261 of the UCI Science Library, near the entrance to the Grand Reading Room.
For more information, visit bit.ly/2xg7aHt.
---