Edison High student's senior project: Writing a book on what it's like to be a cancer sibling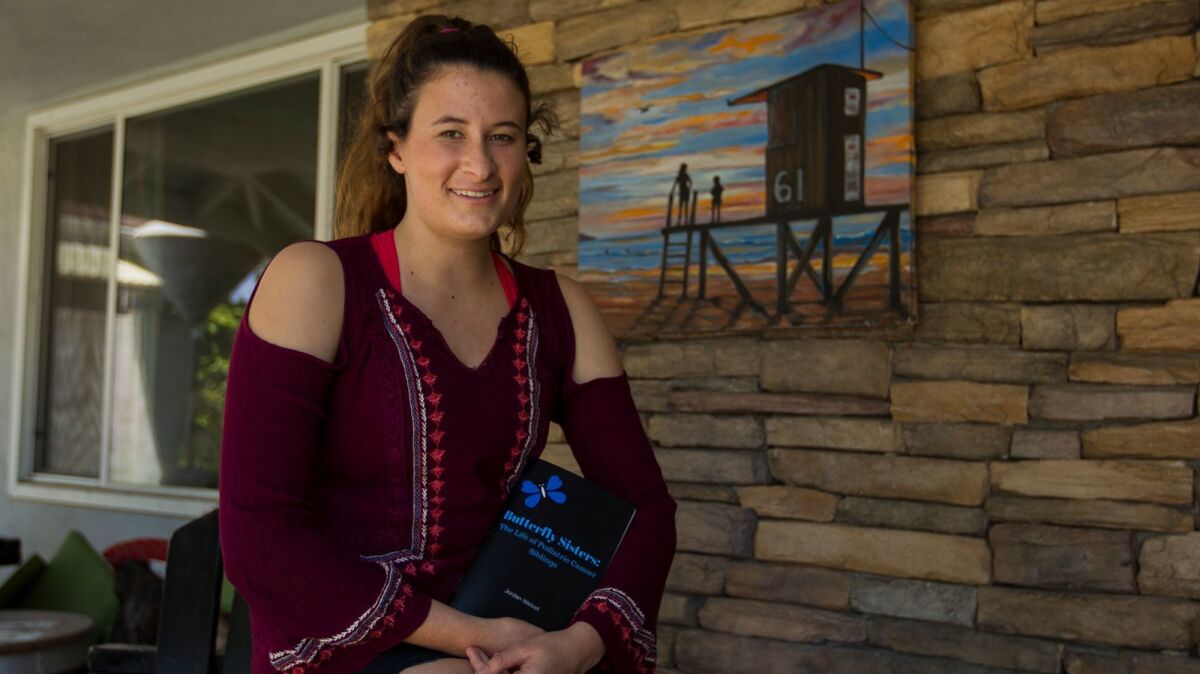 Jordan Wetzel lost her younger sister to terminal brain cancer six years ago.
Since then Wetzel has wanted to write a book sharing what it's like to be a cancer sibling.

For the record:
6:00 p.m. May 11, 2017
An earlier version of this story incorrectly said Mckenna Claire Wetzel died of terminal brain cancer eight years ago. It was six.
Now nearing the end of her final year at Edison High School in Huntington Beach, Wetzel will present her self-published book, "Butterfly Sisters: The Life of Pediatric Cancer Siblings," to a panel of judges Saturday for her senior project.
The assignment was a gateway for Wetzel to begin and follow through with her passion project.
"When I started the book I didn't know what I was going to write about," Wetzel, now 18, said. "I started with my family story and built up to my own story and then added other cancer siblings to it."
In 2011, Mckenna Claire Wetzel, 7, was diagnosed with diffuse intrinsic pontine glioma, a tumor found at the base of the brain. Mckenna died six months after she was diagnosed, two weeks before her eighth birthday.
Since then the family has created the Mckenna Claire Wetzel Foundation and run it out of their Huntington Beach home.
Throughout the year-long book process, Wetzel dedicated about 784 hours to writing, interviewing cancer siblings, rewriting, editing and publishing.
It was cathartic but grueling, she said, but she was determined to offer a different perspective in her book.
"I feel like cancer siblings don't get much appreciation when it comes to the cancer world," Wetzel said, describing them as "silent supporters." "In the headlines, it's always about the parents and the kids themselves — there's never talk about siblings."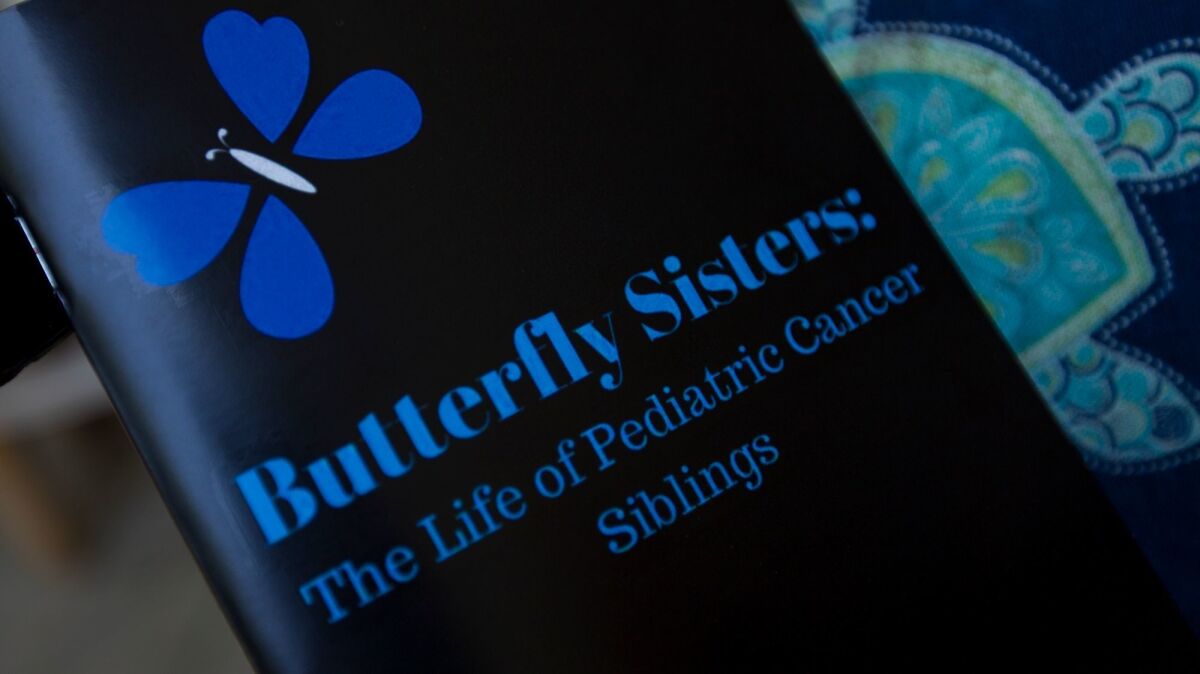 While at first hesitant, Wetzel said she needed to include that she visits a therapist because cancer siblings often keep feelings to themselves.
Wetzel tries explaining the confusion she felt when she first heard of her sister's diagnosis. Then she describes how she burst into tears when she saw Mckenna's cells in a petri dish after the family decided to donate Mckenna's brain to Stanford University for research.
Apart from the harsh realities of cancer, Wetzel recounts visiting Hawaii with her family because of a wish granted by the Make A Wish Foundation and selling lemonade on her street with Mckenna.
"It's hard to explain a sister," Wetzel said, "but it's someone who is always going to be there, no matter what happens. And I feel like she's still watching and encouraging me."
When her mother offered to help edit her rough drafts or her dad wanted to get a quick read of what she had written so far, Wetzel explained that she wanted the project to be something she did entirely on her own.
Even after she presents her book to a panel of judges for a letter grade, Wetzel plans to keep raising awareness and helping other cancer siblings.
Her next goal is to create a pen pal system specifically for cancer siblings, she said.
Twitter: @vegapriscella
All the latest on Orange County from Orange County.
Get our free TimesOC newsletter.
You may occasionally receive promotional content from the Daily Pilot.