A new generation of dolphins is in training. Its mission: delight passers-by from medians on East Coast Highway in Corona del Mar.
Vibrant birds of paradise and elegant palm trees form the fabric of Newport Beach's ornamental plant palette. But the topiary dolphins are found only in CdM. The 12 frolicking Flippers at East Coast Highway and Marguerite Avenue are horticultural sculptures of Leyland cypress formed around wire frames shaped like leaping dolphins.
The dolphins, wards of the city landscaping division, have been median residents since 1993.
"When I drive down the street, they put a smile on my face," said Beverly Morgan, events and venue coordinator for the nearby Sherman Library & Gardens, Corona del Mar's horticultural heart. "I can't be the only one."
The dolphins are iconic. They're whimsical. But the current pod also is overgrown, misshapen and long due for retirement.
The city has been trying to replace the dolphins for the past five years. Replacements growing in the city's public works yard are expected to be ready for transplant next year.
"Just like any living, growing thing, they've reached their useful life … they're old and they need to be replaced," said city landscaping manager Dan Sereno.
Volunteers at Sherman Library & Gardens — "dolphin mothers" — decorate them for the holidays. But jolly Santa hats and oversize pastel Easter eggs can't hide that the dolphins have grown worn and out of shape.
Some are propped up with wooden stakes that look like crutches under their chubby flippers. One tipped over under its own weight. Another was hit by a car about a year ago.
Twenty-six years is respectable for a public topiary, Sereno said. Holding a shape through a frame and frequent trimming knock years off a plant's lifespan, as does being exposed to man-made elements such as exhaust and wayward drivers, he said.
Left to nature, the cypress is a hardy coniferous shrub with scaly, needle-like leaves. But its generally fast-growing, woody body takes well to topiary frames, with patience and attention. After the formerly sleek CdM dolphins started looking like shaggy manatees, the city agreed in 2014 to plant new specimens.
But they take time to fill the 7-foot-tall frames, and the city's specialty topiary contractor wasn't having success starting the replacements, Sereno said. The city took them back last year.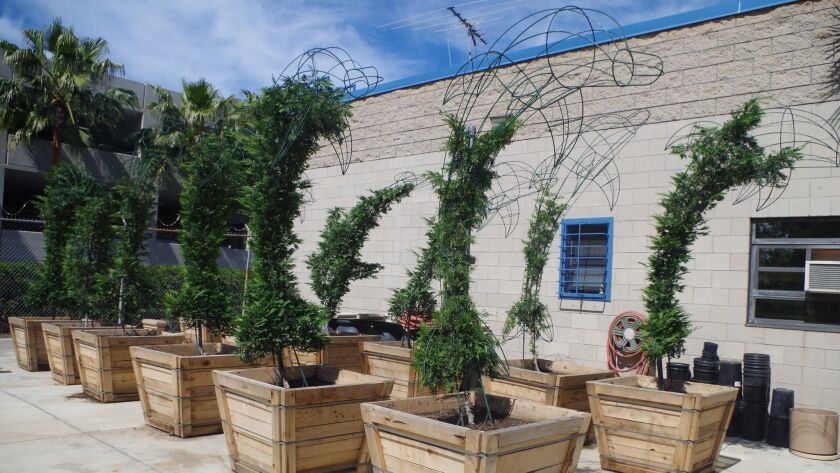 Before the city took them back, the replacements had been in 20-gallon pots about the size of a trash can, causing them to get root-bound, Sereno said. Essentially, they were choking, and a couple died.
After a few months in planter boxes about five times as large, the cypress are filling out. They are still calves right now, but most have distinct flukes. The lead dolphins, which are planted bottlenose-down, have well-defined heads.
With more water, fertilizer and lots of sunshine, the dolphins should migrate to their new home next spring, Sereno said.
---