New research project tracks burrowing owls at Costa Mesa's Fairview Park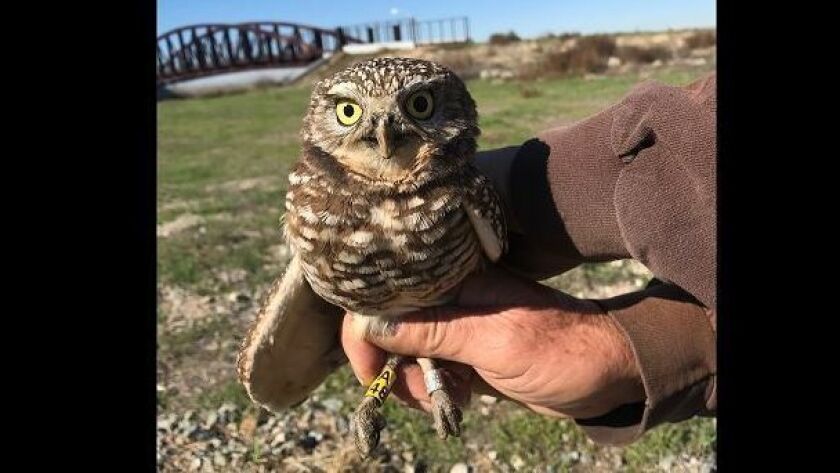 Costa Mesa officials are teaming up with biologists to dig into the activities of burrowing owls that periodically pop up in the city's Fairview Park.
The project involves outfitting Fairview's feathered denizens with silver metal bands that help experts track their travels, providing researchers with additional data about their behavior.
Barry Nerhus, the city's contract biologist, and Pete Bloom of Bloom Biological Inc. have banded and released two owls in the park in the past two weeks. Both birds appear to have been born last spring and may be sojourning locally as part of a wider migratory route, according to the city.
The bands used are registered with the U.S. Geological Survey and the Cornell Lab of Ornithology at Cornell University.
"This is an exciting time to undertake this project, and it's by no means complete," Fairview Park Administrator Cynthia D'Agosta said in a statement. "We are getting daily reports from park users of more owl sightings. The goal of this is to understand the population we have that use Fairview Park and whether they come back year after year."
Burrowing owls are relatively small — about 10 inches tall and weighing about 6 ounces — and can be found throughout the Americas. As their name suggests, the birds hunker down in underground dens that they sometimes dig themselves.
Though they are not endangered, the California Department of Fish and Wildlife identifies burrowing owls as a species of special concern, affording protection for the birds and their nests.
Residents are urged not to approach or disturb any owls in Fairview Park.
For more information about the program or to report an owl sighting, contact D'Agosta at (714) 754-5135 or cynthia.dagosta@costamesaca.gov.
Twitter @LukeMMoney
---
All the latest on Orange County from Orange County.
Get our free TimesOC newsletter.
You may occasionally receive promotional content from the Daily Pilot.