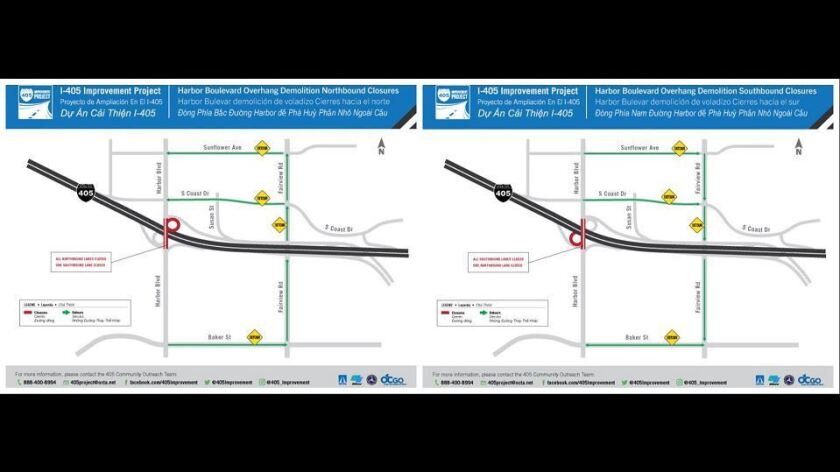 Drivers will encounter intermittent closures on Harbor Boulevard and the southbound 405 Freeway in Costa Mesa to accommodate partial demolition of a freeway bridge.
Work began Wednesday night and is expected to be completed by Saturday morning, according to Megan Abba, a spokeswoman for the Orange County Transportation Authority.
"Crews demolished what is known as the overhang and the barrier at the edge of the bridge because the bridge is being widened over Harbor Boulevard, not completely demolished and reconstructed," she wrote in an email.
Periodic lane and ramp closures will occur in the area between 10 p.m. and 5 a.m. while work is going on, Abba said.
"This work will require closing lanes on southbound I-405, Harbor Boulevard between northbound and southbound freeway ramps and loop on-ramps from Harbor Boulevard to I-405," she wrote. "Harbor Boulevard will only be closed one direction at a time."
Detour signs will be in place to help motorists navigate the closures, but drivers are advised to expect delays and plan alternate routes.
The work is part of an overall $1.9-billion project to widen 16 miles of the 405 between the 73 Freeway in Costa Mesa and the 605 Freeway near Rossmoor, according to OCTA.
When complete in 2023, the expansion will add a general-purpose lane and a new "express" toll lane to both directions of the freeway in the project area. Existing carpool lanes in each direction will be converted to express lanes.
For more information about the project or upcoming closures, visit octa.net/405improvement.
---