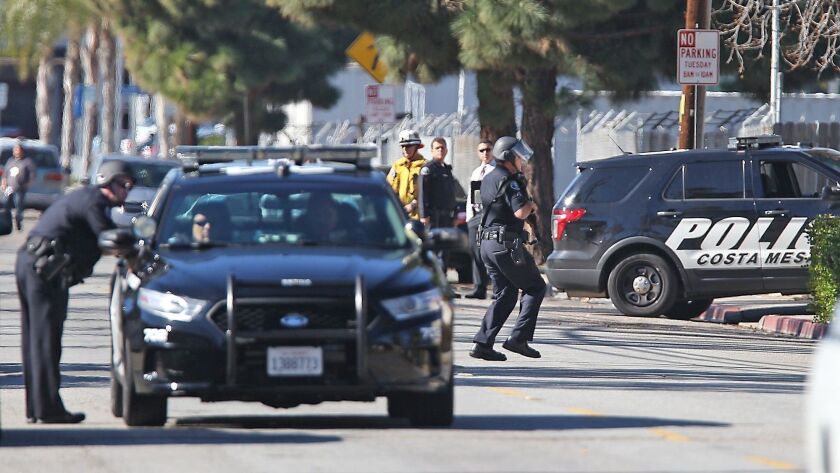 Costa Mesa Mayor Katrina Foley said Tuesday that she sympathizes with police anxiety that the department wouldn't be adequately funded in the city's next budget but said the City Council is committed to public safety, pointing to a slight increase in planned funding while most other departments may see cuts.
The sensitivity over the budget showed in a memo that Police Chief Rob Sharpnack wrote to the council last month decrying the proposed police spending plan, and again in a recent internal communication between the chief and the head of the department's rank-and-file officers union.
Foley and Mayor Pro Tem John Stephens met with the board of the Costa Mesa Police Assn. on May 29, not long after Sharpnack sent the memo condemning the proposed $49.7-million police budget as a threat to public safety and "chaotic, full of poor decisions and saturated in secrecy."
Commentary: Public safety is Costa Mesa's highest priority »
Union President Josh Kuo told Sharpnack in a May 31 memo that the union "shared your same concerns for the well-being of the department if the proposed budget is approved."
Kuo said Foley told the group she "knew nothing of the proposed budget … until she received your memorandum."
"As we continued to question the reasonableness of a mayor and mayor pro tem having no knowledge of budget proposals or how the process was going, Katrina became upset with the conversation, stating this was the most aggressive conversation she has ever had with the CMPA," Kuo wrote. "After that, she began telling us we didn't fully understand the budget process and took a rather condescending tone. To me, she appeared to be very defensive when her leadership was questioned."
In an interview Tuesday, Foley said, "I understand where fear could seep in."
She said a four-hour meeting last week with Sharpnack and his budget team was productive and that they all agreed they want to improve the department.
"There's no question that we value public safety," she said.
She said the current council majority is motivated to restore full Police Department staffing but that it takes time.
In 2011, against the backdrop of the recession and a council platform of controlling pension costs, the City Council restructured the department and instituted a hiring freeze. In 2015, the department had 108 officers. Today, it is budgeted for 136, although it has about 10 openings.
Foley said city staff started developing the fiscal 2019-20 budget in December and that she has received general updates but was not involved in detailed discussions and did not see a completed proposal until early May.
The preliminary budget released last month showed Police Department funding increasing 1%, to $49.7 million from $49.2 million in 2018-19. The portion from general fund dollars would increase by $1.9 million in the new budget — to $49.5 million from about $47.6 million. Budgeted sworn staffing positions remained at 136 officers.
In his May 23 memo, Sharpnack said officer levels in the proposed budget are insufficient, non-sworn dispatchers are critically understaffed and overtime is not properly accounted for. In emails to city staff, he wrote that he was concerned the budget doesn't adequately fund needed purchases such as replacements for aging, run-down police vehicles.
The council is scheduled to vote on the city's overall $174-million budget Tuesday night, including the $49.7 million identified for police.
The overall plan is a revision that would reduce the city's reliance on reserves by $2.7 million by deferring several building projects, delaying a handful of planned hires, swapping funding sources for a storm drain project and tapping into anticipated excess funds from nearly completed capital projects.
Staff recommended deferring a decision on Sharpnack's requests "until a thorough analysis can be performed." The new fiscal year begins July 1.
Kuo's memo to Sharpnack said Stephens had asked the CMPA board about what it considered priorities for the Police Department in comparison with the chief's list.
"I immediately put a stop to that, candidly stating we were not going to undermine your authority or give them arguing points for future meetings with you and your staff," Kuo told Sharpnack.
Stephens said Tuesday that he and Foley promptly responded to requests for more meetings with police representatives and that he asked them to prioritize their funding requests to "make a quality decision about the budget."
---