Drag queen lends sparkle to story time at Costa Mesa church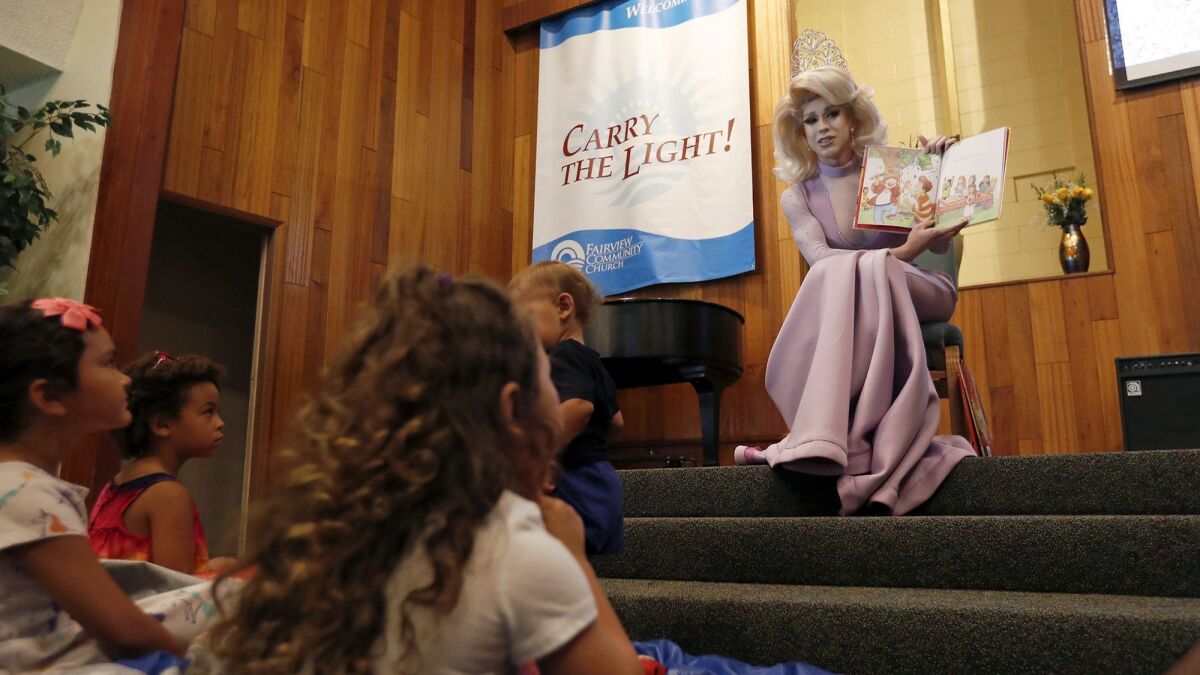 "Have you ever seen a real queen before?" a mother asked her toddler. "In real life?"
OK, the drag queen named Autumn Rose who visited Fairview Community Church in Costa Mesa on Wednesday morning wasn't actual royalty. But the reigning Miss OC Pride was close enough for the children who turned out to see and hear Autumn Rose hold court for story time.
About 25 kids, mostly toddlers and preschoolers, sat in the cozy sanctuary to hear Autumn Rose read from picture books with themes of dreams, imagination, different types of families and being yourself. They admired Autumn's lavender mermaid-hem gown, and one girl compared her glittery Velcro-strapped slippers to Autumn's patent leather platform heels.
"Kids just need to see different role models," said the Rev. Sarah Halverson-Cano, Fairview's senior pastor.
Though the event drew some negative feedback on social media, no one brought such disapproval to the church, which is a member of the progressive United Church of Christ. The small campus on Fairview Road flies a rainbow LGBTQ pride flag and a Black Lives Matter banner and was at the forefront of performing same-sex marriages after they were first legal statewide.
Halverson-Cano collected donations Wednesday that she hopes will fund more drag queen story times, perhaps twice a month.
The children heard from the books that some family members look different from one another but that all families like to hug. They heard that some girls aren't comfortable in dresses.
Meanwhile, they saw before them a well-coiffed, statuesque blonde with rhinestone-studded sleeves and a tiara so tall that Autumn Rose had to duck under doorways to keep it pinned upright to her voluminous golden waves.
"The kids don't say that's a big man in a dress," Halverson-Cano said.
They saw a queen, in real life.
Support our coverage by becoming a digital subscriber.
All the latest on Orange County from Orange County.
Get our free TimesOC newsletter.
You may occasionally receive promotional content from the Daily Pilot.