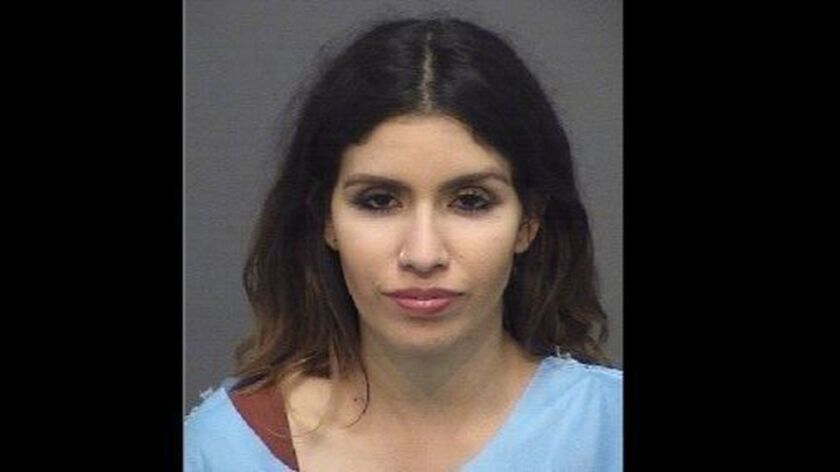 An Orange County judge ruled Tuesday that there is enough evidence to hold a 28-year-old woman for trial on charges of murder and driving under the influence in connection with a crash in March that killed three Las Vegas teenagers in Huntington Beach.
Superior Court Judge Derek Johnson said during a preliminary hearing that he was particularly "struck" by statements from witnesses that Bani Duarte declined a ride from another driver before the fatal crash. She did that, he said, despite later telling officers that she had "lots of problems with her vehicle."
"I think these facts are terribly aggravated and contain malice," Johnson said.
Friends and family members of the three people killed in the crash — A.J. Rossi, 17, Brooke Hawley, 17, and Dylan Mack, 18 — applauded after Johnson delivered his ruling. A group of women huddled on a bench outside the Westminster courtroom and wept.
Duarte, of San Clemente, faces three counts of murder and one count of driving under the influence causing injury, as well as a possible sentencing enhancement on allegations of inflicting great bodily injury. She has pleaded not guilty to all charges, according to Superior Court records.
Debra White, Duarte's defense attorney, argued during the hearing that the murder charges should be dismissed. She contended that prosecutors don't have enough evidence to prove Duarte knew the risks of driving under the influence and had a conscious disregard for human life.
"Miss Duarte did not harbor malice and she was not subjectively aware of the risks of her actions," White said. "In the past, [she] was able to drink and drive and was stopped by an officer and it was fine. Nothing ever happened."
Duarte was arrested in 2016 on suspicion of DUI, but because of a processing error the case never got to prosecutors, according to Orange County Sheriff's Department officials.
White said three men in a car were following Duarte at the time of the crash.
"She was driving like she was trying to get away from someone," White said.
The men had called 911 to report Duarte as a possible drunk driver, authorities said.
Matthew Nixt, who works for the Orange County Crime Lab, testified Tuesday that Duarte's blood, which was drawn more than an hour after the crash, had an alcohol content of 0.28%, more than three times the legal limit. Nixt estimated that someone with that blood-alcohol level would have nine or 10 drinks in his or her system.
Huntington Beach police said in a document attached to an arrest warrant that officers found a "partially empty" 1-ounce bottle of vodka in Duarte's purse and that her Hyundai Sonata contained an empty 24-ounce can of a malt beverage that its manufacturer says has 8% alcohol content.
Duarte, a single mother of four children, told officers she had gone out for sushi with a friend and then stopped at Stag Bar + Kitchen and Baja Sharkeez on the Balboa Peninsula in Newport Beach, where she had a total of two vodka sodas and one gelatin shot, according to law enforcement reports.
Duarte's Hyundai crashed into a Toyota containing the teenagers shortly after 1 a.m. March 29 at the intersection of Pacific Coast Highway and Magnolia Street in Huntington Beach. The Hyundai was traveling 79 mph when it slammed into the back of the Toyota, which was stopped at a red light, authorities said.
The impact pushed the Toyota through the intersection and into a pole, and it burst into flames. Three of the four teenagers inside, who were visiting Southern California from Las Vegas for spring break, were killed.
The fourth teen, Alexis Vargas, survived the crash and was taken to a hospital for treatment.
Duarte is in Orange County Jail with bail set at $4 million. Her next court appearance is scheduled for Aug. 9.
Twitter: @HannahFryTCN
---