Was an innocent man convicted of a Golden State Killer crime? DA reviews evidence from 1979 Fountain Valley murder case
For authorities, the killing of 28-year-old Joan Virginia Anderson in her Fountain Valley home in 1979 had long been considered solved.
But now, 39 years after Anderson was killed, a Laguna Beach lawyer is trying to posthumously exonerate the man convicted of murdering her and believes the slaying has chilling similarities to crimes committed by the Golden State Killer.
The Orange County district attorney's office said Wednesday that it is reviewing evidence to determine whether William Lee Evins was wrongly accused.
Evins, of Pasadena, Texas, had been part of a work crew building an addition to Anderson's house at the time she was raped and bludgeoned to death. He was arrested a year later and charged with her murder.
Evins pleaded guilty in 1985 to second-degree murder as part of a plea deal after he learned that a jailhouse informant — James Dean Cochrum — told authorities Evins had confessed to the slaying. Cochrum was expected to be a key witness at Evins' trial.
A 1982 U.S. Supreme Court ruling that eliminated most testimony from hypnotized people — authorities had used hypnosis to elicitinformation in the case — had made details from the prosecution's other witnesses useless at trial, the Los Angeles Times reported.
Evins was sentenced to 15 years to life behind bars, but despite his plea, he contended for years that he had not committed the crime.
"I've always [maintained] that I am innocent, and I think we'll prove that before it's over with," Evins told The Times in 1984. He died in prison of a heart attack in 2013.
Annee Della Donna — an attorney with Innocence Rights of Orange County, which partners with law students at UC Irvine to advocate for the release of prisoners they believe are innocent — said the case bears similarities to the methods of the Golden State Killer, a serial killer and rapist whose crimes date to the mid-1970s.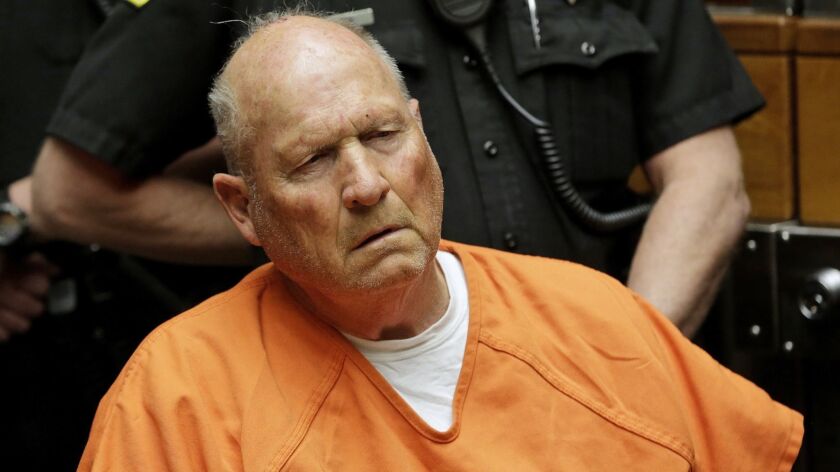 Joseph James DeAngelo, who is accused of being the Golden State Killer, is behind bars in Sacramento awaiting trial on 12 murder charges in connection with deaths in Sacramento, Santa Barbara, Ventura and Orange counties.
DeAngelo also is a suspect in at least 50 rapes and more than 100 burglaries across the state.
Della Donna said Innocence Rights initially took on the Anderson case because "the evidence against Evins was ridiculously flimsy."
"We didn't take it on as a case to prove that the Golden State Killer was responsible," she said during a news conference Wednesday in Santa Ana. "But the facts that we obtained in our investigation are very similar to the same facts of the Golden State Killer murders."
Prosecutors have contended that a man broke into Anderson's home on March 7, 1979, and attacked her while her husband was away on a business trip and she was alone with her 6-month-old daughter and 3-year-old son.
A neighbor discovered Anderson's body the next day wearing only a blue pajama top. Her son was found wandering the street near her home and her daughter was crying in her crib, authorities said.
Della Donna contends Anderson fit the description of female victims of the Golden State Killer who were alone with their children at the time they were killed. She also said Anderson's ankles were tightly tied with a cord from the window blinds and that victims in some Golden State Killer slayings also were bound. Prosecutors have not confirmed whether Anderson was tied up.
"She was bludgeoned over 20 times with a hammer," Della Donna said. "The killer stayed in Joan Anderson's house for hours afterward, cooking and eating in her kitchen while she lay dead. Again, that is a fact that is very similar with the other Golden State Killer cases."
Della Donna said she took the case to the Orange County district attorney's office a few weeks ago. Susan Kang Schroeder, chief of staff for District Attorney Tony Rackauckas, confirmed Wednesday that the office is looking into it.
Kang Schroeder said the DA's Innocence Review Panel, which reviews cases of incarcerated inmates who argue they have been wrongfully convicted, is joining a prosecutor working on the Golden State Killer case to comb through circumstantial evidence and police reports and search for any testable DNA evidence.
The Innocence Review Panel has reviewed 600 cases since its creation in 2000. No convictions have been overturned. It is currently looking at about 20 cases, according to the district attorney's office.
"Anytime anyone's accused of a homicide or has been convicted of a homicide, it's obviously a serious case and we want to make sure justice is done," Kang Schroeder said. "In this case, we have to make sure there is testable evidence for us to look at."
Kang Schroeder said the panel is going through "every scrap of evidence" in the case but it's too early to tell whether there are similarities with Golden State Killer slayings. It isn't clear specifically what evidence is available or what has been reviewed.
"We just want to get to the truth," Kang Schroeder said.
Twitter: @HannahFryTCN
---
All the latest on Orange County from Orange County.
Get our free TimesOC newsletter.
You may occasionally receive promotional content from the Daily Pilot.